Lukashenka Agrees to Joint Air Patrols and Training Centers With Russia, but Still Opposes Military Base (Part Two)
Publication: Eurasia Daily Monitor Volume: 18 Issue: 75
By: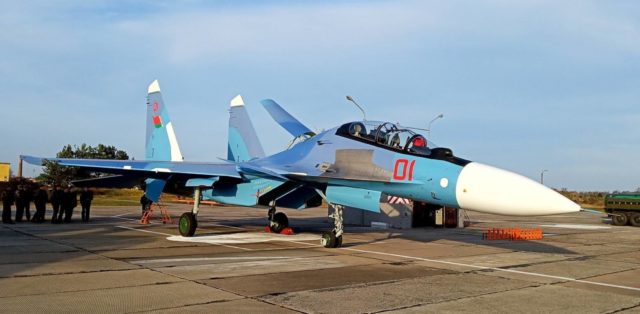 In addition to restarting joint air-patrol missions beginning this summer (see Part One), Belarus and Russia have agreed to establish three shared combat-training centers within the framework of the bilateral Strategic Partnership Program for 2021–2025 (BelTA, March 16). One of these facilities, a joint combat training center of the Air Force and Air-Defense Forces, will be located on the territory of Belarus, in Grodno region. Its main purpose will be the instruction of Su-30SM aircraft crews, the training of Belarusian specialists to operate modern anti-aircraft missile systems that are in service with the Russian Armed Forces, as well as joint execution of combat training tasks. Russia will host the other two combat training centers—in Nizhny Novgorod and Kaliningrad oblasts (Mil.ru, March 5).
The Nizhny Novgorod joint ground forces training center will prepare and exercise the two states' motorized rifle and tank units using modern methods based on the combat experience of the Russian Armed Forces. The authorities anticipate that the joint training will make it possible to work out tighter and more effective interaction between units making up the Regional Group of Forces of Belarus and Russia (which includes all Belarusian ground and special forces as well as the Russian 1st Guards Tank Army).
In turn, the joint combat training center in Kaliningrad region will be connected to the Russian Baltic Fleet and train Belarusian Armed Forces units alongside Russian Naval Infantry equipped with BTR-82As (this wheeled armored personnel carrier is supposed to be delivered to Belarusian military units in 2021). Additionally, specialized Belarusian units will receive advanced dive training at this center (Mil.by, March 16).
Both initiatives—the renewal of joint air-patrol missions and the creation of a joint Air Force and Air-Defense Forces combat training center in Grodno oblast—envisage a limited rotational presence of Russian Su-30 fighter jets and crews (four to eight) in Belarus. But crucially, upon arrival, those Russian personnel will come under the command and control of the Belarusian side. Like in 2013, however, the Kremlin may not be satisfied with this agreed-upon arrangement for long, and could eventually renew its calls for establishing a Russian airbase inside Belarus.
In the meantime, Minsk is trying to secure the provision of modern Russian aircraft on preferential terms or for free while preserving its strategic autonomy vis-à-vis Russia in light of the decreasing capabilities of the Belarusian Air Force (Bsblog.info, June 28, 2017). Although Lukashenka is generally careful to demonstrate his geopolitical loyalty to Moscow, by seeking to boost domestic air-defense capabilities he also wants to undermine one of Russia's main arguments for why it purportedly needs to establish an airbase in Belarus. Indeed, following his April 22 meeting with Russian President Vladimir Putin, Lukashenka reiterated that there are no military-strategic or political reasons for establishing such a Russian airbase. As he pointed out, Russian jets out of Smolensk region can reach the major Belarusian military airfield in Bobruisk within three minutes. Also, he contended, the creation of a permanent Russian airbase inside Belarus would be a gift for his political opponents and trigger another round of protests. Lukashenka asserted that the Collective Security Treaty Organization (CSTO) and Regional Group of Forces' mechanisms are sufficient to protect Belarus in case of foreign aggression (Belta.by, April 24). And in such a hypothetical case, Belarus would formally request military assistance from Russia, which would then deploy troops to Belarusian territory.
As noted above, the Russian side's justification for expanding its military presence in Belarus has been the latter's inability to independently guarantee the reliable protection of its portion of the airspace of the Russia-Belarus Union State. But of course, from the geopolitical point of view, stationing troops on the ground is the most effective means of securing Belarus within the Russian sphere of influence. Therefore, it is highly unlikely Moscow will ever accept Lukashenka's arguments for why a permanent Russian base in unnecessary—particularly amidst his vulnerability at home and isolation from the West.
According to assessments of the Russian Academy of Military Sciences, the Belarusian Air Force requires at least three combat-ready fighter squadrons—that is, a minimum of 36 jets—to be able to defend their airspace. At the same time, it bears noting that 100 percent combat readiness is rare, since some aircraft are almost always undergoing repairs, modernization, etc. So in fact, the Air Force should have more than 36 fighters—tentatively at least 50—and a similar number of pilots (Bsblog.info, June 28, 2017). When Russia first raised the issue of the military airbase, the Belarusian Air Force had about 150 airplanes and helicopters of various types, most of which have almost reached the end of their service life, are obsolete or in storage (Bsblog.info, June 14, 2016):
61st Fighter Air Base (Baranovichi airfield): 9 MiG-29Bs, 20 MiG-29BMs and 8 MiG-29UBs;
116th Guards Assault Aviation Base (Lida airfield): 17 Su-25s, 7 Su-25UBs, 4 Yak-130s and 10 L-39s; in addition, about 20 Su-25s in storage;
50th mixed air base (Machulishchi airfield): 3 An-26 transport aircraft, 1 IL-76MD, 1 An-24, 1 An-26RT relay aircraft, 42 Mi-8 helicopters (including several modified Mi-8MTKOs and Mi-172s), 29 Mi-24 helicopters (10 Mi-24Bs, 11 Mi-24Ps, 4 Mi-24Ks, 4 Mi-24Rs) and 1 Mi-26 helicopter (about 10 more Mi-26 are in storage); in addition, the 3rd Squadron has 12 "horseless" crews of Mi-24 and Mi-8 helicopters.
In order to reduce the intensity of Moscow's criticism of the combat capabilities of the Belarusian Air Force as well as Kremlin pressure, the Belarusian leadership decided to buy 12 Russian Su-30SM fighters for $600 million in 2017, to substitute its outdated MiG-29 fighters (Tut.by, June 21, 2017). Belarus obtained the first four Su-30SMs in 2018–2019, and four more will arrive in 2021–2023. If financial conditions allow, Belarus will receive the last four fighter jets in 2022.
This means that by 2022–2023, the Belarusian Air Force will have 12 Su-30SM fighters. Adding to this total the hypothetical eight Su-30s that Russia can transfer for joint air patrols and to the joint Air and Air-Defense Forces combat training center, that makes only 20 fighters total, instead of the required minimum of 36 (excluding the two Belarusian MiG-29 squadrons with questionable operational and technical characteristics)—so still not enough to guarantee the reliable protection of Russia in the Western strategic direction, according to Russian strategists. Consequently, the Kremlin will surely raise the issue of a Russian airbase in Belarus again, and likely again at the least opportune moment for Minsk.