Lukashenka Receives an Invitation to Brussels
Publication: Eurasia Daily Monitor Volume: 14 Issue: 130
By: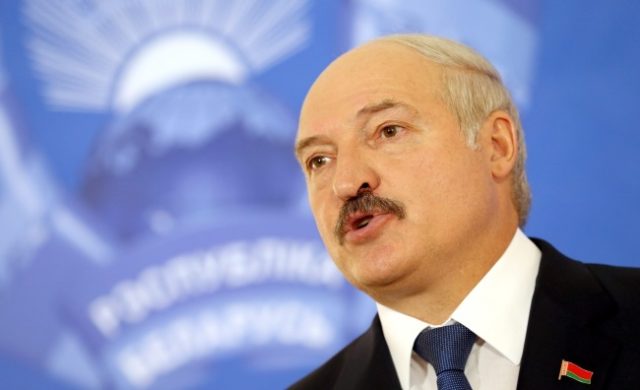 In a dramatic reversal from years of earlier policy precedent, on October 6, Brussels extended an invitation to President Alyaksandr Lukashenka of Belarus to participate in the November 25 summit of the European Union's Eastern Partnership (EaP) (Belta, October 11). Belarus is a member of the EaP, along with five other successor states of the Soviet Union (Ukraine, Moldova, Georgia, Armenia and Azerbaijan). As such, this invitation to the Belarusian head of state might come across to more casual observers of European and Belarusian relations as routine; however, it is anything but.
The history of EaP summits is dotted with awkward attempts of their organizers to make sure that Belarus takes part but is represented by someone whose name is not Lukashenka. In March 2009, when Belarus was invited to join the EaP, the Czech foreign minister personally handed Lukashenka an invitation to take part in the inaugural meeting in Prague. However, after ambivalent signals from Prague—then-president Vaclav Klaus of the Czech Republic (who had actually signed the invitation letter) said that he would not shake hands with Lukashenka should he arrive in the Czech capital—Lukashenka decided not to go and instead sent his deputy prime minister as the head of his country's delegation (Grigory Ioffe, Reassessing Lukashenka: Belarus in Cultural and Geopolitical Context, 2014, p. 92). The next EaP summit, held in Warsaw in September 2011, took place in the midst of drastically worsening relations in the wake of the December 19, 2010, crackdown on the post-election rally in Minsk. That year, the government designated its ambassador to Poland as the head of Belarus's delegation. However, after the ambassador was not invited to the inaugural dinner, that entire delegation left the meeting (see EDM, October 14, 2011). At the 2013 and 2015 summits, in Vilnius and Riga, respectively, Vladimir Makei, Belarus's current foreign minister, represented the country.
To avoid inviting Lukashenka, the EU adopted the routine of sending an invitation to a country, thus formally allowing each EaP member to determine its own level of participation, while expressing preferences (for someone other than the Belarusian president) during relatively low-level contacts with Minsk. The first signals of possibly changing that routine came during the run-up to the 2015 summit, when Latvian President Andris Bērziņš said he would welcome Lukashenka to a personal meeting should the latter attend the EaP summit in Riga (Tut.by, March 27, 2015). Still, no personal invitation was issued by the EU; moreover, no informal signal that the invitation was without exemption was sent either.
So the fact that a personal invitation was finally issued on October 6—which the EU representative to Minsk confirmed was indeed intended for Lukashenka (Tut.by, October 10)—is a breach of continuity. Now rumor has it that EU Commissioner for Regional Policy Johanness Hahn, who is visiting Minsk the week of October 15, will personally persuade Lukashenka to accept the invitation (Belaruspartizan, October 11).
The European Union's rapprochement with Lukashenka has been led by a steady intensification of medium- and high-level contacts between Brussels and Minsk since 2013. Of course, the suspension (in September 2015) and annulment (in February 2016) of travel sanctions on Lukashenka and 169 other Belarusian officials was also important in this regard (Lenta.ru, February 18, 2016). At the same time, European funding for the Belarusian opposition has declined. Little wonder that its representatives are not happy. Speaking on behalf of the most intransigent part of the opposition, Natalia Radina, the editor of Charter97, called Europe's invitation to Lukashenka "immoral and stupid" (Belsat, October 10) and opined that it would only exacerbate repressions inside the country. Alyaksandr Milinkevich, a 2006 presidential hopeful, disagreed with Radina. In his opinion, repressions, on the contrary, decline when Belarus moves closer to Europe—and that is what the invitation to Lukashenka would facilitate.
Yury Drakakhrust of Radio Liberty suggests that while the removal of sanctions cleared the way for the invitation to Brussels, morality has never been the sole foundation on which EU policy toward post-Soviet countries rested. If this had been the case, Azerbaijan's president Ilham Aliyev would not have been invited to EaP summits either. Some liberalization of Belarus's domestic situation has also taken place: for example, the authorities' crackdown on the March 25, 2017, rally and subsequent treatment of the apprehended protesters was noticeably milder than it had been on December 19, 2010. The fact that Belarus offered Minsk as the venue for Ukraine peace talks has also played a positive role. Lukashenka's participation in this year's EaP summit, in Brussels, may upset some people in Moscow; though for Minsk this may be an acceptable price to pay for Europe's welcome (Tut.by, October 11).
It seems that while much of Drakakhrust's reasoning makes sense as an explanation of the EU's change of heart, it leaves two meaningful factors aside. One of them is the unqualified success of Belarusian diplomacy. In 2012, a visibly emotional Makei, who has a background in military intelligence, replaced then–foreign minister Sergei Martynov, a suave, cold, and polished graduate of MGIMO (the alma mater of Soviet diplomats). The latter had spent nine years as Belarus's top diplomat. Thus, at the time, Makei's new position seemed like a short-lived political appointment. However, since then, Foreign Minister Makei has skillfully and patiently promoted the culture of intelligent, nuanced, and open-minded dialogue, thereby expressing Belarus's standpoint in a manner that won much support in the West. All along, Makei has been assisted in this task by his former deputy Elena Kupchina (now Belarus's ambassador to Austria and the Organization for Security and Cooperation in Europe, OSCE), long responsible for Europe, and Oleg Kravchenko, Makei's current deputy, long responsible for ties with the United States. On the one hand, their message to Western partners stressed the shortage of statehood experience and of mature democratic traditions in Belarus; on the other hand, they have repeatedly underscored Belarus's willingness to learn.
The second factor that deserves mention is the growing recognition that to become successful, the policy and practice of democracy promotion ought to be more subtle, versed in cultural relativism and not be employed in a bull-in-a china-shop manner.
It remains to be seen if Lukashenka takes the opportunity to go to Brussels. Makei recently announced the decision will be taken in due course (Belta, October 10). In any case, there is a chance the EU initiative may start a new chapter in Europe's relationship with Belarus.