Lukashenka's Annual Address on the State of the Country
Publication: Eurasia Daily Monitor Volume: 12 Issue: 84
By: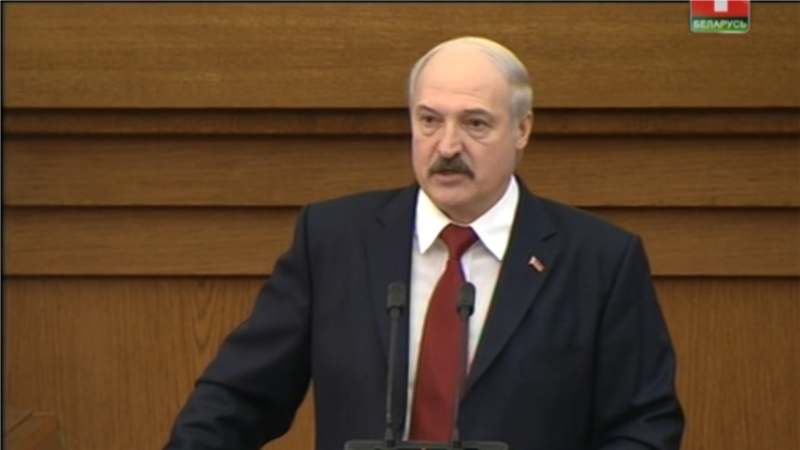 On April 29, President Alyaksandr Lukashenka delivered his annual address "to the people and the parliament." By far the most frequently discussed excerpt from his remarks—however awkward and tangential it may have been to the actually significant topics of the 2-hour-and-40-minute speech—was Lukashenka's digression devoted to the Jews. Addressing the head of Minsk Oblast administration, Semyon Shapiro, Lukashenka said that "one of your men [i.e., a fellow Jew], [news portal Tut.by owner Yury] Zisser, is behaving indecently. After all, a year ago, I asked you to take all Belarusian Jews under control. Even Pavel Yakubovich [editor of the major Belarusian daily "Belarus Segodnya" who is also Jewish] did not resent that. Yet, Zisser has not been normalized. Please pay attention to that" (Tut.by, April 29). Immediately, the Russian-language segment of the Internet exploded: Many media outlets posted the footage of this utterance, and thousands of people offered their opinion. Although already a public figure in his own right, Zisser, the owner of Tut.by, the most popular non-state news and analysis portal of Belarus, became a celebrity and received thousands of expressions of support. It is hard to say which of Tut.by's materials elicited Lukashenka's wrath. Zisser himself believes it may have been the news outlet's improvised and filmed survey of passersby in downtown Minsk, many of whom expressed their pessimism about some government decisions, including Lukashenka's decree about social parasites (Tut.by, April 28).
However, opinions voiced in the media focused not so much on what triggered Lukashenka's wrath as on the style and wording of his tirade. Asked for comments, Shapiro observed that he was not insulted by the president's remark as he is proud to be a Jew; and Lukashenka's statement that he appointed Shapiro the main Jew, as it were, to supervise others was nothing but a joke. Iosif Shagal, the Israeli ambassador to Belarus, said that he is normally not in the business of commenting on the head of state's pronouncements unless they touch upon bilateral relations. However, he added that, in this case, his silence might be ill-interpreted. In Ambassador Shagal's opinion, although Lukashenka's utterance was not imbued with the most refined taste, there was no tinge of anti-Semitism in it; rather, it was in the spirit of bonhomie and irony, as Lukashenka's attitude toward Jews is genuinely good. During his tenure, Shagal acknowledged, he never encountered anti-Semitic attitudes in Belarus (Tut.by, April 30).
Meanwhile, Zisser, taken aback by Lukashenka's controversial statements during his vacation in Belgium, noted that Tut.by makes editorial decisions independently, and he said he does not understand how one can control all Jews in Belarus as they are not a single organization (Tut.by, April 29). On his Facebook account, in a status accessible to the general public, Zisser acknowledged that he was particularly upset by some messages of compassion that he received, for the most part from those outside Belarus, as they hastily attached the label of anti-Semitism to his country. This label is misleading: "I have the basis for comparison for I very well remember state anti-Semitism"—a clear reference to the Soviet Union (Zisser, May 1).
The actually central message of Lukashenka's April 29 address pertained to the country's relations with Russia, relations with the United States, the role of the latter in the conflict in Ukraine, and Belarus's socio-economic system. On Russia, some confusion was generated by Lukashenka's attitude to the concept of the "Russian world" (Russkiy Mir). At one point, he acknowledged that "the Russian world is not about us," whereas at another point, he said that "on May 8, when the war [World War II] ended, we will arrive in the capital of our country, Moscow—well, our former capital—and we will properly mark the anniversary and will demonstrate that we are the Russian world" (Tut.by, April 29). Yet despite this confusion, Lukashenka clearly emphasized that while Belarusians and Russians are brotherly peoples extremely close to each other, Belarusians want to live in separate quarters and should be allowed to have their own point of view. A couple of days after his boss' address, Belarus's Foreign Minister Vladimir Makei indeed declared that "it took some time [for everybody] to understand that Belarusians are not going to act on orders from Washington, Brussels, Moscow or from the capital of any other geopolitical power" (Tut.by, May 1). Obviously, mentioning Moscow in this context is what caught everybody's attention.
Lukashenka expressed hope that the United States will show political will to eliminate the remaining problems in bilateral US-Belarusian relations. And he observed that Washington has already realized that the normalization of these relations is only possible on an equal footing. He acknowledged progress in economic relations and in rebuilding mutual trust (Belta, April 29). Once again, Lukashenka also stressed that the conflict in Ukraine can be brought to its end only if the US wants this outcome. But, he added, if the USA as the player and participant of all conflicts and processes in the entire world does not want peace, there will not be peace in Ukraine" (Tut.by, April 29).
On the economic system, Lukashenka pledged that while he is not willing to cut back on social benefits, particularly those targeting vulnerable groups, corporate welfare should stop and the government should not help state-run enterprises to pay off their debts. Only borrowing (from the state) for particular purposes and with assurances of prompt repayment will be allowed. Lukashenka acknowledged the necessity of closing those enterprises whose production is no longer in demand, and he cautioned against equating a fear of reprisals for corruption and embezzlement with a fear of punishment for an honest mistake on the part of industrial directors (Tut.by, April 29). Furthermore, Lukashenka acknowledged that, at present, raising salaries is not feasible. And yet, in March 2015, salaries actually increased 5.8 percent compared with February (Tut.by, April 24).
Considering that annual addresses to the parliament are expected to positively affect the nation's mood, Lukashenka has largely fulfilled his task—some awkward statements and confusing rhetoric notwithstanding.