Lukashenka's Intentions and the Reasoning of the Warring Parties
Publication: Eurasia Daily Monitor Volume: 19 Issue: 31
By: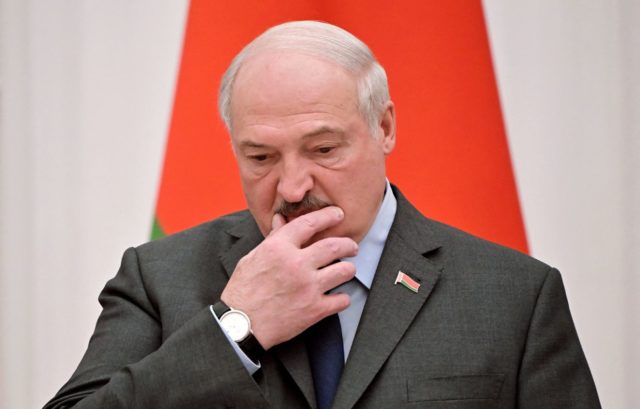 At the March 1 meeting of the Belarusian Security Council, President Alyaksandr Lukashenka declared that Belarus is not participating in the war in Ukraine. However, adding to the intrigue of the meeting was a map on open display purportedly showing where Belarusian and Russian troops were stationed along the border with Ukraine and demonstrating by red arrows the main directions of movement of Russian troops. One of those arrows pointed toward Moldova. That raised a minor international scandal, with the Belarusian ambassador being summoned to the Moldovan Ministry of Foreign Affairs for explanation (Interfax, March 2).
Some media outlets suggested Lukashenka leaked this map by accident (Avia-pro, 9tv.co.il, March 2). But that seems unlikely. Even though Lukashenka's freedom of maneuver dwindled further on February 24, when the war started, he is still maneuvering—although the nuances of this are frequently lost on, particularly, outside observers. Yes, they are shooting at Ukraine, and rightly so, Lukashenka has said. Yet crucially, he has never said, "They asked me, and I approved it." Instead, he constantly tries to distance himself from the war effort. In the words of Yury Drakakhrust of Radio Liberty, he wants to be more of a Francisco Franco than a Benito Mussolini (Author's interview, March 5). As for the map, his message seems to be to deflect and spotlight the Russians' responsibility for the war, while "incidentally" laying bare those Russian war plans as, perhaps, some sort of favor to Ukraine and/or the West. Implicitly, Lukashenka appears to be underscoring that he never recognized the Donbas "people's republics" and that he is not sending even one soldier into Ukraine.
On March 4, during the signing ceremony of the new amendments to the Belarusian Constitution, which were endorsed by the February 27 referendum, Lukashenka doubled down on his message, declaring: "No matter how hard certain forces are trying […] to draw us into hostilities […] you [Belarusians] have no reason to worry. I want to emphasize once again: we are safeguarding the state border from Brest to Mozyr with our own forces. The Belarusian army did not take any part in the special operation and does not intend to" (Gazeta.ru, March 4).
Several analysts have shared the view that Lukashenka is trying his best to stay away from the unfolding military campaign. These include Prague-based Yury Fedorov, a prominent military expert, who used to be a professor at Russia's main diplomatic academy, MGIMO; Valer Karbalevich of Radio Liberty; Vadim Mozheiko of the Belarusian Institute for Strategic Studies (Golos Ameriki, March 4); as well as Sergei Bogdan of the Free University of Berlin (Deutsche Welle—Russian service, March 2). Fedorov, for example, believes that Lukashenka is trying to leave the door open for possible negotiations with Western leaders. Yes, he was castigated, but "hard words break no bones. If, however, Belarusian tanks invade the territory of Ukraine, then no one will talk to him at all. In the meantime, he retains the role of someone like an intermediary. And he […] wants to keep his hands clean in this story."
Familiarity with the ongoing information war suggests that such a desire makes a lot of sense. Particularly noteworthy are those voices that emphasize the reasoning of the warring parties. One such voice is that of Yury Shevtsov, arguably the most well-known Belarusian analyst on Lukashenka's side and the author of two seminal books, The Belarus Phenomenon (2005) as well as The War in Ukraine: Transformation of Europe (2018), published in Moscow. According to Shevtsov's interview aired on Belarusian State TV, current hostilities in Ukraine go back to the heroization of Stepan Bandera (1909–1959), the one-time leader of the nationalist Ukrainian resistance who temporarily collaborated with the Nazis but also did time in a German concentration camp (YouTube, March 3).
Shevstov went on to argue that Russian President Vladimir Putin's war preempted a supposed planned attack of the Ukrainian army on the Donetsk and Luhansk "people's republics." And because the Ukrainian leadership made the strategic mistake of concentrating almost two-thirds of the country's forces on the border with occupied Donbas, Ukraine now faces the threat of annihilation and a pending humanitarian catastrophe. Shevtsov posited that the core belief of the Ukrainian and other East European nationalisms is that "the West will help us." But this belief cannot prove right in this case, because the hedonists in power in the West have no taste for nuclear war, he asserted. Shevtsov further noted that China's support for Russia was crucial to making the war possible. Above all, Shevtsov believes that the military operation will only succeed if converted into a political settlement, by which he meant undoing the efforts of turning Ukraine against Russia (YouTube, March 3).
Whether the latter is possible, given that wars generally tend to widen not paper over national cleavages, is a moot point. According to Artyom Shraibman, a non-resident scholar with Carnegie.ru, the Kremlin's declared demands for Ukraine's "denazification" may boomerang and affect Russia itself. Shraibman wrote, "Putin's main mistake is not so much that he overestimated his army, underestimated Ukrainian resistance and the scale of sanctions, believed in propaganda nonsense about the fraternal Ukrainian people, which are allegedly the same as Russians, and the Nazi junta (with a Jew at the head)." In fact, Vladimir Putin and likeminded people "cannot wrap their heads around the idea that some groups of people are able to interact in a horizontal way, to live without a shepherd… Only the elites and a herd of sheep under them. Since we are used to living in such a society and managing it, all societies are like that. If this myth had anything to do with reality, then the idea of ​​quickly capturing Kyiv, decapitating the Ukrainian state and imposing a new […] regime, along with 'denazification,' etc., would be quite a workable plan" (Telegra.ph, March 5). But in reality, it is not, which means that even if Putin wins the battle, he cannot win the war.
As an authoritarian leader himself, Lukashenka may not appreciate the socio-cultural dynamics conducive to this outcome. But as an innate politician, he cannot write them off.