Luzhkov Fearlessly Fights Back Against Kremlin Attacks
Publication: Eurasia Daily Monitor Volume: 7 Issue: 165
By: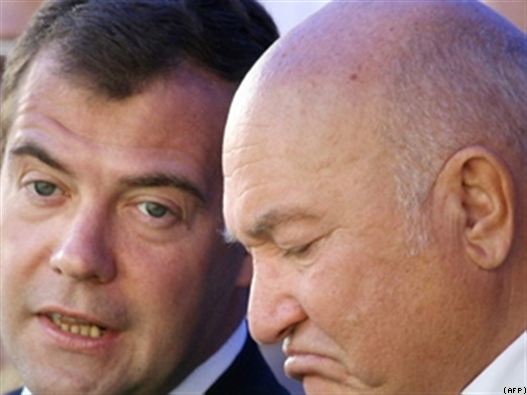 As Moscow's mayor since 1992, one of founders of the ruling United Russia party and one of its collective co-leaders, Yuri Luzhkov, 73, has become the target of furious public attacks by the state-controlled Russian TV channels. In a broadside that began last week on Gazprom-owned NTV and continued Sunday, September 12, by state-owned Rossia and Channel One, Luzhkov was accused of using his position to further the business interests of his wife, Yelena Baturina, Russia's richest woman, who has become a real estate development mogul with a fortune estimated by Forbes to be $2.9 billion. Luzhkov was criticized for tearing down historical buildings in the center of Moscow to make way for lucrative business developments. Luzhkov was also criticized for holidaying in Austria during a wildfire crisis this summer when Moscow was engulfed by poisonous smoke (Interfax, September 13).
These accusations leveled against Luzhkov were not particularly new: they all were previously published in independent newspapers and on the Internet. Boris Nemtsov – a former governor and deputy prime minister in the 1990s and the leader of the now defunct liberal-conservative "Rightwing cause" – published a tell-all anti-Luzhkov pamphlet "Luzhkov Summary." In response, Luzhkov and Baturina litigated Nemtsov for libel. The courts then demanded that Nemtsov change two phrases in the text and pay some $2,000 in punitive damages. Luzhkov and Baturina often litigate news outlets and individuals for libel and have never lost a single case in the state-controlled Moscow judicial system (Interfax, September 14).
Inteko, a construction company owned by Baturina and the Moscow city government, has announced its intention to sue the federal TV channels for libel and has expressed confidence in winning. The Inteko press secretary Gennady Trebkov told journalists: "most of the material used by the TV channels has been taken from obsolete former politicians and other notorious sources and has been already found to be erroneous by courts of law" (www.newsru.com, September 13).
The long-serving and powerful Moscow mayor has been compared with the Chicago's mayor Richard M. Daley of the Daley political dynasty. Daley was elected in 1989 and reelected five times since then. He has announced an intention to leave office after his present term expires next May. Luzhkov has been reelected three times and was appointed by then President Vladimir Putin in 2007 after the direct elections of regional governors were abolished. Luzhkov's present term ends next July (Vedomosti, September 13).
While Chicago is a vastly important city in the US, Moscow is the undisputed sole center of everything important in Russia and the hub of all the money originating from its vast natural riches. Moscow is the cultural, administrative, political, science, economical and financial capital of Russia and the most important transportation hub. In short, he who controls Moscow, controls Russia.
Rumors about Luzhkov's imminent dismissal regularly circulate in Moscow. Last May the speaker of the Russian parliament Boris Grizlov dismissed the "rumors in the press" which claimed that Luzhkov would soon be ousted (Interfax, May 11). The present crisis began on August 9, when Luzhkov returned from Austria while Moscow was engulfed by smoke from the rampaging wildfires. Luzhkov met Prime Minister Vladimir Putin, who commended him for "returning on time." But a top source in President Dmitry Medvedev's administration told journalists: "Luzhkov came back too late" (Interfax, August 18). Newspapers began quoting the Kremlin about the inevitability of Luzhkov's dismissal and began discussing possible replacements (Nezavisimaya Gazeta, August 19).
Luzhkov replied in kind. A multimillion circulation Moscow tabloid printed an article, asserting Luzhkov's unequivocal loyalty to Putin, accusing the Kremlin of attempting to destabilize Russia and preparing a "colored" revolution, while colluding with Putin's political enemies and conspiring to free the imprisoned tycoon Mikhail Khodorkovsky. The article declared that Putin was specifically keeping Luzhkov as Moscow mayor to counterbalance Medvedev (Moskovsky Komsomolets, August 31). Luzhkov used the TV channel TVC he controls, to complain that during the wildfires Putin "supported me, while the presidential administration gave me a kick" (TVC, August, 31). In an article in the official government newspaper Luzhkov criticized Medvedev's decision to freeze construction of a new Moscow-St Petersburg highway after a public outcry over the demolition of the capital's Khimki forest, while fully supporting Putin's decision to build the road (Rossiyskaya Gazeta, September 6).
Last month Putin assured Luzhkov he will serve until next July and that his tenure maybe extended to oversee the 2012 elections of a new president and parliament to guarantee that the Moscow electorate votes as required. However, the deputy chief of the Kremlin administration Vladislav Surkov told journalists that Luzhkov cannot stay, "since he served 4 terms and is over 70" (Vedomosti, September 10). Meanwhike, a "source in the Kremlin" (apparently – Surkov) told Interfax that: "The Moscow authorities are attempting to create a conflict between the president and prime minister" and will be punished (Interfax, September 8). A coordinated attack by the federal TV channels followed, apparently ordered by Surkov, who is in charge of ideology, political parties and the press in the Kremlin.
In authoritarian dictatorships, top officials are sometimes ferociously attacked by the state-controlled press and TV, but this is usually a prelude to dismissal in disgrace or worse. But Luzhkov is not admitting mistakes or begging for clemency – a seasoned political combatant since the 1990s, he is fighting the Kremlin with all the capabilities he has. Some opposition figures that have previously opposed the Moscow authorities are now supporting Luzhkov against the Kremlin onslaught. United Russia seems to be split, while Putin – the ultimate arbiter of power in Russia – is keeping a low profile. Grizlov, United Russia No. 2 man after Putin told journalists he met Luzhkov, who told him the accusations were defamation, but the top United Russia leadership decided to do nothing for the time being (Interfax, September 14).
Luzhkov in turn addressed a conference of the Moscow regional United Russia organization saying: "I will not plead, I am not afraid of the scoundrels." The Moscow based United Russia organization Politsoviet gave Luzhkov a standing ovation and unanimously passed a resolution denouncing the attacks noting that the campaign against Luzhkov was being "organized by those, who want to politically destabilize Moscow and Russia," a reference to Russian President Medvedev (ITAR-TASS, September 14).
Under present Russian law, Medvedev may oust Luzhkov anytime he wants to by simply signing an ukaz (order), but apparently lacks the real authority or will to do so. The mysterious nature of power, secrecy, and political decision-making that was a major feature of Putin's Russia, is essential to the stability of most authoritarian regimes. However this authority is being put into question by the unruly public fight for Moscow's control between Luzhkov and Medvedev. Both are simultaneously being discredited: one a lame duck mayor and the other a lame duck president, all the while Putin remains silent.