Make the Green Serve China: PRC Influence Operations Target International Environmentalism
Publication: China Brief Volume: 22 Issue: 16
By: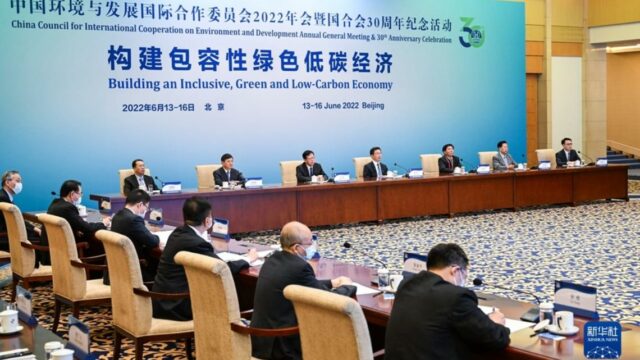 Introduction
As the world embraces green initiatives on an unprecedented scale, so has the Chinese Communist Party (CCP) — perhaps surprisingly — embraced the green movement, but has done so primarily to support its own political objectives. The People's Republic of China (PRC) has attempted to build an image as an environmentally responsible global player, a task made easier by former President Trump's withdrawal of the U.S. from international climate change cooperation frameworks, and China has trumpeted its efforts to develop its renewable energy and green technologies sectors (Xinhuanet, September 22, 2020). In addition, however, in the spirit of "do not destroy, repurpose," PRC influence agencies, as well as the Ministry of State Security (MSS, 国家安全部, Guojia Anquan Bu), the PRC's main civilian intelligence agency, have been cultivating ties with the world's largest green non-governmental organizations (NGOs), as well as government environmental officials from the West. [1] These efforts and NGO-regulations led to the current state when environmental foundations praise China and almost never criticize it, while the country remains one of the top world polluters. Thus, possibly with the best intentions, these institutions serve PRC's propaganda and help legitimize the CCP in an area that had been Beijing's weak point both domestically and internationally, while also giving funds to the PRC. [2]
In contrast, Greenpeace, which has no apparent institutional ties with PRC influence organs, continues to systematically criticize China's environmental policies, strengthening the argument that such ties at least correlate with benevolence towards PRC green efforts (Greenpeace East Asia, July 13, 2016; Greenpeace, August 8, 2016; Greenpeace East Asia, January 18; Greenpeace East Asia, July 20).
These activities are somewhat reminiscent of the USSR's exploitation of the world peace movement during the Cold War, through which Moscow sought to demilitarize its enemies by encouraging them to pursue a generally, worthy  goal. While their methods are similar, the focus of the CCP's "green cooption" efforts appear to be mainly to support its propaganda and political goals.
Institutional Ties
The China Biodiversity Conservation and Green Development Foundation (CBCGDF, 中国生物多样性保护与绿色发展基金会, Zhongguo Shengwu Duoyangxing Baohu yu Lüse Fazhan Jijinhui), which cooperates with several Western environmental NGOs and the UN, includes several united front cadre in its leadership (CBCGDF). While the foundation's secretary-general is a former representative to the Chinese People's Political Consultative Conference (CPPCC, 中国人民政治协商会议, Zhongguo Renmin Zhengzhi Xieshang Huiyi), the top-level united front body, a former deputy head of the United Front Work Department (UWFD, 统一战线工作部, Tongyi Zhanxian Gongzuo Bu) presides over its council, which also includes a current UFWD cadre (CBCGDF, November 24, 2016; CBCGDF, June 1, 2016). The U.S.-based Natural Resources Defense Foundation has collaborated with CBCGD (and with some of the united front umbrella organizations described below), and was criticized by the U.S. House of Representatives Committee on Natural Resources in 2018 for its ties to the CCP and alleged double standards in environmental status reporting (U.S. House of Representatives Committee on Natural Resources, June 5, 2018).
Another key issue that complicates international environmental organizations' engagement with Chinese counterparts is NGO governance in the PRC, which has become more politicized and hostile toward Western organizations in recent years. In late 2016, the PRC enacted a new law on the governance of overseas NGOs under which they can be expelled from the country for overt criticism of CCP policies, or any other actions that "endanger China's national unity, security, or ethnic unity" or damage "China's national or public interests" (Fuzhou Foreign Affairs Office, February 23). Furthermore, this system is managed by the Ministry of Public Security (公安部, Gong'an Bu), a security organ engaged in intelligence and counter-intelligence operations that is often misrepresented as the PRC "police ministry" (Sinopsis, February 21). This oversight by the security services alone puts the integrity of the NGOs that remain in the country in question.
The global green C40 alliance of mayors has also been targeted by PRC influence efforts. In September 2021, the Chinese People's Association for Friendship with Foreign Countries (CPAFFC, 中国人民对外友好协会, Zhongguo Renmin Duiwai Youhao Xiehui), a people's diplomacy organ in charge — among other responsibilities — of city-to-city relations management, co-organized a video-conference with C40 representatives where the CPAFFC president gave the opening speech (Chinese People's Association for Friendship with Foreign Countries, September 11, 2021).
Personnel links 
Other than direct links to influence organs, the local staff of Western green NGOs are also sometimes ensnared in conflicts of interest that involve the PRC.
The CEO of Energy Foundation China, which is a U.S.-registered organization, Zou Ji (邹骥) concurrently works at Tsinghua University center — whose director said that its activities must "firmly serve the party, government and people's political orientation" — alongside a retired PLA military scholar (and senior PLA officer), and a former deputy director of a department of the China Institutes of Contemporary International Relations (CICIR, 中国现代国际关系研究院, Zhongguo Xiandai Guoji Guanxi Yanjiuyuan), which is part of the Ministry of State Security (MSS) (Tsinghua University; Tsinghua University, April 2019).
Fang Li (方莉), who is the director of the World Resources Institute (WRI) China, previously served as a deputy director general of a Ministry of Ecology and Environment's unit mainly tasked with promoting the BRI (World Resources Institute). In 2020, Fang attended — on behalf of the WRI—a conference organized by the Center for China and Globalisation (CCG, 全球化智库, quanqiu hua zhiku)—a think tank affiliated with the UFWD as well as the International Liaison Department (ILD, 中央对外联络部, Zhongyang Duiwai Lianluo Bu), a central influence organ previously described by the Czech counter-intelligence as a special party intelligence agency, that recently signed an open letter urging the UN to stop the publication of a Xinjiang situation report (Education and Sustainable Development Think Tank, November 25, 2020; BIS, October 11, 2020; China Daily, July 26). [2]
As of 2021 (no current data is available), the World Resources Institute (WRI) China advisory board included a former member of the National People's Congress (NPC) Standing Committee and a researcher from the Chinese People's Institute of Foreign Affairs (中国人民外交学会, Zhongguo Renmin Waijiao Xuehui), a people's diplomacy organ affiliated with the Ministry of Foreign Affairs (WRI; International Ecological Economy Promotion Association; China Institute for Innovation & Development Strategy; Chinese People's Institute of Foreign Affairs).
Ma Jun (马骏), the PRC chair of the UK-China Green Finance Centre (launched by the City of London Corporation and China Green Finance Committee) concurrently serves as a deputy head of an expert committee at the All-China Federation of Returned Overseas Chinese (中华全国归国华侨联合会, Zhongguo Quanguo Guiguo Huaqiao Lianhehui),a key united front organ targeting the Overseas Chinese, which is not mentioned in his bio on the Centre's website (UK-China Green Finance Centre; Green Finance Expert Committee of the China Financial Forum).
The Children's Investment Fund Foundation employs NPC Standing Committee member Wang Yi (王毅) [not to be confused with the current foreign minister of the same name], a Vice President and Researcher of the Chinese Academy of Sciences' Institute of Science and Technology Strategic Consulting, as an "independent advisor" as of 2020 (Beautiful China Forum 100).
United Front Umbrella Organizations
As is typical of united-front-like methods and the BRI, the PRC has established a number of umbrella organizations for its activities in the environmental sphere. [4] The main body, encompassing a significant number of large Green NGOs as well as environmental state officials, is the China Council for International Cooperation on Environment and Development (CCICED, 中国环境与发展国际合作委员会, Zhongguo Huanjing yu Fazhan Guoji Hezuo Weiyuanhui). While the PRC vice premier and politburo standing committee member Han Zheng (韩正) chairs the council, the minister of ecology and environment Huang Runqiu (黄润秋) serves as his deputy, many of its advisors and council members have backgrounds in influence operations. The CCICED's chief advisor used to serve as deputy director of the State Council Development Research Center (国务院发展研究中心, Guowuyuan Fazhan Yanjiu Zhongxin), an organ involved in BRI influence operations targeting politicians and think tankers alongside the ILD (CCICED; Sinopsis, August 12, 2019). As of September 2021, one of the council members was a former president of the CPAFFC (CCICED). One of the special advisors is a an ex-deputy head of the China Council for the Promotion of International Trade (中国国际贸易促进会, Zhongguo Guoji Maoyi Cujin Hui), a "people's diplomacy" organ from the PRC's financial system (CCICED; Sinopsis, November 20, 2021). The presence of these individuals suggests that CCICED also serves influence purposes, exploiting foreign government officials and NGO heads (including the Canadian minister of environment) — who are given what appear to be mere token positions on the council — for green-washing propaganda while receiving money (CCICED's total budget amounts to roughly $20.000.000) from the foreign states and organizations that the councilors represent (CCICED, April 7, 2021).
Another, more recent, China-centric international body also involves influence work cadres, but additionally a PRC intelligence agency is the Belt and Road Initiative International Green Development Coalition (BRIIGDC, "一带一路"绿色发展国际联盟, "Yi Dai Yi Lu" Lüse Fazhan Guoji Lianmeng). The BRIIGDC was  established in 2019 as a grouping for the Green BRI at the PRC Ministry of Ecology and Environment (中国生态环境部, Zhongguo Shengtai Huanjing Bu) during the BRI summit, and is also co-chaired by Huang alongside three foreign state and NGO representatives (Green Belt and Road Initiative Center; BRIIGDC). The Coalition's partner list includes several foreign environmental ministries, even from countries that are not part of the BRI such as Finland (BRIIGDC). PRC partners comprise China Daily, the party external propaganda outlet, as well as CICIR, the 11th bureau of the Ministry of State Security (BRIIGDC). [5] CICIR is also part of the BRIIGDC's green big data platform project (Green BRI). As with CCICED, the Coalition's activities are financially sponsored by Western green foundations (CCICED).
Ecological Security
Environmentalism is a priority for the PRC in part because  CCP leadership perceives it as a security issue with overarching political security implications discussed in party theory.Efforts to counter negative ecological effects (and possibly criticism of the government to mitigate them) are labeled as ecological security (生态安全, Shengtai Anquan), one of the several non-traditional security issues integrated into the "Overall National Security Outlook" (总体国家安全观, Zongti Guojia Anquan Guan), Xi's security paradigm enshrined in CCP theory (Sinopsis, June 16, 2020). The overall goal of Xi's focus on security is to the consolidate power of the CCP at home and promote its model abroad in order to alter the global governance system. Ecological security is embedded within the 2020 CCICED-produced policy document-Green BRI and 2030 Agenda for Sustainable Development, and is generally part of the Green BRI's concepts and ideas (CCICED, September 2020; CPC News, May 11, 2017; China.org, February 26, 2021). According to an article published in the CCP's theoretical magazine, Qiushi, ecological security is on par with political and military security, saying that "if the environment lacks security, it must affect social stability and endanger state security (Qiushi, December 18, 2015). A PRC united front media article postulates that environmental pollution "can pose severe challenges for social stability and political security" (China News Service, May 25, 2021).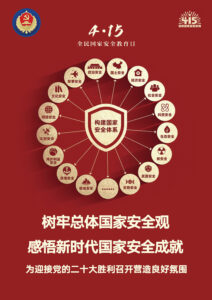 ---
This thinking led even the CICIR's Research Center for Overall National Security Outlook (总体国家安全观研究中心, Zongti Guojia Anquan Guan Yanjiu Zhongxin) to publish on ecological security (Research Center for Overall National Security Outlook ). Moreover, in June 2021, one of its leading cadres attended a conference on the building of Ecological Civilization (生态文明, Shengtai Wenming) and the Community of Common Destiny (人类命运共同体, Renlei Mingyun Gongtongti), both CCP ideological touchstones, organized by the Foreign Environmental Cooperation Center of the Chinese Ministry of Ecology and Environment (Foreign Environmental Cooperation Center of the Chinese Ministry of Ecology and Environment, June 21, 2021). [6] Staff from the BRIGDC Secretariat, the CCICED, and external propaganda organs also participated in the meeting and all present unanimously agreed that the PRC's Ecological Civilization building is important not only for the Chinese people, but that it also "brings more development opportunities to the world and contributes to the [appeal] of the China Model", and so this concept "should be actively promoted to the international community" (Foreign Environmental Cooperation Center of the Chinese Ministry of Ecology and Environment; China Foreign Languages Publishing Administration).
Conclusion
The institutional and personnel ties that link green NGOs and environmental government officials to PRC influence organs undermine these entities' legitimacy and independence as important actors in the global effort to combat the effects of climate change. Refraining from open criticism of the PRC's environmental track record, possibly to avoid expulsion from the country, helps green-wash the regime's activities that now include a significant increase in its use of coal energy. Furthermore, Beijing's sincerity in fighting climate change is rather questionable, as it did not shy from taking these global efforts hostage during outreach by the U.S. government in 2021. The PRC then gave the U.S. climate change envoy John Kerry two lists of political demands (including easing restrictions on CCP members' access to the U.S., as well as Confucius Institutes operations in the country) that need to be taken before Beijing agrees to work with the U.S. on the climate (Xinhua, July 26, 2021). U.S.-China talks on climate change were also one of the eight areas of dialogue and cooperation suspended by Beijing in retaliation for U.S. Speaker Nancy Pelosi's visit to Taiwan last month (FMPRC, August 5). The PRC's willingness to use environmental cooperation as a geopolitical bargaining chip in the U.S.-China competition makes the whole green outreach by the international community to China look rather naive.
Filip Jirouš is an independent analyst focusing on PRC United Front and European academic cooperation with the PRC military-industrial complex.
Author's note: the title of this article is inspired by Anne-Marie Brady's 2003 book, Making the Foreign Serve China: Managing Foreigners in the People's Republic.
Notes
[1] On repurposing, see Sinopsis, November 26, 2019.
[2] The author provided Chinese-language research that informed the article by David Rose published with the British media outlet UnHerd that described this phenomenon (UnHerd, December 15, 2021).
[3] Alex Joske and Jeffrey Stoff, "The United Front and Technology Transfer" in William C.Hannas and Didi Kirsten Tatlow (eds.), China's Quest for Foreign Technology: Beyond Espionage, Routledge, 2020.
[4] For BRI umbrella organizations involving many of the influence organs discussed in this article see Sinopsis, August 12, 2019.
[5] On CICIR's activities targeting Eastern European think tanks and scholars see China Brief, July 1, and China Brief, December 3, 2021.
[6] Ecological Civilization building is a term upgraded by Xi Jinping and incorporated into Xi Jinping Thought on Socialism with Chinese Characteristics for a New Era (习近平新时代中国特色社会主义思想, Xi Jinping Xin Shidai Zhongguo Tese Shehuizhuyi Sixiang) (Qiushi, January 7, 2020). According to discussion of its meaning in a CCP political theory magazine, it is Marxist and scientific by nature, stresses development and is important for the "China Model" (中国模式, Zhongguo Moshi), a term originally stressing the uniqueness of PRC development, but recently turned into an export article. For more on Community of Common Destiny and other relevant foreign policy ideological concepts, see The National Bureau of Asian Research, January 2020.