Marginal Political Groups in Georgia Try to Fill the Political Vacuum in the Country
Publication: Eurasia Daily Monitor Volume: 12 Issue: 29
By: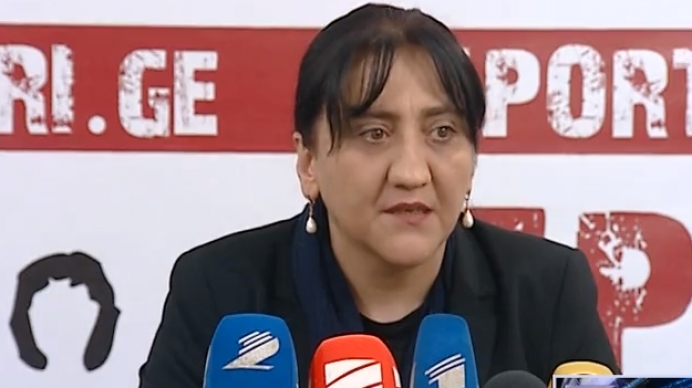 On January 31, several thousand protesters gathered in downtown Tbilisi. They demanded that the government more actively pursue the prosecution of high-ranking members of the United National Movement (UNM) party for their alleged abuses of power during UNM's tenure in government until 2012–2013. The rally was organized and led by the Alliance of Patriots of Georgia (APG), a relatively new and small political party, even by Georgian standards (Imedi TV; Channel 1, January 31).
Although, there is nothing unusual about this type of street protest in Georgia, it nevertheless reveals a new trend traversing the Georgian political landscape. Specifically, as the Georgian Dream (GD) coalition–led government rapidly loses public support (see EDM, December 10, 2014; January 26, 2015) and since the main opposition party, UNM, remains widely unpopular, a political vacuum is emerging in Georgia. This vacuum is intensified by the absence of a credible, alternative opposition force, which would be capable of leading the country should Georgian voters decide to throw the current ruling coalition out of the office in the next election. Apparently, some marginal political forces in Georgia have sensed the new political climate and are beginning to reactivate, trying to carve out their niche and make inroads with the Georgian electorate.
Among these growing marginal parties, the most interesting case is the above-mentioned APG. The party was founded, in 2013, by Irma Inashvili, a journalist for the popular Obieqtivi TV program. Inashvili played a key role in obtaining the 2012 Gldani prison abuse video tapes (see EDM, January 9, 2013), which eventually facilitated the defeat of President Mikheil Saakashvili's ruling UNM in that year's parliamentary election.
APG's political program, however, is far from comprehensive. It advocates increased social spending without elaborating how and from where it will secure money for those programs in an impoverished country such as Georgia. The party's program is even more shadowy when it comes to its foreign policy outlook. APG says that it does not resist Georgia's European membership, yet it opposes the signing of the free trade agreement with the European Union, arguing that Georgia is not economically ready for it. Moreover, the party skillfully plays on the existing frustration in Georgian society about the delayed process of Georgia's integration into the North Atlantic Treaty Organization (NATO) and Western countries' refusal to grant Georgia even a Membership Action Plan (MAP). APG argues that the country's pursuit to join NATO is fruitless. Notably, this newly formed party garnered just under 5 percent of the national vote in the June 2014 local elections, which automatically qualified it for state funding. The APG party is now gearing up for the upcoming 2016 parliamentary elections, vowing big electoral gains (Civil Georgia, June 21, 2014).
The prevailing vacuum in the Georgian political system is further being filled by the arrival of some politically obscure and dubious personalities. For instance, on January 8, Gia Korkotashvili, a radio entertainment show personality, infamous in Tbilisi largely for his Russian party songs and flamboyant character, stated that he was conducting negotiations with various groups and individuals to form a new, grand political alliance to challenge the government for its unfulfilled electoral promises (Info9.ge, January 8). The fact that the Georgian media took seriously the political aspirations of this nationally unfamiliar and extremely controversial character proves how desperate Georgian society appears to be for a fresh political force. Naturally, such sentiments create fertile ground for various marginal political groups to reactivate and hijack the established political processes in the country.
The upcoming parliamentary elections in 2016 give new incentive to these groups to seek bigger political representation. And there are already signs of this occurring. For instance, on January 31, several extra-parliamentary opposition parties—among them the pro-Russian Democratic Movement–United Georgia party and its leader, Nino Burjanadze, who remains the only active opposition politician in the country to have met with Vladimir Putin in 2010—demanded reforms to Georgia's electoral system. Specifically, these parties insisted that the government scrap the majoritarian system and switch entirely to a proportional, party list system. Currently, the Georgian parliament is elected via a mixed system, according to which 73 of the 150 members of parliament (MP) are elected in majoritarian, single mandate constituencies and the other 77 are elected in proportional party list contests. The protesting parties argued that the majoritarian system always enables a sitting ruling party (whichever it is) to influence the outcome of the majoritarian contests and majoritarian MPs in order to dominate the next parliament—even if the ruling party does not attract sufficient votes in the proportional electoral contests. Such a system impedes democracy, they argued (Rustavi 2, January 31).
Those parties may have a point; however, it is doubtful that the country's marginalized extra-parliamentary political parties were motivated purely by a desire for greater democracy, with the next parliamentary election cycle right around the corner. More likely, they see greater opportunity for them to win more parliamentary seats under proportional lists, thanks to growing anti-government popular sentiments among voters.
The following months, and then the 2016 parliamentary elections, will show to what degree these marginal Georgian political groups can succeed in filling the country's growing political vacuum. Their success will depend on Georgia society, which is angry at the current political establishment. It remains to be seen, however, whether the electorate will exercise sufficient caution in handing power to unknown, inexperienced or dubious political factions.