Massive Russian Troop Deployments and Exercises Held Close to Ukraine
Publication: Eurasia Daily Monitor Volume: 13 Issue: 144
By: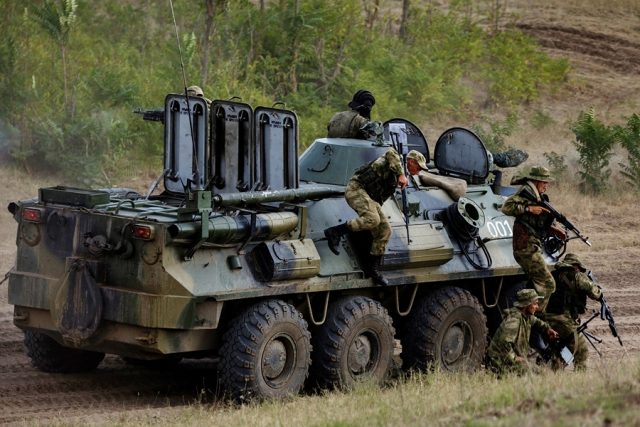 The Russian Armed Forces have begun their pre-announced strategic military exercise "Kavkaz 2016" in Crimea, the North Caucasus, and the Black and Caspian Seas. Reportedly, the exercise, held on September 5–10, "will test the battle-readiness of troops, new weapons, as well as command-and control equipment." The officially announced number of troops taking part is 12,500, but much more men and combat equipment could actually have been mobilized for action (TASS, August 5). Kavkaz 2016 was preceded by 12 "special logistical supply exercises" to test the ability of naval and other forces to be swiftly resupplied in high-intensity combat. Live torpedoes, rockets and shells were loaded on ships; marines with armor were placed on landing craft and moved into positions off Crimea "awaiting orders to go" (Mil.ru, August 18).
On August 25, massive snap exercises were launched as a preparation for Kavkaz 2016. All Russian strategic military commands with the exception of the Far East were fully or partially mobilized. In addition, the elite Airborne troops (VDV), the North and Black Sea fleets, the Caspian flotilla, as well as the air force (Voyenno Kosmichedskie Sily—VKS) were mobilized for action. The mobilized forces of the Southern Military District (including the Russian troops based on occupied Georgian territory in Abkhazia and South Ossetia) were reinforced with combat units from the Western and Central commands moved by air and land from as far as Siberia and the Urals. At the same time, airborne VDV units and VKS warplanes were deployed "to form multi-force combat groupings in the southwest of Russia." Paratroopers and marines were moved into Crimea. Reservists were called up in different parts of Russia and moved to the borders of Ukraine and to the Caucasus. Industrial and transport infrastructure, local and metropolitan civilian administrations, as well as elements of the national banking system were mobilized to serve the joint military effort (Mil.ru, August 25).
The snap exercise and the follow-up strategic Kavkaz 2016 maneuvers seem intended to test the overall swift transformation of Russia into a mobilized national military machine prepared for offensive action (Nezavisimaya Gazeta, August 26). The main center of gravity of Kavkaz 2016 seems to be Crimea, where tensions between Moscow and Kyiv have been escalating recently. On August 10, the Federal Security Service (FSB) accused Ukrainian special forces of preparing "terrorist attacks" on the Crimean Peninsula, which Russia illegally annexed from Ukraine in March 2014. Arrests of alleged Ukrainian agents were announced, while an FSB official and a VDV solder were reported killed in clashes with alleged armed Ukrainian infiltrators. Moscow accused Ukraine of "resorting to terrorism instead of seeking a peaceful resolution of the conflict in Donbas." Russian officials threatened to sever diplomatic relations (Izvestia, Interfax, August 12).
Ukrainian officials denied any involvement and accused Russia of staging a provocation. In mid-August, Ukrainian President Petro Poroshenko announced, "There is a serious possibility of a massive Russian invasion, and we are preparing our military to resist" (Interfax, August 18). Poroshenko accused Moscow of attempting to destabilize Ukraine and "make all of Ukraine part of the Russian empire" (Interfax, August 25). Russian officials, including President Vladimir Putin, dismissed Poroshenko's allegations as an attempt to create an external threat to distract the Ukrainian population and cover up Ukraine's terrible social and economic crisis. The Moscow press claims that although Russia is not planning any invasion of Ukraine, if Russian tanks roll in, crowds of Ukrainians will line the streets to greet them with flowers (Mk.ru, August 18).
On September 6, during his annual address to the Supreme Rada (national parliament), President Poroshenko praised the profound transformation of the Ukrainian military in the last two years under his leadership: Though armed with not the most modern weapons, it is currently much better organized and more capable to defend the nation. Poroshenko accused Russia of expansionism, of destroying the foundations of European security and international law, of being an "aggressor," and of harming Ukrainians. Poroshenko reiterated his unflinching ("like the Polar Star in the night sky") commitment to join the North Atlantic Treaty Organization (NATO). Poroshenko promised to expand security cooperation with NATO member states, though acknowledging that not all in the West are ready to fully embrace Ukraine (Interfax, September 6). The Kremlin reaction was swift: "Putin does not plan to speak to Poroshenko, and the contacts between the two countries are minimal." According to Kremlin spokesperson Dmitry Peskov, "for Putin to speak to Poroshenko, conditions must mature and homework be done" (Interfax, September 7).
Poroshenko and the Kremlin may be repeating previously stated rhetoric, and Poroshenko in particular may be appealing to the internal patriotic audience. But it is clear that the present Russian regime will not accept and is ready to do what it takes to prevent Ukraine or any other former Soviet country from integrating with NATO or any European or North Atlantic institutions. As part of Kavkaz 2016, on September 8, some 70 warplanes were simultaneously in the air over Crimea, simulating a massive air battle, supported by numerous S-300, S-400 and Pantsir-S anti-aircraft missile systems (Mil.ru, September 8).
The massive snap exercises last August were held in the absence of foreign military observers, but military diplomatic staff accredited in Moscow have been invited to take a special tour on September 9 to visit the Kavkaz 2016 exercise, see some simulated combat action, and receive a briefing (TASS, September 29). A Western military attaché in Moscow, who asked not to disclose his identity, told this author on September 7: "We will not go, since we are invited to fly a Russian military transport jet from a Moscow military base to occupied Crimea to see the action and get a briefing, which is a blatant violation of Ukrainian sovereignty." A Western diplomat may possibly enter Crimea only with the consent of Kyiv and through a Ukrainian checkpoint. Apparently to supplement the possible mass boycott by Moscow-accredited military attachés of the trip to Kavkaz 2016, the Russian defense ministry has also invited over 100 foreign correspondents to join. As of this writing, it was not clear which Moscow-based military attachés, excluding the obvious ones from North Korea, Cuba, Venezuela and Nicaragua, will take the propaganda trip to Crimea this week, or what international news organizations will decide to defy Ukrainian sovereignty. Regardless, the principle of transparency and predictability of military activities in Europe, established as the Cold War ended, is now effectively defunct, and the threat of large-scale war is back.