Medvedev Acknowledges Problems in the "New Look" Armed Forces
Publication: Eurasia Daily Monitor Volume: 7 Issue: 48
By: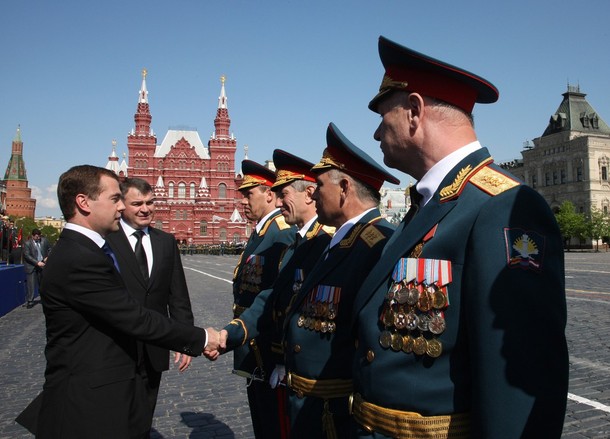 Last week, President Dmitry Medvedev addressed a gathering of the Russian top brass in Moscow – the so called "extended defense ministry collegium." Medvedev was upbeat about the military reform that began in September 2008 by presidential decree. According to the Defense Minister, Anatoly Serdyukov: "We presented our achievements in 2009 and the president recognized them as satisfactory." Medvedev also discussed the details of the next May 9, World War II Victory-Day military parade in Moscow on Red Square (RIA Novosti, March 5).
Medvedev's opening speech was the only part of the entire "collegium" open to the press. He praised the defense ministry for "successfully changing the organizational structure of the armed forces within a limited time frame." The number of service personnel was cut from 1,130,000 in 2008 to one million and "more than 80 new brigades have been formed." According to Medvedev, the reformed units have shown overall good training and combat readiness during extensive military exercises in Belarus in September 2009 (Zapad 2009). "I was present during the exercises and witnessed these achievements," stated Medvedev, "though there are problems." Medvedev called for an extensive reform of military education "to train, new well educated, and motivated officers" as well as sergeants. He proclaimed his support for paying officers additional bonuses for good work after 2012, when an overall massive pay boost is planned. Medvedev demanded that all officers entitled to receive free housing must have it by 2012. Equally, he acknowledged there are problems with rearming the Russian military with modern weapons: "We are acting very slowly and not effectively enough." The president expressed confidence that by 2020 the Russian armed forces will have no less than 70 percent new weapons, including modern computerized command and control equipment. According to Medvedev, Russia does not need to expand its present nuclear arsenal, but must keep a credible nuclear deterrent "to maintain sovereignty" and "help regulate after-conflict situations" (www.kremlin.ru, Interfax, March 5).
According to Serdyukov, in 2008 half the manpower of the armed forces were officers and praporshiki – Soviet-style warrant officers mostly occupying low-level administrative positions. In total there were some 355,000 officers and 140,000 praporshiki. The rank of praporshiki was abolished last year, though some of them stayed in service as sergeants (Interfax, March 5). In 2009, Serdyukov announced, "some 65,000 officers were retired – those who volunteered to go, those who had reached pension age, or could not continue service because of health problems or violated their contract provisions." Some 135,000 officers must still be fired from the defense ministry armed forces to achieve the planned level of 150,000 active service officers and Serdyukov is sure that this will be achieved "in the coming several years." Serdyukov announced the defense ministry is doing everything possible to help the ousted officers adapt to civilian life (RIA Novosti, March 5).
In 1992, after the collapse of the Soviet Union, the Russian military began an "experiment" with hiring contract soldiers to supplement and eventually replace conscripts to form a more capable, professional military. Hundreds of thousands of contract solders have been employed, but according to Serdyukov, the entire plan to have a contract armed force has failed: "Conscript soldiers were persuaded in different ways to sign contracts; they continued to live in barracks as conscripts, received low pay and left as soon as they could. With such a system it was impossible to train good specialists." The draft will continue, stated Serdyukov, and only the navy will become all-volunteer. To achieve positive results, according to Serdyukov, contract soldiers must be paid 35,000 rubles per month (over $1,170), while "young officers" should receive 50,000 rubles per month (some $1,700) (Interfax, March 5).
The Chief of the General Staff, First Deputy Defense Minister Army-General, Nikolai Makarov, has publicly acknowledged that the kontraktniki program has failed to produce good soldiers or stem the constant level of hazing in the barracks. "Too many mistakes were made and the goal to build a professional force was not achieved," announced Makarov, "Moreover, we will now increase the draft, while reducing the number of kontraktniki – we will sign contracts only with sergeants that will be educated for two and a half years." Makarov quoted problems with low pay and bad service conditions, as the main reason for the failure of the contract system (RIA Novosti, February 24).
Indeed, the "experiment" with contract soldiers in the Russian army was doomed from the outset, by generals that most likely never wanted it to succeed and believed dogmatically in the Soviet conscript system. Low pay and bad service conditions were not the only problems: since 1992 no one in the defense ministry has bothered to create a professional recruiting system to find potential contract soldiers or candidates to be promoted to sergeants. Most contracts were signed directly within the units, supervised by unit commanders, promoting massive corruption and inefficiency. By 2004, some 80,000 kontraktniki were officers and praporshiki wives, employed as soldiers to bring second salaries to their families. Of course, no one ever intended to send those women into combat. Real service conscripts were forced en masse to sign contracts, but after conscript service in Russia was reduced to one year in 2007, it became much harder to force soldiers to sign up (Novie Izvestia, February 26).
The Russian officer corps is in a state of disarray, anticipating massive forced retirements. The military education system is in the midst of radical change and confusion. The defense ministry still does not have a recruiting system capable of finding good contract soldiers or sergeants. Russia does not possess any experience in educating career sergeants, and has not created a career path or re-education program for sergeants to encourage them to stay in the ranks and professionally develop. The new combat-ready brigades are manned by one-year-serving conscripts and some kontraktniki of dubious value, and it is virtually impossible to form modern combat units with such soldiers. Despite this, the defense ministry officially states there are no plans at present to increase conscript service (Interfax, March 1).
Does Medvedev, as Commander-in-Chief, understand that rearming is not, in fact, the most immediate pressing problem facing the armed forces?