Medvedev Addressed the Nation: Children as the Focus of His Presidential Campaign
Publication: Eurasia Daily Monitor Volume: 7 Issue: 214
By: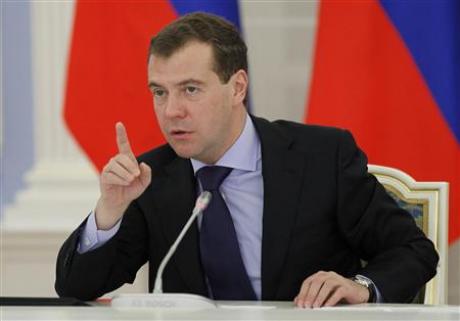 On December 30, Dmitry Medvedev delivered a national address, his third as Russia's president (https://kremlin.ru/news/9637). It was also his third major communication session with the population in just one week. Judging by their different content and means of delivery, it looks like a classical marketing strategy in action: to sell a product, convey a customized message about the product to the key audiences using the appropriate information channels. The product being Medvedev as Russia's president for a second term.
On November 22, Medvedev online-managed people's problems over leaking pipes and torn cables and chastised inept and corrupt bureaucrats at all levels in the process (https://kremlin.ru/transcripts/9578). The next day, Medvedev video-blogged his concern about the "imperfection" of Russian democracy (https://kremlin.ru/transcripts/9599) and then twitter-stressed the same thought. One week later, Medvedev's state-of-the-nation address was broadcast live on several TV and radio channels.
If someone was led by his previous messages to expect some major initiatives to change the existing political and social system in Russia, they were mistaken. For 45 minutes, President Medvedev talked about the "most precious value" –the children, elaborating an impressive program of child care to be realized by the authorities and educational specialists. The rising birthrate in Russia has been heralded as one of the true successes of the 2000's stabilization period. Never mind that the number of abandoned children also rose in the same period. The president declared that will be changed though he did not say how or who would make the irresponsible mothers keep their babies.
Another 25 minutes of Medvedev's speech was devoted to other pressing problems, among which the political system seemed the least worry for the president, as he only suggested that a proportional or mixed system should be introduced at the municipal elections. Medvedev also advised the regional authorities to privatize the assets in their possession, like the central government does, and addressed international security, threatening a new arms race, if NATO does not support a Russian initiative on a common anti-missile defense system. However, Medvedev obviously thinks it will secure transatlantic support, as he then linked the realization of Russia's modernization to the creation of the joint-ventures between Russian and leading western innovative companies (https://kommersant.ru/doc.aspx?DocsID=1549077).
On state finances, Medvedev proposed minor tax reductions for a fraction of small businesses and families with three children, promised some of the budget money to boost the healthcare and education reforms and a "significant part" of the state budget's expected revenue surplus to cover the needs of modernization. More generously, Medvedev declared that more than 20 trillion rubles ($634.4 billion) will be spent on building a "new, high-tech-equipped and mobile" army by 2020. Immediately after the address, the Finance Minister, Aleksei Kudrin, tried to mitigate the spending expectations, specifying that in 2011"modernization money" will not exceed the 2010 level of about 1 trillion rubles ($31.7 billion), and could not be appropriated earlier than the second half of 2011, while the bulk of the military reform finance will not appear before 2013, that is, after the presidential elections (Kommersant, 1 December).

Initially, Medvedev's address appears inconsistent in his communication with the population, but in fact he is consistent: aiming at the presidential election campaign, he constantly addresses various social strata of society. They are his key audiences, also known as electorate groups, which although overlapping, differ significantly in their educational, social and economic make-up and expectations.
There is a socially active and tech-savvy stratum of younger Russians, and Medvedev, very much like Tony Blair with his New Labor "cool Britannia" agenda, tries to convey his vision of a "cool Russia." The president does not spare any effort to reach this online-living audience, immersing himself in the virtual world with his 15 online communication resources, among them livejournal and youtube accounts, several sites, including cell and smart phone compatible, a videoblog, a message sender service and two twitter accounts (https://kremlin.ru/about/resources).
However, with the internet penetration level in Russia being just slightly over 40 percent, there is also a stratum of older, less socially active and more "real life problems" burdened citizens, who do not live online, but harbor, and from time to time even articulate, through spontaneous protest actions, their dissatisfaction with inadequate communal and social services, corrupt officials and insufficient living standards. These are to be impressed by the president's development agenda: modernization and innovation, e-government, anti-corruption campaign, as well as military and police reform. The heavy artillery of integrated communications, raging from the printed press and internet news resources to radio and TV channels, is aimed at selling Medvedev to this electorate group as the next president.
Finally, there is a large stratum of senior citizens, or those unfortunate Russians of all ages and professions who happen to live in depressed and underdeveloped areas. Most of those are not just internet or mobile communications deprived, but often do not have any access to running water or gas. Their comprehension of the concepts of innovation and modernization, political and economic reform, or a preferable type of democracy, classical or sovereign, in the vocabulary of the Kremlin's communication specialists, corresponds to their standards of living –it is low.
Sometimes it is difficult to define what holds together those very different strata of the Russian population as one nation. Two things do: they all have children and TV sets. That is why addressing the nation by the means of television, President Medvedev chose to talk about not just the most precious, but also the most common value for all people –the children. After all, he is to be the president of all Russians, that is, if those overlapping, but still very different strata of the Russian population would buy the same product, Dmitry Medvedev for the second term in office being sold to them through various communication channels.