Medvedev Expands the Northern Supply Route to Afghanistan
Publication: Eurasia Daily Monitor Volume: 6 Issue: 129
By: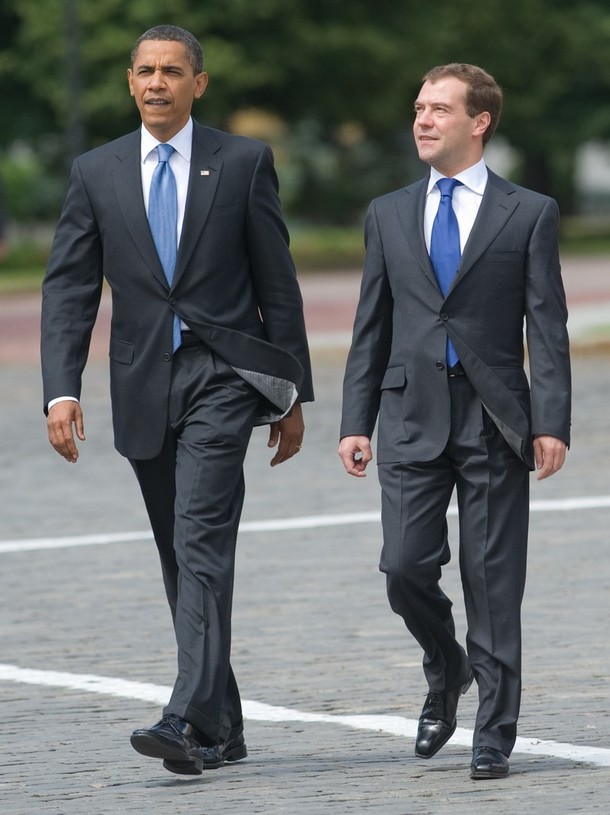 Russian President Dmitry Medvedev signed a significant military transit agreement with Barack Obama during the summit in Moscow on July 6. The agreement was forged in the context of reaching an understanding to commit both countries to nuclear arms reductions of up to one third, issuing a joint statement on missile defense (which remains unresolved), forming bilateral presidential commissions to expand future cooperation across a broad range of issues, and resuming bilateral military cooperation (suspended after the Russia-Georgia war in August 2008). To that end, Moscow has agreed to expand the transit of military and non-military supplies across Russian territory to U.S. troops in Afghanistan (Rossiya TV, July 6).
Obama said this military transit agreement will save the U.S. armed forces "time and money." An official White House statement confirmed the scale of the access: "This will permit 4,500 flights per year. The new transit routes will save the United States government up to $133 million annually in fuel, maintenance and other transportation costs, and this agreement is free of any air navigation charges" (The White House, Office of the Press Secretary, July 6).
The deal itself allows overland and air transit of U.S. military supplies through Russia to Afghanistan, and American troops can also be transported through Russian airspace. It clearly presents Moscow with critical leverage over Afghanistan, as the independent military analyst Alexander Golts observed, "if something goes wrong in Russian-U.S. relations, this transit will cease as quickly and suddenly as it started" (AP, July 3; ITAR-TASS, July 4).
Although an important step towards increasing bilateral cooperation over Afghanistan, it also marks a high point in Russian diplomacy originating in an offer from then President Vladimir Putin in April 2008. This ongoing process recently culminated in a visit to Moscow by the Chairman of the Joint Chiefs of Staff Admiral Michael Mullen, who met his Russian counterpart the Chief of the General Staff Army-General Nikolai Makarov. Mullen's visit on June 26 paved the way to the agreement being signed on July 6, reflecting Washington's vital interest in lessening future reliance on the vulnerable Pakistan supply route (VOA, June 27; ITAR-TASS, July 7).
The basic concept was proposed within the NATO-Russia Council (NRC). NATO Secretary-General Jaap de Hoop Scheffer said on March 15, 2008 a Russian proposal within the NRC suggested opening land and air corridors for Alliance access to Afghanistan. Scheffer explained, "I hope that Afghanistan might be an area where NATO and Russia can make strides to cooperate more closely together" (EDM, April 2, 2008). While officially this related to non-military transit, it soon became apparent that scope existed for using the northern route as a way of transporting military supplies. Several countries, including France, Germany and Spain, entered bilateral agreements with Russia in order to transport military supplies to Afghanistan. This was highly sensitive, since some NATO members continued to use the route following the deterioration in relations with Russia after the Georgia war.
In Washington on May 7, the Russian Foreign Minister Sergei Lavrov confirmed that military supplies had already passed through Russian territory, and he made it clear that this was not an unusual occurrence:
"It is only one year ago that we signed an agreement with NATO as an organization for non-lethal transit, but for many years lethal transit had been operating through Russia on the basis of our bilateral agreements with France, Germany, and recently the similar agreement with Spain was signed. They can move equipment and troops" (Carnegie, Federal News Service Transcript, May 7).
Moreover, Lavrov said that this mechanism could be utilized by any member of ISAF, following an official request to Moscow. The expansion of the northern route, in which case the supplies could include military as well as non-lethal materials, was pushed very actively by Medvedev on the sidelines of the Shanghai Cooperation Summit (SCO) in Yekaterinburg June 15-16. He particularly pressed the Kyrgyz President Kurmanbek Bakiyev to support the expansion of the northern route; the deal that ensued over Manas must be seen in this context. That the compromise over Manas was known in advance and most likely approved by the Kremlin is demonstrated by several interlinked factors (RIA Novosti, June 16). First, Bishkek is legally obligated to inform Moscow within the protocol of the Collective Security Treaty Organization (CSTO) of any military agreement with a third party country. Moreover, the close defense and security relationship between the two countries is complemented by the depth of bilateral intelligence cooperation. Prior to the announcement of the Manas agreement, the frequency of visits by Russian advisors to the MoD in Bishkek had also markedly increased. As one senior military officer in Central Asia told Jamestown, "we cannot even open a window, without the Russians knowing about it."
Moscow can now boast that in essence Russia is treated no differently from its Central Asian neighbors that also assist with the supply of the U.S. and NATO forces in Afghanistan; the fundamental difference is that the U.S. does not have basing rights on Russian territory. However, this is unnecessary while its airspace is open to the transportation of troops and weapons, and when both military and non-lethal materials can transit overland. The northern route also involves additional bilateral arrangements with Kazakhstan, Tajikistan and Uzbekistan, with most of the overland supplies passing through Termez in the latter and using the civilian airport at Navoi. These expanded and complex webs of supplying Afghanistan can be augmented by transit through the South Caucasus, which is likely to deepen and diversify still further.
Similarly, the new transit cooperation with Russia also has implications for the Central Asian states already involved in existing agreements to permit the transportation of non-military goods through their territory and airspace. In April, for instance, after protracted negotiations, Uzbekistan allowed non-lethal supplies to pass overland or through its airspace (EDM, April 7). Any U.S. military equipment or weapons transiting through Russia will necessarily involve passing through Central Asia, implying that Astana, Bishkek, Dushanbe and Tashkent have agreed to this expansion of the northern supply route. Moscow has now become pivotal in this process.