Medvedev Re-energizes Russian Caspian Policy in Baku
Publication: Eurasia Daily Monitor Volume: 7 Issue: 159
By: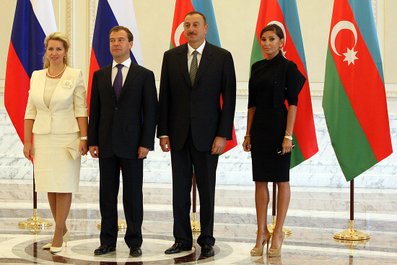 Russian President, Dmitry Medvedev, paid an official visit to Azerbaijan last weekend and added to all the protocol ceremonies an exchange of political gifts. Azeri President, Ilham Aliyev, wanted a substantial discussion of security matters, including Karabakh where a new clash had broken the old ceasefire on the eve of the visit (www.gazeta.ru, September 2). Medvedev sought to give a new impetus to energy policy, reminding the EU that natural gas is a key issue even amidst the evolving economic recession. Both leaders had good reasons to feel satisfied, and the agreement on the delimitation of the 390 kilometer border –the first one for Azerbaijan– signifies Moscow's readiness to reduce friction in their "brotherly" relations (Nezavisimaya Gazeta, September 3; Rossiyskaya gazeta, September 6).
The particular twist to the security discussion was added by Medvedev's visit to Armenia two weeks earlier, marking a new deal on the Gyumri base. In Yerevan, Medvedev asserted that the Russian-Armenian security alliance had reached new heights, and in Baku, he was eager to offer assurances that nothing had changed and the Russian military presence in Armenia would remain at its existing level (Vremya Novostei, September 3). This might be interpreted as political duplicity, but mostly it reflects the deep ambivalence of Russian policy: Moscow has to invest in preserving its bond with Armenia while seeking to control, rather than moderate, the negotiation process over the non-negotiable Karabakh conflict. Russia, thus finds itself performing the role of protector of the status-quo, which is very unsatisfactory for the parties to the conflict and their neighbors, including Turkey.
Aliyev graciously accepted Medvedev's explanations and refrained from expressing any opinion on the Russian-Georgian conflict, not out of diplomatic politeness but rather pursuing a hidden agenda: he wants to put Washington and Brussels on notice that their slackened attention to Azerbaijan could have consequences. The key signal was sent by the new agreement with Gazprom on doubling the export of gas in 2011; the volume of 2 billion cubic meters (bcm) is still insignificant, and the price of $245 per thousand cubic meters (tcm) (based upon an oil price of $75 per barrel) is 30 percent higher than what Turkmenistan receives –but the ramifications could be serious (Kommersant, September 4). Alexei Miller, Gazprom's CEO, repeated in Baku that any amount of gas could be purchased, and this threat to the EU-supported Nabucco pipeline project was aggravated by the proposition to buy a share in the off-shore Shah Deniz gas-field (Ekspert, September 3). The unfortunate BP is hardly thrilled with this idea, but Gazprom can make it clear that it is not in any position to refuse the offer.
This Caspian diplomatic offensive is due to continue this week as Medvedev travels to Kazakhstan where President Nursultan Nazarbayev also has security matters at the top of his agenda. Kyrgyzstan is balancing on the brink of failure and the forthcoming elections are fuelling political rivalries; even more worrisome, perhaps, was the suicide attack in Khujand, Tajikistan last Friday (Nezavisimaya Gazeta, August 30; www.gazeta.ru, September 3). This rare form of terrorism in Central Asia remains shockingly common in the North Caucasus as the explosion in the military base at Buinaksk, Dagestan on September 5 once again demonstrated (www.newsru.com, September 5). Medvedev will condemn terrorists and extremists in the strongest possible way, but he can hardly follow-up with any action because Russia's capabilities for power projection in Central Asia have shrunk to next-to-nothing. The refusal to intervene in Kyrgyzstan last April in order to stop the massacre in the Osh region was revealing, and the proposal to revise the charter of the Collective Security Treaty Organization (CSTO) might change some stripes on this paper-tiger, but it will hardly succeed in elevating the organization to cardboard strength (Ezhednevny Zhurnal, August 24).
Paying extensive lip-service to security and promising Nazarbayev full support in his effort to host a successful OSCE summit, Medvedev will try to lead him into discussing energy issues. Russia certainly does not need any oil from Kazakhstan, but it wants to increase its transit via Novorossiysk –and it requires support for exercising the "collective persuasion" of Turkmenistan to abandon exporting its gas to Europe (Ekspert, August 25; Nezavisimaya Gazeta, August 26). Gazprom is facing serious problems in the European market and finds it impossible to resist requests for reducing processing from most customers from Latvia to Germany (Vedomosti, August 20). Even more upsetting is the Polish demand to grant control over the Yamal pipeline crossing its territory to an independent operator in accordance with the "third energy package" approved, and now enforced by the European Commission (Kommersant, September 2). Gazprom has to impress upon the recession-preoccupied EU that gas matters cannot be treated lightly and to reconfirm its position of irreplaceable supplier –and the Caspian energy intrigues should answer perfectly these needs.
Medvedev and Miller might score a few points in this old energy game but the stakes are not what they once were and the rules are changing: not in Russia's favor. Sprouting interconnectors are making the European gas market more flexible and it is set to remain saturated even without new unconventional sources of supply coming on-line, consequently Gazprom needs to learn the skills of bargaining in a crowded and "bearish" market. Gazprom's latest statistics show sales to Europe down 22 percent year-on-year and it is unable to reconcile its colossal operational costs with the revenues on the current plateau (RBC Daily, September 3).
There is equally a problem with command over energy forces and resources. Western counterparts are still inclined to give Medvedev the benefit of the doubt with his "modernization" ambitions, and the South Caucasian and Central Asian leaders are taking him semi-seriously in security discussions, but on both accounts his credit of confidence is running thin. In the opening of the new political season, Prime Minister, Vladimir Putin, will likely find a suitable moment to inform his junior partner about their joint decision on reshaping the leadership by 2012, and after that all energy-security deals would have to be re-negotiated anew.