Medvedev Scolds Defense Industry And Pledges Huge Spending
Publication: Eurasia Daily Monitor Volume: 7 Issue: 171
By: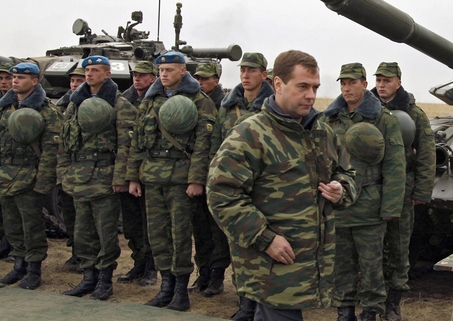 This week President Dmitry Medvedev chaired a special session of the Commission of Modernization and Technological Development of the Russian Economy, attended by ministers, administration officials, defense industry chiefs and several prominent Russian billionaire oligarchs. The purpose of the meeting was to discuss the state of arms production and call for radical improvements. The proceedings at a military electronics and avionics factory near Moscow were secret, but in his public opening remarks, Medvedev scolded the defense industry for its backwardness, its inability to "innovate" and produce modern equipment to rearm the Russian military. "The situation is quite bad, quite heavy," announced Medvedev, "In many instances the Russian defense industry is unable to significantly increase production of high-tech equipment despite greater financing." According to Medvedev, "we lag behind industrial developed nations" while continuing to develop slightly modernized versions of Soviet-era weaponry instead of making something new (www.kremlin.ru, September 22).
Medvedev promised more defense spending and announced that defense industry innovation will not only modernize the armed forces, but also promote "the development of the entire economy." Medvedev recalled the Soviet experience during the Cold War when the "innovative defense complex" determined the development of the material base of the Russian economy. The defense industry must become "a generator of innovation" and modernization. Medvedev proposed forming a Russian equivalent of the US Defense Advanced Research Projects Agency (DARPA), first established in 1958 as a response to the Soviet launching of Sputnik in 1957 (www.kremlin.ru, September 22).
After the meeting, Defense Minister, Anatoliy Serdyukov, told journalists some "75 percent of military technologies may be used in the civilian economy." According to Serdyukov, technologies developed to produce new fighter jets, bombers, ballistic missiles and rockets may be used "in the civilian sector," but the drain of ideas and specialists abroad is hampering development (Interfax, September 22).
Deputy Prime Minister, Sergei Ivanov, told journalists that a new 10-year government rearmament program will allocate some 22 trillion rubles ($710 billion) to produce and develop new weapons. According to Ivanov, the defense ministry will receive 19 trillion rubles ($613 billion) while the other Russian military services will receive 3 trillion rubles ($97 billion); 20 percent of the total being spent on research and development and the rest on the procurement of weapons (RIA Novosti, September 22).
It is clear that Medvedev's continuous overtures about the necessity to "innovate" the Russian economy are focused on modernizing its military potential while the rest of the nation must somehow follow. Western technological and organizational knowhow (like DARPA) will be much welcomed, as during the industrialization of Soviet Russia in the 1930's under Josef Stalin, who propelled the Soviet Union to world prominence, militarily speaking, by acquiring staggering amounts of Western (US) equipment. Centering modernization on making new weapons may leave Russia as an archaic and repressive police state with an enhanced and potent military.
Russia has been increasingly active in the world arms trade market as a potential buyer, but according to Serdyukov instead of seeking off-the-shelf weapons, "we want to gain knowhow in technologies and produce them on Russian territory." Russia has procured Israeli unmanned aerial vehicles (UAVs) and is in prolonged negotiations with France to purchase Mistral-class helicopter-and-troop-carrying warships (Interfax, September 21). However, the West is still hesitant to transfer sensitive defense technologies. In response, Moscow is using bait-and-switch tactics (EDM, September 10). A defense ministry source told Interfax this week that the proposed international tender to procure Mistral-type assault ships will be "a formality" to obtain better terms. The technical tender requirements will be formulated in such a way that "the victory of the French ship is almost assured" (Interfax, September 21).
Medvedev has signed an ukaz, or decree, announcing Russia will not sell Iran S-300 air defense missiles in accordance with UN sanctions approved last June. The decision in principle was made some time ago (www.newsru.com, September 22). The sale of tanks, armored vehicles, large-caliber artillery, warplanes, military helicopters, ships and missiles are banned by the same ukaz (RIA Novosti, September 23). Moscow has been increasingly unhappy with Tehran's defiance of the international community in its development of nuclear technologies. Russia does not want a nuclear-capable and unpredictable Iran, and is clearly using the occasion to demonstrate to the West that it can act responsibly even at a financial loss. The sale of five Soviet-designed S-300 systems to Iran would have secured some $800 million in return (RIA Novosti, September 23). Russia has been Iran's main modern arms supplier since 1991, but now this market seems to have been lost.
Meanwhile, last week during a news conference in Washington, Serdyukov announced that Russia will sell 72 supersonic precision-guided long-range (300 kilometer) anti-ship P-800 Yakhont cruise missiles to Syria, brushing aside US objections and Israeli anger. The contract with Syria was signed in 2007 and will bring Moscow some $300 million (RIA Novosti, September 17). Israel has expressed fear that the Yakhont missiles may be passed to Hezbollah in Lebanon and used against its navy, but Serdyukov bluntly dismissed such a possibility. The Israeli Prime Minister, Binyamin Netanyahu telephoned Prime Minister Vladimir Putin, while Israeli Defense Minister, Ehud Barak, during a visit to Russia pleaded with Serdyukov and Putin for the Yakhont sale to be revoked (Kommersant, August 28).
It would seem US and Israeli efforts have failed, but in fact a secure deal with Syria has not been reached. Russia wants Israel to supply the knowhow to produce modern UAVs under license in Russia (RIA Novosti, April 21). However, the negotiations seem to have run into snags. With the possible sale of S-300 to Iran finally dead as a bargaining chip, Moscow may be creating an alternative. During a meeting with Ehud Barak in Sochi, Putin announced plans for further wide ranging defense cooperation. If the Yakhont sale proceeds, such cooperation will be jeopardized yet only Putin has the authority to stop it. Equally, if Washington and Tel Aviv find the correct arguments, Moscow's position may shift and the Yakhont's could be put on hold like the S-300's. Indeed, $300 million is not that much money in Putin's book.