Medvedev Tries To Rescue His Presidency
Publication: Eurasia Daily Monitor Volume: 8 Issue: 65
By: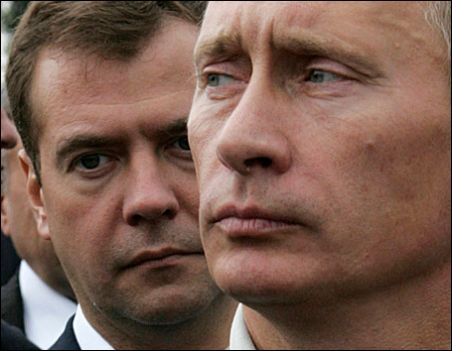 Political agitation in Russia reached a new high on March 30, during a routine meeting of the Commission for Modernization of Economy, where President Dmitry Medvedev instead of promising more money for innovations started with an assessment of the investment climate: "It is very bad, very bad." The accelerating outflow of money from Russia makes such a diagnosis all too obvious, but Medvedev proceeded with a bold statement: "I cannot let it continue," and presented a list of urgent measures, including tax cuts and red tape elimination (Rossiyskaya Gazeta, Nezavisimaya Gazeta, March 31). Medvedev's central point, however, was that "we need to stop state companies from exerting too great an influence on the investment climate." This statement was then elaborated in instructions to increase efficiency, and transparency specifically by replacing ministers with independent directors on the boards of these companies by mid-year (Vedomosti, April 1).
Many experts, including the popular blogger Aleksei Navalny, who champions the campaign against corruption in state companies, agreed that Medvedev's directives make sense and are in fact based on their investigations (Ekho Moskvy, March 31). They also express doubt over whether the presidential orders can be implemented, particularly since most of them could only bear fruit in 2012 and beyond. Furthermore they argue that the main purpose of Medvedev's economic activism is to reinvigorate his torpid electoral campaign (RBC Daily, March 31). State-controlled monopolies like Transneft or the Railroad Corp (RZhD), and the over-sized Gazprom, would hardly rush to change their wasteful habits. However Igor Sechin's stance on this issue has seriously been undermined, despite being one of Prime Minister Vladimir Putin's loyal lieutenants. It is a matter of miniscule importance for Finance Minister, Aleksei Kudrin, and First Deputy Prime Minister, Viktor Zubkov, to leave the boards of "their" banks (VTB and Rosselkhozbank, respectively), but it makes a big difference for Sechin to quit as the chairman of Rosneft's board (Vedomosti, March 31).
Sechin's authority as deputy prime minister has secured for Rosneft a significant advantage not only on the domestic market but also in external expansion. In fact, it was Sechin who master-minded the strategic alliance between Rosneft and BP, which appeared to be an ideal partner because of the Deepwater Horizon disaster damaging its reputation and financial credibility. Objections raised by several second-tier oligarchs, who own stakes in TNK-BP, deemed this alliance as a reckless gamble, even if the Stockholm arbitrage ruled in their favor. Now their defiance has become a smart political move, which has diminished Sechin's influence and power (www.gazeta.ru, March 25). Putin has been a master of playing his minions against each other, but has not appreciated others interfering in his game. Sechin's humiliation thus signified a serious loss of face for his master (www.polit.ru, April 2).
While assembling the government for executing the presidential guidelines, Putin confidently pointed out that cutting taxes would be a complex task that could not be resolved by budgeting for an increase in oil revenues (Ekspert, March 31). He also announced a generous increase in pensions, which is certain to deepen the deficit in the Pension Fund, but did not mention Medvedev's attack on state companies (www.newsru.com, April 2). Acknowledging that Gazprom, Rosneft, or United Aircraft Corporation were grossly inefficient and deeply corrupt would amount to admitting that the state-centric economic model of "manual management" performed by one super-manager is no longer sustainable (Kommersant, March 31). So Putin kept insisting that "the economy [was] steadily recovering from the economic downturn" and only needed careful fine-tuning as prescribed yet again by the president with whom it is inappropriate to engage in public debates.
The preservation of the presidential authority would prevent the system of dual leadership from collapsing. This structure has been so unnatural for the over-centralized soft-authoritarian system of power in Russia, yet has allowed Putin to remain its master. When Medvedev pulls rank in order to break a pattern, perhaps dysfunctional but organic to this system, he isolates himself further inside of it. This degradation of the duumvirate was demonstrated particularly clearly in the quarrel over Libya, when Putin criticized UN Resolution 1973 for giving a green light to a "crusade," while Medvedev cut this "personal opinion" short as unacceptable (Vedomosti, March 30). It might appear that the last word was that of the president, but Putin knows perfectly well that public opinion is behind him. Only 10 percent of respondents in Russia supported the enforcement of the "no-fly-zone," while 51 percent insisted on non-interference in this civil war (Levada Center, March 25). The discord and setbacks in the execution of the intervention could hardly add any credibility to Medvedev's stance.
As for the investment climate, the implementation of Medvedev's directives appears to have had little effect. Each of his proposals may be a step in the right economic direction but they also signify a deepening split in the political leadership. Nothing is worse from the investors' point of view than escalating tensions over control of the bureaucratic machine –which has been unresponsive to the Kremlin's vision of "modernization" (www.gazeta.ru, March 31).
Medvedev has tried to borrow some feasible proposals from several expert reports that have appeared in the last few weeks. However their common thrust has been that economic modernization could only happen together with a meaningful democratization of the political system, including the reconstitution of regional elections and elimination of censorship over the state TV channels. The Russian president is obviously not prepared to go that far (The New Times, March 28).
There is a distinguishable desperation in Medvedev's efforts at re-inventing himself as a real president in the final stretch of his term. He has been attempting to exploit the "sick-and-tired" mood that grows both among the conformist elites and the disenchanted electorate, while Putin has refused to acknowledge these immaterial feelings and remains supremely confident in his message of stability. Medvedev's problem is that his enervation and irrelevance has been one of the key reasons for this deepening disappointment in the stagnating Putinism, preventing him from becoming a credible messenger of change.