Medvedev's Ambitious Military Reform Plans
Publication: Eurasia Daily Monitor Volume: 5 Issue: 211
By: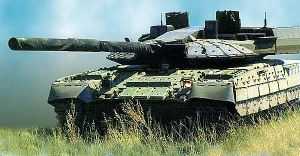 Russia has announced its most ambitious, systemic military modernization program since the collapse of the USSR, scheduled to deliver a more efficient and combat-ready military by 2020. These plans betray breathtaking confidence. They will include 955 Borey-type submarines, armed with the Bulava sea-launched ballistic missile; ground-based modernized Topol-M ballistic missiles that will completely replace conventional Topols; modern tanks for the army (for instance, the T-80
Chernyy Orel
[Black Eagle]); air defense systems (the S-400 surface-to-air missile system); and fifth-generation Russian fighters (series deliveries of the state-of-the-art, multi-purpose Su-35 fighters are due to begin in 2011) (
Izvestia
, October 20).
Perhaps even more ambitious are the plans to upgrade all units and subunits to the category of permanent combat readiness units (at the moment the ratio of combat to general readiness units is one to five). There is little public discussion of how these plans may be negatively affected by the sliding price of oil and the economic crisis currently faced by Russia, which until recently has been played down by Prime Minister Vladimir Putin. There are elements of these reforms, however, that have been underestimated by Western commentators and are worth noting. They are a result of Russia's experience in the war with Georgia in August: the shift to a brigade-based organization and a rapid reaction system that takes existing airborne troops and remolds them to provide more rapidly deployable troops from each military district. Taken together, these reform plans suggest that the Kremlin envisages using conventional warfare to resolve future crises.
The Russian Defense Ministry plans to develop new combat training programs based on its analysis of other military conflicts in recent years, including both Western experience in Iraq and Afghanistan and the Soviet experience of Afghanistan and the more recent Russia-Georgia conflict. On October 30 Lieutenant-General Vladimir Shamanov, chief of the armed forces' Main Combat Training and Service Directorate, said that:

Training programs for services and service arms are being reassessed with due account taken of the specifics of the operation to rebuff the Georgian aggression against South Ossetia and of the experience gained in Chechnya. We are also bearing in mind the Soviet Army's experience in Afghanistan, the United States' operations in Iraq, and other armed conflicts (Interfax, October 30).
Though Russia's leadership is arguably buoyed by the success of its conflict with Georgia and the fact that it has largely avoided the threatened international isolation that was promised in August, a "lessons learned" approach is in evidence in its military reform planning. The lessons learned from the operation in South Ossetia include the Mood's drawing up a list of modern tactical weapons and military hardware, taking the five-day war in the Caucasus into consideration. Shamanov not only advocates devising lists of weaponry needed for tactical warfare down to battalion level, but in future operations he wants the troops to be issued modern global positioning and communications devices and integrated with the tactical fire control system. These changes, or aspirations, result from the more detailed systemic changes planned in the Russian army, namely, switching to a brigade-based structure that moves away from a division based approach (Interfax, October 30).
This switch in the Russian Armed Forces from an organization based on divisions to one based on brigades will begin in January 2009 and should be concluded in 2012. It is intended to optimize and streamline the entire structure of the Russian army and form permanent readiness units and brigades. Russian Defense Minister Anatoliy Serdyukov told journalists in Moscow that the armed forces would switch from the four-level system, military district-army-division-regiment, to the three-level system: military district-operative command-brigade. "This means there will be no division-regiment level but brigades instead," Serdyukov said (Interfax, October 30).
Russia's military reform priorities include forming an airborne brigade to carry out "rapid reaction" roles, in each of the six Military Districts. The Russian MoD has decided to disband one of the airborne divisions (VDV, Airborne Troops), the 106th Tula, as there aren't enough airborne troops for all of the military districts in order to form the nucleus of the future brigades. The Airborne Troops are currently composed of two airborne divisions (the 106th and 98th), the 76th Air Assault Division (Pskov), the 31st Separate Air Assault Brigade, and the Seventh Mountain Division. The Tula Airborne Division consists of three regiments (including an artillery regiment), an air defense missile battery, and support units and subunits. The total personnel strength is over 5,000 men (Komsomolskaya Pravda, October 25).
Serdyukov believes these changes will eliminate the multi-tiered structures and increase the effectiveness of command and control. At the same time, all non-fully-manned (cadre) units will be disbanded, and only permanent combat-readiness units will be left in the Army. The Russian army will no longer be a mobilization force but one based higher readiness formations. Serdyukov said that he did not see the necessity of creating independent rapid-reaction forces:

We are proceeding from the fact that the Armed Forces already have such units. They are the Airborne Troops. They acquitted themselves effectively enough, while repelling Georgian aggression in South Ossetia. It is another thing to strengthen such units: a VDV brigade will appear in every military district to carry out urgent missions and action in unpredictable circumstances (Kommersant Vlast, Moscow, October 20).

As these ambitious plans unfold, no doubt they will be modified and adjusted as a result of economic and other pressures. Nonetheless, we may be witnessing the first real moves toward Russian military reform; and the implications for Western planning staffs, including NATO, are far from clear. Since 1991 Western understanding of Russia's armed forces has been predicated upon analyzing their weaknesses and lack of successful reform. The political leadership in Moscow seems to be signaling that this is about to change.