Medvedev's Presidency After the "Second Parade"
Publication: Eurasia Daily Monitor Volume: 6 Issue: 90
By: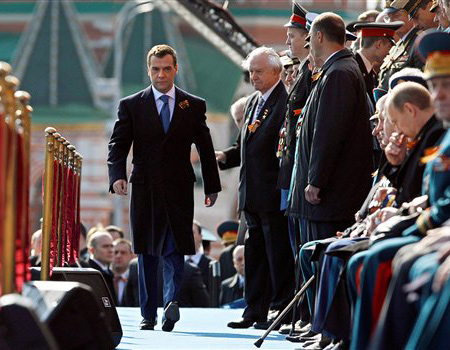 President Dmitry Medvedev marked the end of his first presidential year exactly the same way as he started – by presiding over the military parade on Red Square. There was, however, a different feeling about this picture-perfect display of military muscle, not only because Medvedev in his short speech mentioned a lesson for those who "are interested in embarking on military adventures," or because of the increased number of combat planes -still insufficient to erase the memory of embarrassing losses over Georgia. In May 2008, Russia was proud of its rising power and its marching battalions just added to that confidence; now Russia is worried about the depth of the ten months old (and counting) recession, so the missiles which rolled through Moscow were rather irrelevant.
Medvedev's first year was certainly not what he had expected. It included an extra-tough test of the war with Georgia, though he proved unable to supply a definite answer about his ability to exercise authority. Only 12 percent of Russians now believe that real power lies in his hands, while around one third consider Putin as the power-holder, while half think that it is shared between the two (www.levada.ru, May 6). The president has not promoted a single loyalist to the higher echelon of bureaucracy, while making many appointments in the lower levels, including regional governors, so Putin's team has successfully adapted to the tricky task of serving two masters (Kommersant, May 7).
While treading very carefully in establishing his authority, Medvedev has successfully dispelled the impression that he is just a figurehead -making it clear that he is not going to resign before the end of his term. The delicate mechanism of harmonizing decision-making between the two leaders is non-transparent, but there have been few signs of the tension or clan wars that escalated in the last year of Putin's "era" (Vremya Novostei, May 7). Where Medvedev differs most from his mentor is in his softer style of issuing commands and listening to dissenting voices; his liberal "signals" to the human rights activists and independent journalists have not amounted to much (the parole of Svetlana Bahmina brought their collective sigh of relief), but strictly hierarchical systems of governance are generally responsive to stylistic nuances (Novaya Gazeta, April 21; www.gazeta.ru, May 8).
It is the sinking economy that determines change within Russia's political climate, and the key indicators continue to slide "south," with the latest forecast for GDP decline from the European Bank of Reconstruction and Development revised downwards to 7.5 percent (www.newsru.com, March 8). Medvedev is attempting to stay above the immediate tussle of crisis management, emphasizing only his attention to social issues, but Putin is also distancing himself from bad economic news. Consequently, the main newsmakers are Finance Minister Aleksei Kudrin, First Deputy Prime Minister Igor Shuvalov, and presidential aid Arkady Dvorkovich, who too often point in different directions. The only anti-crisis strategy that the ruling duo is able to embrace can be summarized as "it-will-pass," but many economic experts, such as Sergei Aleksashenko, argue that the crisis has not yet performed its function of clearing the economy of deadwood (Moscow Echo, May 7).
Where Medvedev successfully boosts his profile and personal networking is in foreign policy. This amounted to visiting 26 states (Germany twice, and Kazakhstan three times) and included launching several grand initiatives (Gazeta, May 7). He is probably disappointed that his position paper for the G20 summit did not attract sufficient attention and the "conceptual approach" to energy matters was ignored by the EU, which confirmed its commitment to the Energy Charter. Medvedev's true ambition is apparently to promote a new European security treaty, which was mentioned again in the Victory Day speech, but this persistence hardly adds much force to this dubious idea, which in reality aims at undermining NATO and compromising the OSCE. What Medvedev appears unable to grasp is to what degree the August war with Georgia damaged his international reputation and each "big-brotherly" meeting with the leaders of Abkhazia and South Ossetia adds to that self-imposed discrediting.
The tactics of "small steps" might suit Medvedev's uncharismatic personality and answer his goal of gradually escaping from the shadow of his predecessor without upsetting the system of power (Moskovsky Komsomolets, May 7). He may sincerely hope that time is on his side, so one year from now the question about who will run for president in 2012 – and the Kremlin-watchers are already trying to put a spin on it – would be answered in his favor. He is smart enough not to try to become a new Putin, but his Prime Minister also cannot be resurrected as the Putin of yesterday – a national leader delivering stability and prosperity (www.grani.ru, May 7). That image is gradually fading away and each new economic setback – particularly the decline of real income, which has already reached 40 percent – further diminishes Putin's reputation as an efficient manager (Kommersant, May 6).
The problem with this natural evolution is that the "muddle through" pattern is hardly sustainable for another year, both in Russia's economic dislocation and political degeneration. The accumulated financial reserves are very useful for easing the pain of the crisis. However, this cushioning of a "hard landing" does not help in setting the economy on a new upward track. Non-viable state corporations, such as the vast conglomerate Rostehnologii, need to be dismantled, but the whole system of bureaucratic rent-extraction from every profitable economic activity has to be reduced to a level where investments will become a sensible business strategy. Before Medvedev could even contemplate the scale of this task, he has to answer for the verdict in the Kafkaesque trial of Mikhail Khodorkovsky and Platon Lebedev, and there is no hiding behind the notion of the "independence of the court" for him (New York Times, April 27). Year three will see a different president -possibly with the same name.