Mikheil Saakashvili's Activity Strains Georgian-Ukrainian Relations
Publication: Eurasia Daily Monitor Volume: 18 Issue: 40
By: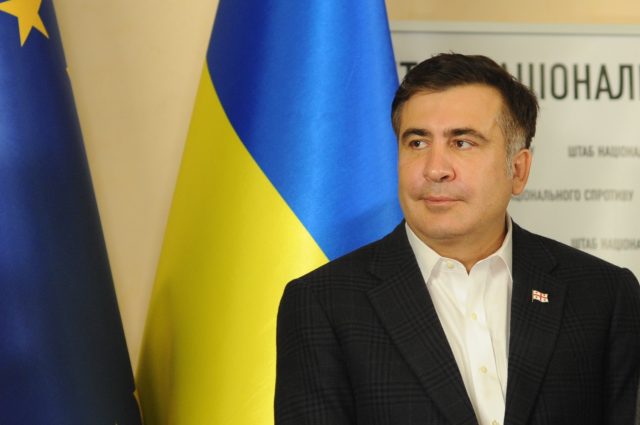 On March 5, Ukrainian President Volodymyr Zelenskyy removed the head of the Executive Committee on Reforms, Mikheil Saakashvili, from his position on the Coordination Council for Urban Planning. The Presidential Office provided no explanation for this sudden decision (Sova, March 5). Zelenskyy had appointed Saakashvili—the former president of Georgia and one-time governor of Ukraine's Odessa Oblast—as head of the Ukrainian Executive Committee on Reforms back in May 2020 (RBC, May 7, 2020).
The news of Saakashvili's exclusion from the Coordination Council raised wide speculation in Tbilisi about whether or not the unexpected decision from the Ukrainian president was connected to the latest events in Georgia, where the confrontation between the United Opposition, including Saakashvili's United National movement (UNM) party, and billionaire Bidzina Ivanishvili's ruling Georgian Dream (GD) has reached a boiling point. As a result of the political standoff, the former Georgian head of state's influence on the situation in his native country has grown (see EDM, February 24, March 1).
Saakashvili left Georgia in 2013, after his party lost the general election to GD and the new ruling government brought criminal charges against him. A Tbilisi court sentenced him in absentia to three and six years in prison in two cases: First, he was found guilty of issuing pardons in exchange for the silence of high-ranking police officers convicted in the kidnapping and death of banker Sandro Girgvliani in January 2006. Second, Saakashvili was convicted of organizing the 2005 beating of his opponent, deputy and businessman Valery Gelashvili. Saakashvili has always denied his guilt, calling the accusations "false" and "politically motivated" (Kommersant April 24, 2020). The government stripped him of his Georgian citizenship in 2015, ostensibly for becoming a Ukrainian national earlier that year and taking the position of governor of Odesa.
However, Saakashvili's continued active participation in the political processes in Georgia (he has never fully relinquished his leadership role in UNM) even from abroad has caused dissatisfaction and consternation for Georgian Dream. In addition to pointing to his criminal convictions, the leaders of the ruling party frequently assert that since Saakashvili is a citizen of Ukraine, not Georgia, he has no right to interfere in Georgian politics—especially while serving as a state official of a foreign country.
In June 2020, Georgia decided to recall its ambassador to Kyiv after Saakashvili's appointment as head of the Ukrainian Executive Committee on Reforms (RBC, June 11, 2020). Earlier, Foreign Minister David Zalkaliani declared Tbilisi was not considering the possibility of severing diplomatic relations with Kyiv, but "[our strategic partner's—i.e., Ukraine's] appointment of a person convicted and wanted by the Georgian judicial system […] raises the question of whether to summon Mr. Teimuraz Sharashenidze, the ambassador of Georgia to Ukraine, for consultations in Tbilisi. This is a step in diplomatic practice that, in this case, indicates certain problems in relations." Zalkaliani also noted that Tbilisi intends, with the participation of its ambassador, to assess "what actions are necessary to ensure that the current situation does not negatively affect bilateral relations, cooperation in various international organizations, and, most importantly, joint efforts toward European and Euro-Atlantic integration" (RBC, May 8, 2020).
Nonetheless, Saakashvili has always rejected such claims and continued to actively call on Georgians to pursue regime change, including via massive anti-government protests (RBC, June 11, 2020). "I will not leave Georgia, I will definitely return to help the people free themselves from the Russian oligarch [sic] Ivanishvili," he said in an interview with the television channel Mtavari Archi (Kommersant, April 24, 2020). On February 9, 2021, Saakashvili called on Georgians to disobey the restrictions imposed in the country due to the COVID-19 pandemic (Spb.ru February 9). This statement angered the Georgian authorities.
Ukraine's top envoy to Georgia, Igor Dolgov, was invited to the foreign ministry for a "diplomatic conversation." Afterward, Ambassador Dolgov said that the statements of the former Georgian president "do not help Georgia and Ukraine to create an atmosphere of trust and develop bilateral relations between the two countries." According to Kyiv's emissary, "Georgia and Ukraine, together with other countries, are fighting the COVID-19 pandemic, and such calls for disobedience and holding illegal demonstrations will really not help us. It will not support the Georgian people or contribute to their unity and bilateral Georgian-Ukrainian relations." Dolgov further argued, "I hope that one specific opinion of one particular person, a citizen of Ukraine and a former citizen of Georgia, will not harm our friendship and the desire of our peoples to grow closer. We need a strong and united Georgia as a strategic partner. This is our common interest, and we desire to be strong and reliable friends" (interpressnews February 9)
In response, Saakashvili, writing on his Facebook page, accused the Ukrainian ambassador of corruption: "Mr. Dolgov continues to harm the image of Ukraine in Georgia and throughout the post-Soviet space. Today, he attacked me with angry rhetoric because I am fighting for the freedom of the Georgian people. And this, it turns out, harms Ukrainian-Georgian relations. I speak to him as a former president of Georgia to a citizen of Ukraine. I believe that he is deeply corrupt and that he is acting against Ukrainian interests. I will strive to ensure that neither Ukraine nor Georgia has such ambassadors" (1tv.ge, February 10). Yet the Ministry of Foreign Affairs of Ukraine came out in support of Ambassador Dolgov and warned Saakashvili "to refrain from calls for civil disobedience in Georgia" (1tv.ge, February 10)
Saakashvili's supporters assert that the actions of the Georgian authorities are responsible for harming bilateral relations with Ukraine—not the activities of the former president. "Georgian Dream acts in the interest of preserving power and does not care that Ukraine is a huge country, a friend and partner of Georgia, which has always supported and supports us in the international arena," UNM parliamentarian Roman Gotsiridze said, on February 27, in an interview with this author.
Some Georgians staunchly disagree, however. One of them, film director George Khaindrava, who produced a documentary about the former president, argued that Saakashvili "caused great harm to the interests of Georgia, transferred 20 percent of Georgian territory [Abkhazia and South Ossetia] to Russia and is now trying to destabilize Ukraine in the interest of Russia [sic]" (Author's interview, March 1).
Despite the tensions between Tbilisi and Kyiv over the issue of Mikheil Saakashvili's political activity, Ukraine and Georgia's overarching shared interest is in curbing Russian aggression. This is motivating both countries to maintain ties and "not burn all bridges"—a policy fully in line with the West's preference.