Military Reform Raises the Specter of a Coup
Publication: Eurasia Daily Monitor Volume: 6 Issue: 175
By: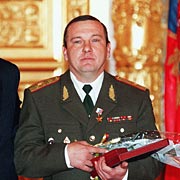 This week Novaya Gazeta published transcripts of telephone conversations between the commander of the airborne troops (Vozdushno Desantnye Voyska or VDV) two star General Vladimir Shamanov, his son Yuri, VDV Colonel Vadim Pankov and others. The Prosecutors Investigative Committee (SKP), investigating General Shamanov's son-in-law Aleksei Khramyshin for allegedly organizing an attempted murder of a businessman in 2006, recorded the tapes on August 18. In the Russian criminal world, Khramyshin is reportedly known as "Block" (Gliba). There is an international arrest warrant on Khramyshin, who remains at large (Novaya Gazeta, September 21).
The SKP declassified the telephone tapes on August 26, and consequently their publication by Novaya Gazeta is legal. The full audio files of the communications were subsequently posted on its website (www.novayagazeta.ru, September 21).
On August 18, special investigator of the SKP Moscow regional directorate Oleg Tselepotkin was searching (with a warrant) the office of the factory Sporttek in Moscow. Khramyshin is the owner of Sporttek, which was Soviet-built and has ceased production, while the massive building is leased out to different commercial entities for retail and as office space (Komsomolskaya Pravda, September 23). Yuri Shamanov is a member of the board of Sporttek. General Shamanov's daughter Svetlana claims half of Sporttek, while her spouse Khramyshin continues to evade arrest (www.lenta.ru, September 23).
On August 18, General Shamanov was traveling from Ivanovo to Moscow and knew that Tselepotkin was searching the Sporttek office. Shamanov telephoned Pankov and using highly obscene language (according to the audio files), and ordered Pankov to telephone Kubinka (45 kilometers west of Moscow), which is the base of the VDV Spetsnaz 45th separate regiment, and order two detachments of VDV Special Forces to be immediately dispatched to Moscow. Shamanov ordered the Special Forces to block the Sporttek office, not to allow anyone to enter or leave and to "intern" Tselepotkin. Interspersed with expletives, he barked: "This Tselepotkin must be standing before you, when I arrive. Forward!" Shamanov told Pankov to contact his son Yuri to get the exact address of Sporttek (Novaya Gazeta, September 21).
Pankov did not seem to fully understand why Special Forces were being ordered to Moscow, but they were moved in any case. While the Special Forces, Pankov and Shamanov were moving into Moscow from different directions, Khramyshin's lawyer Leonid Proshkin telephoned Tselepotkin to say that paratroopers were closing in on him. Tselepotkin reported the situation to his superiors and a decision was made to cut short the search and leave. The paratroopers were redirected to the VDV headquarters in Moscow and later were safely withdrawn back to Kubinka (Kommersant, September 23). The situation was defused, until the Novaya Gazeta article was published.
In Russia, publications disclosing rampant high-level corruption or links between the ruling bureaucracy and the criminal underworld are in most cases useless. Russia does not have an independent judiciary or parliament that could investigate such leads provided by journalists. The authorities in most cases simply ignore such publications. However, Shamanov's case was handled differently.
The Defense Minister Anatoly Serdyukov promptly ordered a special investigation of Shamanov's actions (RIA Novosti, September 22). Deputy Defense Minister Nikolai Pankov told journalists, "The investigation is continuing and if the media publication is true, decisions will be made" (RIA Novosti, September 23). Shamanov admitted that the recorded conversations had occurred, but his words were taken out of context. Shamanov complained that his telephone was tapped, that there is a conspiracy to smear him, "organized by people from Moscow and Chechnya" to oust him from the armed forces (Komsomolskaya Pravda, September 23).
A decorated Chechen campaign veteran accused by human rights organizations of war crimes Shamanov, as chief of the Defense Ministry Main Directorate of Military Training from November 2007 to May 2009, ruthlessly implemented a radical military reform disbanding old-time divisions and forming new-style brigades. In May 2009, Shamanov was appointed commander of the VDV (EDM, June 11). Shamanov does have many enemies, but disgruntled officers, human rights activists or Chechens cannot order Serdyukov to begin an official investigation. In fact, Serdyukov would not have moved without an order from the Prime Minister Vladimir Putin.
The fact that paratroopers were ordered into Moscow and actually moved in without the consent of the Kremlin or government has revealed a serious lack of political control. Russia is an authoritarian state with no serious civil control over its military. If Putin and the Putin-appointed President Dmitry Medvedev also cannot control military movements even within Moscow, a coup in Russia is possible.
Of course, Shamanov on August 18 was not contemplating launching a coup, but apparently using paratroopers to defend his family business interests. However, if such things are allowed, Shamanov or another general (colonel) might in the future use Special Forces to arrest Putin, or Medvedev, or both. Within Moscow a relatively small troop of determined, well trained and armed soldiers could do it. The radical military reform in Russia is aimed at creating a more modern, mobile standing armed force and its men are increasingly dependent on their commanders for their well being. Some officers are today paid special bonuses that increase their income 3 to 4 times and their commanders choose the lucky ones at will (Ekho Moskvy, September 19).
The Novaya publication apparently alerted Putin to the danger. Shamanov may be ousted or severely reprimanded in order to teach others a lesson. Officials that failed to stop or report the unauthorized movement of paratroopers into Moscow may also be punished.