Mismanagement of Russian Economy Could Lead to Social Unrest
Publication: Eurasia Daily Monitor Volume: 5 Issue: 228
By: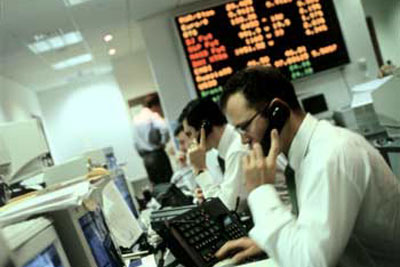 The standard Kremlin spiel on Russia's economic crisis is that it is all America's fault. President Dmitri Medvedev said in his Address to the Federal Assembly of the Russian Federation on November 5: "…the U.S. economy…pulled financial markets all around the globe [down] with it in its fall…They did not listen to the numerous warnings from their partners (including from us). As a result they have caused damage to themselves and to others" (www.kremlin.ru/eng/speeches, November 5).
Prime Minister Vladimir Putin said on October 1 that the irresponsibility of America's financial system was to blame for the global economic crisis. The Times quoted Putin as saying, "Everything happening now in the economic and financial sphere began in the United States. This is not the irresponsibility of specific individuals but the irresponsibility of the system that claims leadership" (www.business.timesonline.co.uk).
Not so, counters Yevgeni Gontmakher, a Russian economist and social issues expert, who was once an advisor to President Boris Yeltsin, and later the deputy social development minister, and chief of the Social Development Department of the cabinet staff under President Vladimir Putin (www.biografija.ru/show_bio.aspx?id=27465). Currently the director of the Social Studies Center of the Institute of Economics of the Russian Academy of Sciences, Gontmakher's view of Russia's crisis differs greatly from the official version.
"Russia's crisis has nothing to do with the U.S. or global recession," Gontmakher told Eurasia Daily Monitor on November 12. "Assertions that the U.S. has crippled us are pure propaganda. Whatever is happening over here, we have done with our own hands." Gontmakher believes that "Russia's systemic crisis resulted from the state's polices adopted as of 1999," when Putin rose to power. "These policies unhinged Russia's economy long before Global recession started."
Gontmakher points out that while the state has been stomping out the political opposition, it has also driven small and medium businesses into the grave. "Business doesn't breed in captivity," he quipped. The state also tightly controls big business. Foreign investors were given some serious lessons, when the state took over the Shell-led Sakhalin-2 project (The Washington Times, December 22, 2006); eased out the owner of Heritage Capital Investment Group, William Browder (www.business.timesonline.co.uk, April 4); and brought the stock market down by $58 billion overnight, when Putin publicly promised "to clean up" the Mechel Coal and Steel concern (Kommersant, July 26).
A Siberian analyst Dmitry Tayevsky, who writes for the Irkutsk www.babr.ru portal, says that the root of the current crisis in Russia reflects "not economic problems but serious administrative miscalculations" (www.babr.ru/?pt=news event=v1&IDE=48608).
The prominent economist Andrei Illarionov, once Putin's top economic advisor but now a strong critic, told the VOA Russian Service in an October 20 interview, entitled "Catastrophe, Stage 1," that under the guise of "fighting the crisis" the Kremlin would be seeking "almost monopolist control over the economy the same as it has already grabbed a political monopoly and wiped out any unwelcome opposition" (www.voanews.com/russian, October 20).
Russia's current economic scene appears dismal. The RTS, Moscow's main index of shares, dropped from nearly 2500 in May (www.rosfin.ru/news76795.html) to 692 by November 25 (RBK TV, November 25). The ruble-denominated MICEX dropped from 1839 on May 14 (www.lenta.ru/news, May 14) to 595 on November 25 (RBK TV, November 25).
"Our stock markets are dead as a doornail," commented Gontmakher. With Russian Urals oil vacillating under $50 per barrel these days, there is no hope of quickly replenishing the diminishing state currency reserves, which have dropped from $597.5 billion on August 8 (www.bankir.ru/news/newsline, August 14) to $453.5 billion by November 14 (www.news.yandex.ru).
Top Russian economists recently looked at five possible scenarios, Gontmakher says. All of them, except modernization and immediate reform, would lead to a catastrophe. This single solution that could still save this country is not, however, in the cards under the conditions of the existing state, which is afraid of losing its monopoly of power. "The consequences will be dire," Gontmakher says. He believes that the country may pass the point of no return sometime in 2009.
Experts see a very serious possibility of an abrupt collapse of the living standard and economic disintegration leading to social unrest, eventually followed by political upheaval.
Gontmakher's story in the daily Vedomosti (November 6) was pointedly titled "Novocherkassk-2009," in an allusion to the major workers riots on June 1 and 2, 1962, in the city of Novocherkassk, which were suppressed by the Soviet Army; 23 people were killed and dozens jailed in the unrest (see V.A. Kozlov, Massovye Besporadki v SSSR pri Khrushcheve I Brezhneve [Mass Riots in the USSR Under Khrushchev and Brezhnev], Sibirski Khronograph, Novosibirsk, 1999). The article raised quite a commotion by drawing a picture of a shaky social peace collapsing once the 1962 situation starts repeating itself with prices and tariffs increasing drastically, wages dropping, workers laid off in droves, and food disappearing from the shelves because of collapsing imports and inadequate domestic production. "Either we finally take an effort to reform, or else we will enter a crisis that cannot be resolved within the framework of the current constitutional order," the story concludes. On November 22 Rosomsvyaznadzor, the government's media watchdog, issued a warning to Vedomosti that Gontmakher's article could be seen as inciting extremism (www.polit.ru/news, November 22). Both Vedomosti and Gontmakher protested against the admonition.
As Tayevsky put it, "There will not be a crisis in Russia. There will be something immeasurably worse. But decent words for what it will be have not yet been devised, at least in the Russian language."