Modernizing the Marshal Shaposhnikov: Russian Frigates and Stealth Technology
Publication: Eurasia Daily Monitor Volume: 17 Issue: 35
By: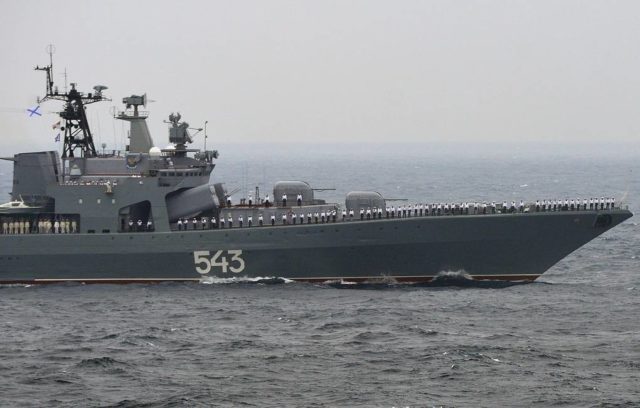 As the modernization of Russia's military inventory continues, with its primary focus remaining on upgrading the nuclear triad, Moscow has adopted a fairly predictable strategy for the Military-Maritime Fleet (Voyenno-Morskoy Flot—VMF), partly rooted in mounting "modern" technology on older refurbished naval platforms. This especially relates to the lifeline extended to Project 1155 frigates, with the most recent example provided by the aging Marshal Shaposhnikov, in the Pacific Fleet. Some Russian naval specialists see this as a stopgap measure while Moscow shifts more strongly to corvettes. The main feature of this modernization is to replace the onboard naval artillery system, displacing the existing 100-millimeter AK-100 guns with newer A-190-01s, essentially adding a stealth installation to reduce the visibility of the frigate and improve its target-acquisition capability, as part of a package to increase its overall firepower. Some of these features are consistent with the wider efforts to modernize other platforms and standardize the firing capability to permit the introduction of naval cruise and hypersonic missile systems (Topwar.ru, March 15).
In November 2019, Russian media reported that the Marshal Shaposhnikov had been moved out of dry dock of the Dalzavod Ship Repair Center, in Vladivostok. According to a spokesperson for the Pacific Fleet, Nikolai Voskresensky, "The ship was transferred to an outfitting pier to prepare for the first tests of the main power plant at sea. During the docking period, repair of bottom-outboard fittings and hull structures was carried out, electromechanical equipment was installed and the foundations for fundamentally new equipment were completed." During its refitting, new sections of shafts were added, cables were replaced, also adding new weapons systems and complexes. The repair yard dismantled and rebuilt more than 20 percent of the ship's superstructure (RIA Novosti, November 13, 2019).
These reports, however, did not specify which complex was installed on the ship, though it was widely known that the modernization intended to facilitate the Marshal Shaposhnikov receiving the Uran anti-ship complex with X-35 missiles, universal launchers for Onyx, Kalibr or Tsirkon cruise missiles, the Bagira fire-control systems for the vessel's artillery and the TK-25 electronic suppression system (Topwar.ru, November 13, 2019).
The existing AK-100 naval artillery, designed in the 1970s, has been replaced by the newer A-190-01 guns. The modified A-190-01 is less visible to radar and passed all tests ten years ago since being introduced on several VMF vessels. This offers an integrated muzzle velocity radar, as well as a stealth cupola to reduce its radar signature, and increases its combat effectiveness day and night, in all weather conditions. Following tests completed in 2008, it began to be introduced on Project 20380 corvettes and Project 21630 gunships, with plans to outfit the Project 11356 frigates. Moscow-based military specialist Dimitry Boltenkov explained, "Now artillery is mainly needed to support amphibious operations and destroy small ships or vessels, which are expensive to equip with costly missiles. One large-caliber gun is enough for the frigate to solve these problems." Finally, after 30 years, the requirements for versatility, rate of fire of guns, as well as accuracy in hitting targets have grown, so it was decided to change the Shaposhnikov's artillery weapons to a new, more effective system. Now the main striking force of such warships is based on cruise missiles (see EDM, December 11, 2019).
After the completion of all modernization work, the frigate will receive new cruise missiles, and its firepower will increase several times. "As a result, the fleet will have a modern strike ship," Boltenkov added, "Kalibr cruise missiles, which the frigate is armed with, will be able to strike not only at surface naval but also at ground targets. The range of the marine version of this missile is about 1,500 kilometers" (Izvestia, March 14). In total, between 1980 and 1991, thirteen Project 1155 ships were built and eight remain in service; four each in the Northern and Pacific fleets. Clearly, small Project 1234 missile ships will also be updated as part of the modernization process, and these will receive modern radars, communications systems and more powerful and fuel-efficient diesel engines (Izvestia, March 14).
Since the Project 11356 frigates are aging, some see the longer-term solution to replace these with the Project 20386 corvettes. Vladimir Tryapichnikov, the head of the VMF shipbuilding, armament and operation department, believes these older frigates will eventually be replaced by these corvettes. This is also possibly influenced by the suspension of work on Project 11356 frigates due to the lack of propulsion systems, which were produced in Ukraine by the Zorya-Mashproekt enterprise. Tryapichnikov notes that the multipurpose corvettes can conduct operations close to Russia's coastal waters or further afield as well as to protect marine communications; these are armed with the A-190-01 100-mm artillery complex, two AK-630M 30-mm gun mounts, a Redut surface-to-air missile (SAM) system, two launchers of the anti-submarine complex Paket-NK, Kalibr cruise missiles (or Uran anti-ship missiles), along with a platform for the Ka-27 or Ka-29 helicopter. The Russian navy additionally plans to receive three Project 20386 corvettes by 2025 (Topwar.ru, June 3, 2019).
The modernization of the Marshal Shaposhnikov to include the newer stealth-capable naval artillery system marks a consistent effort to maximize the effectiveness of these older platforms, while also endeavoring to enhance their overall conventional firepower. Yet, this is a "modern" technology introduced ten years ago and is gradually displacing the older naval artillery design from the 1970s. It is an important addition to boost amphibious operational capability and avoids the heavy expenditure entailed by using the high-technology cruise missile options to accomplish these tasks. The blue-water dreams of the naval top-brass have given way to sounder, more economically viable plans that involve a mix of smaller vessels with enhanced firepower and target acquisition, as well as modern technologies to boost overall capability.