Modi Faces Pressing Questions About India's China Policy
Publication: China Brief Volume: 14 Issue: 10
By: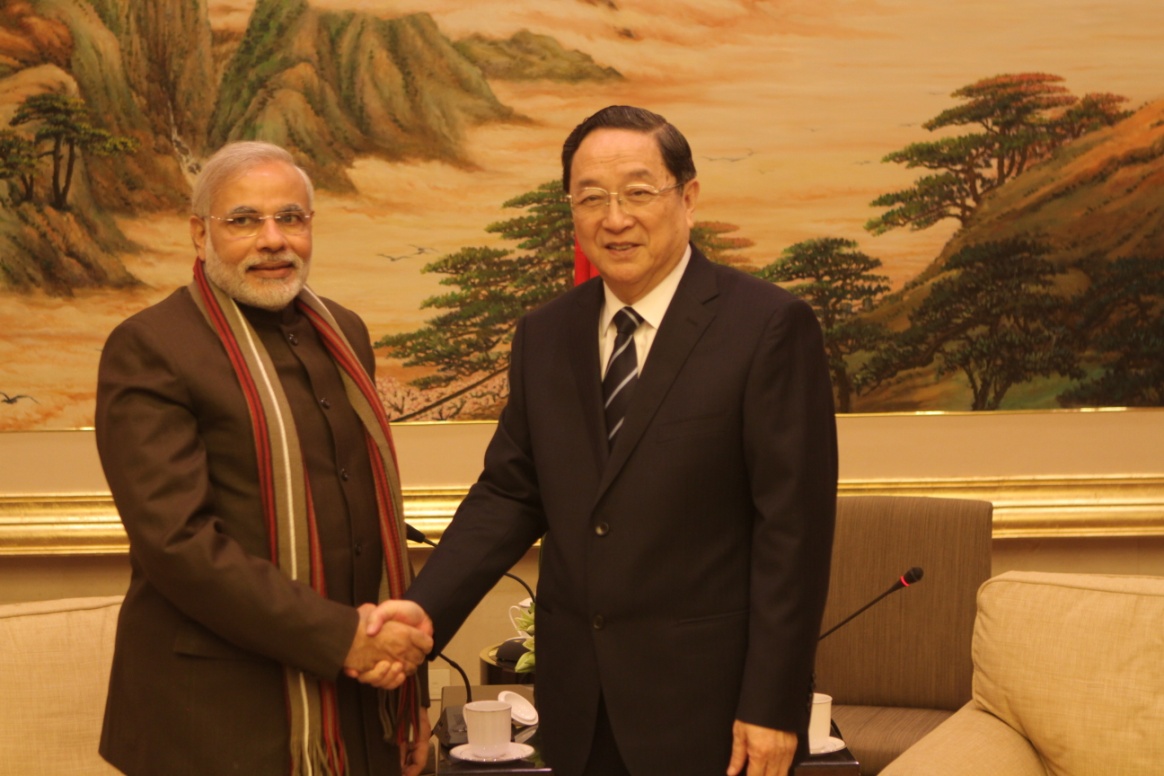 Traditionally, Indian policy toward China has been mostly characterized by continuity. As far as Beijing is concerned, in spite of regime change in the past, India has pursued steady engagement with its northern neighbor. Now that the National Democratic Alliance (NDA), led by the nationalist Bharatiya Janata Party (BJP) has formed a government with an absolute majority, there appears to be a chance of significant changes under the leadership of Prime Minister-designate Narendra Modi.
Modi's mammoth electoral victory will certainly resonate in India's foreign policy, including towards China. As Prime Minister, Modi will have to make decisions on three China issues urgently. Most contentious is the issue of the border incursions along the Line of Actual Control (LAC). Frequent incursions by China in the past few years, particularly in the run up to the general elections, have inspired widespread anger in India. There was an animated debate in the Parliament in September about the incident in the Depsang Bulge April last year, in which Modi's BJP took a leading role. A delegation of the National Democratic Alliance (NDA) led by top parliamentarian L.K. Advani of the BJP, submitted a memorandum to President Pranab Mukherjee on May 3, 2013 demanding a response to China's actions. Describing the border incursion as "unilateral and forceful Chinese occupation", the memorandum said, it violates "the agreed principles governing the conduct of forces of China in respect of the LAC" (The New Indian Express, May 3, 2013). Modi himself, while addressing an election meeting in February this year in Arunachal Pradesh in the eastern sector of India-China border, urged China to shed its "expansionist" mindset. Referring to Arunachal Pradesh, which China claims as its own territory, he said, "No power on earth can snatch away Arunachal Pradesh…times have changed. The world does not welcome the mindset of expansion in today's times" (ndtv.com, February 22).
The current Sino-Vietnamese tension over South China Sea issue will also push Modi to take a position on regional territorial disputes. India has already supported freedom of navigation in South China Sea and holds the view that the territorial dispute there should be resolved by the concerned countries in accordance with universally recognized principles of international law. The new government has to take a call on South China Sea issue. Editorials in India media have called for an Indian response: "An India that does not stand up for China's smaller neighbors now will find itself, sooner rather than later, a victim of Beijing's aggressive actions" (Indian Express, May 15). But again, India's response will be measured. Beijing has already said that India need not be unnecessarily worried, and it is not an issue of concern. Whether the government decides to send the new defense minister to participate in the Shangri-La dialogue to be held by the end of the month will reveal the government's interest in the issue.
However, Modi is clearly aware of the benefits of working with China. As the chief minister of Gujarat, he visited Beijing and engaged with the Chinese leadership. China has also invested in Gujarat. A few days before the election results were declared, Modi said, "It is possible to solve our problems with China and take the relationship with it to another level. If India and China want to work together towards improving our relationship and resolve our differences, it would be helpful to both the nations" (Times of India, May 6).
The second decision that the Modi Government has to take is how to participate in China's commemoration of the sixtieth anniversary of "Panchsheel" (the "five principles of peaceful coexistence"), which the two countries jointly enunciated in 1954. Beijing is expecting a top leader to visit China on the occasion. But Jana Sangha, a forerunner of the BJP, was highly critical of Panchsheel. It is unlikely that Modi himself will visit China, although the Chinese government will be very happy to receive him. The foreign office will likely advise Modi not to make his first foreign visit to China, which would be read as a signal by the countries with which India has strategic partnerships. Furthermore, it has been less than a year since Prime Minister Manmohan Singh visited China.
Third, Modi must decide how to pursue trade and economic engagement with China. Likely impressed by Modi's record of encouraging business development in Gujarat, the Chinese have already extended overtures to him to deepen economic engagement. There is a strong corporate lobby in India in favor of China—incidentally, two of India's leading corporate houses share links to Gujarat, and are favorably disposed towards China. The Tata Group, arguably the largest of Indian private sector companies, originally come from Gujarat. An article in China's Liberation Daily quoted Ratan Tata, the chief of the Tata group, as saying that India should not be too worried about China's growing economic strength, but instead should focus on building alliance with China ("China lauds Ratan Tata's 'positive' role in Sino-India ties," India Today, October 20, 2012). In April this year, China nominated Ratan Tata to serve as a member of the 15-member Board of Boao Forum for Asia, which puts him in the company of a group of distinguished former ministers and leaders from Asia and the United States.
Another top corporate house, the Ambani group, which belongs to Gujarat and has huge business interests in the state, also shares close business relations with China. In October 2010, the Ambanis' Reliance Power ordered billions of dollars' worth of equipment from the Shanghai Electric Group. In January 2010, a syndicate of several banks in China loaned Ambani's Telecom Company $1.2 billion.
However, at a time when the balance of bilateral trade between India and China is skewed in favor of China, the new government has to be cautious and circumspect while allowing Chinese investments in manufacturing, particularly when India wants to develop its own manufacturing sector. Prime Minister Modi has already said that manufacturing should make up one-third of the country's GDP. Modi has to find a judicious balance between safeguarding the interests of the domestic economy and allowing Chinese investment in manufacturing and infrastructure. Secondly, a major bottleneck in India-China bilateral trade and economic engagement is the persistent security distrust, which holds back Chinese investments in sensitive sectors like telecom and proposed bullet trains. It is indeed a big challenge for the leadership of the two countries to remove or ameliorate the strategic distrust and security dilemma between the two countries.