Moldovan-Romanian Relations Under a Dodon Presidency: Off to a Rocky Start
Publication: Eurasia Daily Monitor Volume: 13 Issue: 189
By: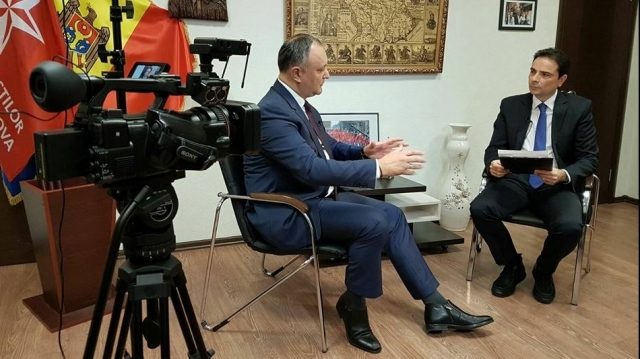 After giving his first major post-election interview to Zvezda, a television channel owned by the Russian Ministry of Defense (Tvzvezda.ru, November 17), a week later, Moldovan President-elect Igor Dodon offered his first extensive interview to the western media—Romania's National Public Broadcaster (Tvr.ro, November 24). The two interviews could not be more different in both tone and content. Dodon's message for the Russian audience is loud and clear: he is committed to turning Moldova toward Russia and its Eurasian Economic Union and away from Euro-Atlantic integration (1tv.ru, November 14). His positions, however, become much more nuanced when addressing the Romanian media. He takes a more moderate geopolitical stance by promising to maintain good relations with the European Union. Nonetheless, the newly elected president, who is yet to be validated by the Constitutional Court, has antagonized much of the Romanian political establishment with his claims that Romania should ratify the Border Treaty with Moldova, stop promoting the idea of a union between Moldova and Romania, and accept the fact that Romanians and Moldovans have a separate history and identity (Tvr.ro, November 24). This, along with Dodon's rapprochement with Russia as well as plans for a federal state solution to the Transnsitrian conflict, will test the limits of the strategic partnership between Moldova and Romania.
The Romanian political leadership has consistently rejected Moldova's insistence on signing the Border Treaty. Former Romanian president Traian Basescu, who became a Moldovan citizen just ten days before this year's presidential run-offs in Moldova (Mediafax.ro, November 3), reacted promptly to Dodon's remarks. He admitted that, despite international pressure, including from German Chancellor Angela Merkel, he had refused to submit the draft border treaty to the Romanian parliament for ratification (Evz.ro, November 27). Yet, the treaty Basescu was actually referring to is the "Border Regime Treaty," which was signed by the two countries in November 2010 and ratified only by Moldova, in June 2013 (Mfa.gov.md, November 8, 2013). On the other hand, the "Border Treaty" that President-elect Dodon spoke about in his interview with the Romanian media is often referred to as the "Basic Political Treaty," and it was never signed by either country. The Border Regime Treaty is a more technical document and was driven by Moldova's desire to receive a visa free regime with the European Union as well as Romania's plan to join the EU Schengen Area.
The issue of the Border Treaty (Basic Political Treaty), on the other hand, is highly politicized for historical reasons: the Romanian side views it as a legitimization of the 1939 Molotov-Ribbentrop Pact, which allowed the Soviet Union to seize Bessarabia (modern-day Moldova) a year later. Pro-Russian forces in Moldova, including Dodon, see Romania's refusal to sign such a treaty as proof of Bucharest's hopes for the re-unification of the two countries. This treaty is also invoked as one of the premises that would facilitate the settlement of the Transnistrian conflict. Often, in public debates, the Border Regime Treaty is presented as a substitute for the more contentious Border Political Treaty. In fact, the media routinely confuses one for the other.
When asked about Igor Dodon's Border Treaty demand and other critical remarks, Romania's President Klaus Iohannis suggested that Moldova's president-elect act more presidential (Mediafax.ro, November 29). And following the meeting of Romania's Supreme Council of National Defense, Iohannis announced the creation of an inter-institutional working group, under the umbrella of the presidential office, tasked with implementing Romania's strategic goal of integrating Moldova into the European Union (Adevarul.ro, November 29). Dodon responded by reminding Iohannis about a letter he had sent to the Romanian president earlier this year, asking him to condemn the pro-unionist rhetoric waged by some Romanian civil society groups and politicians, including Basescu (Agora.md, November 29). Dodon pledged during his election campaign to ban parties and organizations promoting the idea of union with Romania, despite lacking the constitutional powers to do so. However, the promise he could fulfill with his limited presidential powers would be to strip Basescu of his newly acquired Moldovan citizenship—though that would make Dodon look weak and petty.
Dodon cannot risk alienating Romania completely, since he is well aware that Romania is a major donor for Moldova. The 60 million euros ($63.6 million) of the 150 million euro ($159 million) loan, which Romania transferred in August, has kept Moldova afloat until the government can secure a lifeline from the International Monetary Fund (IMF). Dodon lacks certainty that Russia could afford to be equally generous toward Moldova. The best he can hope for is the Kremlin to lift the Russian trade embargo on Moldovan wine and agricultural produce imposed as a reprimand for Chisinau's pro-EU course. In fact, the ban is likely to be lifted later this year, when Dodon is scheduled to meet with President Vladimir Putin (Newsmaker.md, November 29). Rather symbolically, Dodon promised to make his first official foreign visit to Moscow, the second one to Brussels, and the third to Bucharest (Evz.ro, November 26). This is hardly enough to alleviate Romania's concerns, particularly as all of its neighbors but Ukraine now have pro-Russian leaderships (Adevarul.ro, November 14). Still, Bucharest remains aware of Dodon's constitutional limitations and hopes that he can do little other than engage in grand standing, at least until the next parliamentary elections in 2018.
Meanwhile, it is Moldova's gray eminence, oligarch Vladimir Plahotniuc, who calls the important shots in Moldova's domestic and foreign policy, despite having no official role in the state's power structure. Dodon's bellicose rhetoric will make Plahotniuc's increasingly undemocratic regime seem like a pragmatic alterative, even if no astute observer of Moldovan affairs will be fooled by the "good cop, bad cop" routine that has been so meticulously staged by Plahotniuc and Dodon.