Mongolia Signs Economic Deal With Japan to Offset Chinese and Russian Trade Domination
Publication: Eurasia Daily Monitor Volume: 12 Issue: 32
By: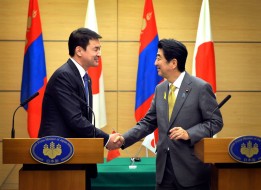 The new Prime Minister of Mongolia, Chimediin Saikhanbileg, whose 'Reconciliation Government' has been in power less than three months, visited Japan on February 9–11 to sign a Mongolian-Japanese Economic Partnership Agreement (EPA) with his Japanese counterpart, Shinzo Abe. This economic partnership agreement, effective immediately, was the first for Mongolia and the 15th for Japan. Prime Minister Abe noted that the EPA took three years to negotiate and now "will become an important foundation for simultaneously forwarding two objectives to consolidate our relations and boost Mongolia's economic development" (The Mongol Messenger, February 13). The Japanese also gave the Mongolians an additional soft loan worth 36.8 billion yen ($310 million), which will be used to complete the construction of Ulaanbaatar's new international airport scheduled to open in 2016. In the February 10 joint press conference, Saikhanbileg responded by emphasizing, "The EPA is very significant to increase the flows of bilateral trade, investment and services and intercitizen exchange, as well as to connect Mongolia to global markets and regional economic integration" (The Mongol Messenger, February 13). He noted that Mongolia wanted to learn about Japanese techniques to commercialize value-added products sold into foreign markets so as to link the Mongolian market with regional industrial networks.
Mongolia is seeking to greatly strengthen its economic relationship with Japan, which it considers an important 'third neighbor' that can be a major factor in balancing the Chinese ($423 million in grants and loans) and Russian (in railway modernization) investment projects negotiated by the Mongolian in 2014. In 2012, the Mongolian Ministry of Finance reported that 66.4 percent of total Japanese exports ($336 million) to Mongolia were vehicles and parts, followed by much smaller amounts of machinery and chemical engineering products. Meanwhile, 53 percent of Mongolia's $16 million in exports to Japan consisted of coal, 25 percent of mineral products, and 15.4 percent of clothing such as cashmere (Japantimes.co.jp, February 10). The government-affiliated Japan External Trade Organization (JICA), in 2012, reported a different bilateral trade volume, claiming that Japan exported $501 million worth of products to Mongolia and imported $5.60 million worth of goods from Mongolia (Joc.com, February 10). Regardless, Mongolia for Japan is but a minor trade partner, while Japan is only the fifth-largest source of Mongolian imports.
Mongolian FDI fell more than 85 percent in the past two years and its currency, the tugrik, slid by almost a third against the US dollar. This has cooled Mongolia's 2011 world-leading growth rate of 17.5 percent to just 5.3 percent in the first half of 2014. This trade deal over the next decade will remove tariffs on about 96 percent of the traded goods (Japantimes.co.jp, February 10) and, more significantly, should bring more Japanese investment into the country's rare-earth metals, copper, and coking coal sectors, which have not attracted new FDI because of on-going legal disputes. Furthermore, the EPA should assist Mongolia's efforts to assume a greater role in Northeast Asian regional security affairs, particularly on North/South Korean issues in which the landlocked country has facilitated North Korean–Japanese discussions on abductees.
The Japanese foreign ministry stated that: "It is expected that this agreement will promote the liberalization and facilitation of trade and investment between the two countries and will further vitalize both economies by strengthening reciprocal economic ties in wide-ranging fields." The EPA cites the "warm" relationship between the two countries, which was a response to globalization and closer worldwide economic integration, and complementarities that could be utilized to promote bilateral trade and investment in order to build up the Japan-Mongolia "Strategic Partnership." It emphasizes securing a framework to enhance competitiveness and "ensure [a] predictable commercial environment for further expansion of trade and investment" for the private sector (Mofa.go.jp, February 10). Among its highlights are a most-favored nation trade clause and a commitment to transparency by making all trade administration documents available to the public in electronic form. The 11 sub-committees established by the bilateral agreement are to focus on rules of origin, customs procedures and trade facilitation, visas, trade in digital products, investment, intellectual property, government procurement, and improvement of the business environment. As a way to more smoothly resolve trade disputes, the EPA will create arbitral tribunals.
The Mongolian prime minister's delegation to Tokyo included Minister of Education Luvsannyam Gantumur, head of the Mongolian Japanese Friendship Group and former minister of mining Davaajav Gankhuyag, Mining Minister Rentsendoo Jigjid, Minister of Construction and Urban Development Damdin Tsogtbaatar, and several deputy ministers and members of parliament. They had meetings with the head of the Cabinet of Japanese Parliamentary Advisors Masaaki Yamazaki (Montsame, February 11) as well as the Japan Bank of International Cooperation (JBIC) Deputy Director Koichi Yajima. Saikhanbileg recalled that in the past, Mongolian-Japanese economic relations were based on loans and grant aid, but now, at this new stage of bilateral private sector cooperation, the JBIC's participation is particularly important. In June 2013, Mongolia set up a credit line of 8 billion yen ($6.7 billion) for Mongolian importers to finance the purchase of Japanese products in the mining, infrastructure, and production sectors. The Prime Minister discussed with JBIC implementation of this first phase and the creation of an additional credit line of $300 million (News.mn, February 10). Prime Minister Saikhanbileg also participated in a business meeting jointly organized by the Mongolian government and the Japanese trade organization JETRO, as well as a ceremony naming sumo wrestling grand champion Yokozuna Hakuho Munkhbat Davaajargal a Cultural Messenger of Mongolia (News.mn, February 10).
The fact that this was Saikhanbileg's first foreign visit as head of government clearly illustrated the importance of the Japanese economic partnership to Mongolia. The Mongolians are seeking a mid-term bilateral program to build power stations, railways, steel and copper processing plants, highways, and a capital metro system. One of the most important projects already announced is Sumitomo Corporation's participation, after beating out an offer by the US-based Peabody Energy Corporation, in a Sino-Mongolian consortium that will exploit Mongolia's Tavan Tolgoi coal deposit. Financial media and blogs buzzed with comments on how the new EPA would give Japan access to Mongolian rare earth elements (REE), which are crucial for Japan's automotive and electronics industries, in order to reduce its REE dependency on China (Mongoliaeconomy.com, February 13; blogs.blouinnews.com, February 11). Thus, both governments hope this new phase of economic cooperation will have the additional benefit of blunting rising Sino-Russian regional influence.