Mongolian Military Trains With US Troops While Preparing for Exercises With Russia
Publication: Eurasia Daily Monitor Volume: 12 Issue: 133
By: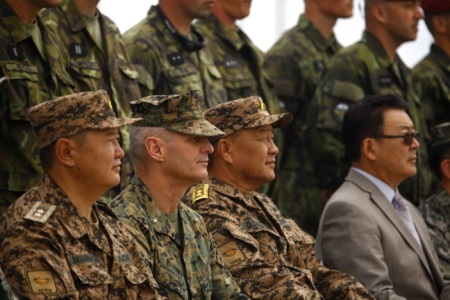 The Mongolian Armed Forces (MAF), working with the United States Pacific Command (USPACOM) and the US government's Global Peace Operations Initiative (GPOI) program, hosted their annual multinational exercise known as Khaan Quest 2015, on June 20–July 1. The exercise was held at the 311th Army Division's Five Hills Training Area, outside the Mongolian capital of Ulaanbaatar. This year's Khaan Quest featured over 1,200 personnel and was co-sponsored by US Army Pacific, and US Marine Corps Forces, Pacific (MARFORPAC), along with 22 other countries including China, which participated for the first time. Also taking part were United Nations peacekeeping operations troops from Australia, Bangladesh, Belarus, Canada, the Czech Republic, France, Germany, Hungary, India, Indonesia, Japan, Nepal, Pakistan, the Philippines, Poland, Russia, South Korea, Tajikistan, Thailand, Turkey and the United Kingdom (News.mn, June 19). Khaan Quest 2015 consisted of a command post exercise and a field training exercise, both of which focused on peacekeeping and stability operations (US Embassy–Ulaanbaatar press release, June 17). The main goals of this yearly exercise are to develop methods and techniques for peacekeeping and enhance military collaboration amongst the participant countries. But as Khaan Quest was concluding, Mongolians were finalizing their plans for military exercises with the Russians this August in an operation named Selenge 2015.
In an opening ceremony involving foreign ambassadors, Mongolian Minister of Defense Tserendash Tsolmon welcomed the troops by saying: "This exercise contributes to enhance UN peacekeepers, improve the capacity of participant countries in peace support, and strengthen military confidence and security in the Asia and Pacific" (The Mongol Messenger, June 25). The 600 participating Mongolian troops were under the command of newly appointed chief of the MAF General Staff, Major General Dulamsuren Davaa (Montsame, June 18). The 300-man US contingent, primarily from the Alaska Army National Guard and US Army Alaska, was led by Marine Brigadier General Christopher J. Mahoney, deputy commander of MARFORPAC (US Embassy–Ulaanbaatar press release, July 1). During the following two weeks, the troops participated in a field training exercise focused on peacekeeping operations, survival training, competitive events, and realistic scenario–based missions practicing command-and-control capabilities in peacekeeping operations (Dvidshub.net, June 20).
Mongolia and the United States first organized Khaan Quest in 2003; and as of 2006, they have expanded it into a multinational peacekeeping exercise. Khaan Quest is currently among the five main annual events organized for supporting peacekeeping capabilities and capacity building in the Asia-Pacific region (The Mongol Messenger, June 25). In addition to regular military training, forces participating in Khaan Quest also collaborate to conduct real-life Civic Action Engineering Projects and Cooperative Health Engagement activities. In particular, the participating military forces provide medical services to Mongolians living in rural areas and Ulaanbaatar's "ger" districts (sprawling residential zones that originally began as unsanctioned tent cities). Since 2004, about 75,000 people have received such medical services. This year, approximately 480 patients were treated for acute or minor surgical conditions. Services provided included dental, pediatrics, ophthalmology, neurology and cardiology. In addition, veterinary specialists treated nearly 330 animals. In the Civic Action Engineering Program, which started in 2006, the peacekeeping forces conduct humanitarian work such as maintenance and renovations to schools, kindergartens and hospitals, as well as organize water distribution points in the provinces and capital. During Khaan Quest 2015, participating troops completed renovations at the Special Needs School in Ulaanbaatar.
According to Major General Zagdsuren Boldbaatar, the deputy defense minister of Mongolia, "Humanitarian events such as engineering civic action program projects and incorporating health engagement events are an integral part of the exercise, which raise the importance of this event." (Dvidshub.net, June 20). In closing ceremony remarks, on July 1, Mongolian President Tsakhia Elbegdorj and Major General Greg Charles Bilton, the deputy commanding general of operations for US Army Pacific, emphasized the key role played by UN international peacekeeping operations in critical situations around the globe.
Chinese press reports on the joint exercises in Mongolia were muted, despite the fact that Chinese People's Liberation Army (PLA) units this year were participants, not just observers. Chinese news wire Xinhua (June 20) merely quoted the military attache's office of the Chinese Embassy to Mongolia, saying that this was the first time that China has sent troops to join the annual exercises. Meanwhile, an Indian correspondent noted that, "No statements from either the Mongolian or the U.S. side emphasized the significance of China's first-time participation" (The Diplomat, June 23). A foreign diplomat present at the opening ceremony privately remarked that the opening-day speech of Chinese General Zhang Liguang was surprisingly effusive in content. Zhang later said "that through the joint grouping and training with the troops from different countries, the Chinese troops have accumulated valuable actual-combat experience and, at the same time, enhanced mutual trust and friendship with the troops from the participating countries" (China Military Online, July 2).
But as Khaan Quest 2015 exercises were underway, the Russian Armed Forces of the Eastern Military District—stationed in the Republic of Buryatia—held consultations with the MAF, on June 30–July 2, in Chita, the capital of the Transbaikal Region. These Russian-Mongolian talks concerned planning for the upcoming field exercise Selenge 2015. The Selenge 2015 drills will run from August 19 to 27, and, for the first time, will take place on the Tsugol training complex, in the Transbaikal Region, in the Russian Far East. It is expected that 500 Russian and 350 Mongolian troops will participate. Selenge military exercises have been conducted annually since 2008. The last two years, they were held in Mongolia (Infomongolia, April 21). This year's exercise is dedicated to the 70th anniversary of the end of World War II.
The combined militaries will practice anti-terrorism tactics involving landings and crossing water barriers. The Russian Eastern Military District's contingent will include a tank battalion, mechanized infantry company, mortars, a self-propelled artillery and rocket battery division, flamethrowers, snipers, reconnaissance, and nuclear, biological and chemical (NBC) protection units. Russia will also deploy about 90 pieces of military equipment, including two Su-25s, a pair of Mi-8AMTSh assault transport helicopters, and an Mi-24 helicopter gunship. The Mongolian side will bring to the exercise a tactical grouping infantry battalion, infantry fighting vehicles, armored personnel carriers, T-72 tanks, BM-21 Grad multiple-launched rocket systems (MLRS), as well as mortars (Function.mil.ru, June 30).
As Mongolia's participation in the almost back-to-back Khaan Quest and Selenge 2015 exercises highlights, Ulaanbaatar continues to value military links with each of its neighbors as well as the West, and is using such drills to hone different capabilities.