Mongolia's Place in Northeast Asia's Renewable Power Grid
Publication: Eurasia Daily Monitor Volume: 15 Issue: 100
By: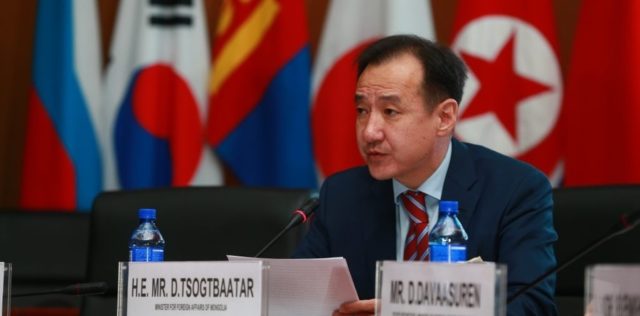 During the fifth meeting of the Ulaanbaatar Dialogue on Northeast Asian Security, held on June 14–15, in the Mongolian capital, regional energy and environmental cooperation projects were major highlights (Mongol Messenger, June 15; UB Post, June 16). Progress was particularly apparent on the "Strategy for Northeast Asia Power System Interconnection" (NAPSI). The Mongolian government has secured $1.75 million in technical assistance funding from the Asian Development Bank (ADB) for a two-year study (through May 2019) to explore how the country might more effectively utilize its abundant renewable wind and solar resources in the Gobi Desert, together with Mongolian and Russian hydropower sources, to reduce the carbon footprint of Northeast Asia (NEA—comprising China, eastern Russia, Japan, South Korea and Mongolia). The power sector is the largest source (40 percent) of greenhouse gas emissions in the region.
Electricity grid interconnection has been discussed for two decades in the NEA as a means to build an economically efficient, renewable power system. Research studies have been conducted by Japanese (Researchgate.net, January 2015), South Korean (Renewable-ei.org, March 8, 2018), and Russian (Nautilus.org, January 2012) scientists and power engineers to quantify the economic and environmental benefits from connecting the region's multiple power grids. The results indicated only modest benefits in lowering total cost because of the large initial investments required to develop the renewables and the transmission lines. However, grid interconnections are projected to become more economically attractive in higher fuel price or lower initial cost situations.
According to the Melentiev Energy Systems Institute, Russian interconnected energy power systems were developed as a part of the Soviet Union's unified electric power system to link with the systems of both European and Asian former Soviet republics. To date, however, there are only a few short 110–220-kilovolt transmission lines connecting Russia to neighboring Mongolia, China and other Northeast Asian countries. The largest electricity flows within the NEA are exports from Russia to China and from China to Mongolia (E3s-conferences.org, February 2018). Mongolia is the only regional state where international power trade plays a significant role in the domestic electricity balance, and it attractively has the lowest electricity tariffs in the NEA. Its long-term goal is to penetrate the energy markets of China, Japan and South Korea, likely in coordination with Russia.
The latest NAPSI study was undertaken by the Mongolian Ministry of Energy, Électricité de France, China Electric Power Reach Institute (EPRI), and Nova Terra LLC, a Mongolian investment and advisory firm with extensive renewable energy project experience. In 2013, Nova Terra developed the 50-megawatt (MW) Salkhit Wind Farm, the first utility-scale renewable power plant in Mongolia. Moreover, this firm recently began a joint venture with Symbior Solar Limited, a leading Asian company engaged in developing solar photovoltaic (PV) installation in emerging markets. The two companies will be developing a 50 MW PV project in the South Gobi region of Mongolia for $100 million (UB Post, March 20, 2017). Meanwhile, one of the corporate advisors on the NAPSI research project, Energy Charter (Belgium), has advanced the Gobitec concept to produce clean energy from renewable energy sources in the Gobi Desert and to deliver the produced energy to high-demand power corridors via the planned Asian Super Grid (ASG), which will connect Russia, Mongolia, China, South Korea and Japan. This project follows the model of DESERTEC—a mega-project that deploys renewable energy plants in the Middle East and North Africa to meet domestic electricity demand and to export surplus electricity to Europe (Energycharter.org, 2014).
The NAPSI project partners have been introducing their findings in a series of conferences throughout Asia under the general theme of the Asia Super Grid. The first ASG conference was on August 28–29, 2017, in Irkutsk, Russia, followed, on October 30, 2017, in Seoul, South Korea, and then, on March 22–24, 2018, in Kitakyushu, Japan. The next such even is scheduled for mid-October, in Beijing; and a final marketing module workshop assessment will be held in June 2019, in Ulaanbaatar.
The strengthening of integration processes in Northeast Asia—which has been accelerated by the recent summit between Donald Trump and Kim Jong-un—and the potential for developing a single electricity market are the main forces driving the creation of a regional power grid. Yet, despite favorable economic and geographical conditions and technologies, the region has long been plagued by a lack of political will and financial capital for energy cooperation. The Mongolian study follows recent Russian research that concluded, "The unequal status of the national power market institutions within Northeast Asian countries is leading to an inconsistency of national financial, technical and environmental regulation" (E3s-conferences.org, January 5, 2018).
Mongolia has exceptional renewable energy resources. But as of 2012, it also had the third-highest greenhouse gas emissions per capita. And driven by a projected 9 percent annual increase in electricity demand from its own growing mining sector, Mongolian imports of electricity have expanded from less than 5 percent in 2010 to over 20 percent in 2015 (Renewable-ei.org, May 25, 2016). This trend will continue: In January 2018, the Mongolian Parliament exempted imported electricity from Russia and China in its Western Energy System, one of the four domestic power grids, from taxes until January 2021 (Montsame.mn, December 22, 2017).
Although Mongolia boasts rich and cheap fossil fuel mineral reserves, the government is committed to exploiting its renewable resources. It has set a target of 30 percent of its electricity generation to come from renewable energy by 2030. The NAPSI project is currently looking at different cost-benefit scenarios, which will require $5.55 billion of investment by 2026, with another $4.2 billion by 2036, and a total of $57.33 billion in investment by 2051—projected to represent 60 percent of Mongolia's GDP. While the European Bank for Reconstruction and Development (EBRD) supports such large-scale renewable power investment schemes, this month's Ulaanbaatar Dialogue meeting expressed concerns that the size of the needed investment as well as the volatile political climate in the NEA remain major challenges to its realization (Mongol Messenger, June 15; UB Post, June 16). Nevertheless, recent hope for substantive progress on integrating North Korea into the regional economy may permit the NAPSI project to begin taking concrete steps toward its implementation—and thus further buttress the strategic dynamics surrounding the ambitious Asian Super Grid concept.