More Than 2,000 Disappearances in North Caucasus Remain Unsolved
Publication: Eurasia Daily Monitor Volume: 8 Issue: 107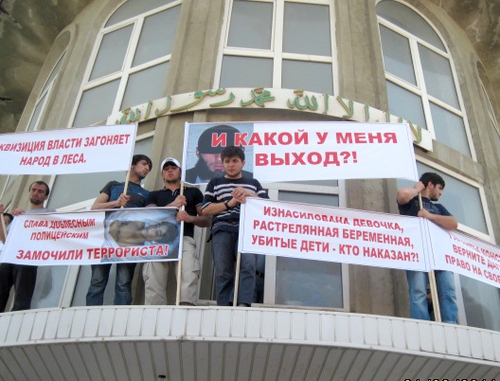 Russia's Presidential Council for the Development of Civil Society and Human Rights held a conference on June 1 – 2 in Dagestan's capital, Makhachkala, devoted to the situation in the republic. Participants painted a bleak picture of the state of human rights in Dagestan, and in the North Caucasus more generally.
Among those who participated in the conference were council members Lyudmila Alekseyeva (chairwoman of the Moscow Helsinki Group), Oleg Orlov (head of the Memorial human rights group) Svetlana Gannushkina (head of the Civic Assistance committee), Vladimir Lukin (Russia's human rights ombudsman), council chairman Mikhail Fedotov and ethnographer Emil Pain. The meeting opened with an address by Dagestan's president, Magomedsalam Magomedov.
Another participant in the conference, Zaur Gaziev, chief editor of the newspaper Respublika, stated: "The cost of human life in Dagestan is incommensurably lower than in the rest of Russia. We easily kill one another, thinking that this can solve all of our problems." Gaziev said that Dagestani society is on the edge of a civil war that could be triggered by what he called "flagrant" instances of violence on the part of the republic's law-enforcement bodies.
The head of the department for the North Caucasus Federal District of the Russian Prosecutor General's Office, said that 75,000 crimes were committed in the district in 2010, a third of them serious crimes, and that the number of murders rose sharply. She did say that thanks to an anti-kidnapping program developed in 2007, the number of disappearances had dropped two-fold. Still, she said more than 2,000 disappearances remain unsolved in the district.
Vladimir Lukin said that the testimony put forward during the conference indicated that the quality of life in Dagestan was very low, adding that law-enforcement personnel are committing "serious crimes," abducting people "without investigation, on the slightest suspicion." His comments were echoed by Svetlana Gannushkina, who said: "We are for a second day hearing about terrible crimes that are committed by law-enforcement bodies supposedly for the fight against crime. The methods of fighting crime are worse than the crimes themselves."
Underscoring the ongoing problem of abductions in Dagestan, Kavkazsky Uzel noted that on June 1, the first day of the conference in Makhachkala, Magomed Magomedov, a resident of the village of Cheremushki in Dagestan's Kizlyar district, was abducted by unidentified persons in civilian dress. The website reported that, according to unconfirmed reports, Magomedov was moved to the Kizlyar police headquarters (www.kavkaz-uzel.ru, June 3).
Meanwhile, insurgency-related violence, including apparent government counter-violence, continued in Dagestan this past week. The republic's interior ministry reported that two people were killed in the republic's Karabudakhkentsky district today (June 3) after they opened fire on police who stopped their car for an inspection and police returned fire. A similar incident took place in the Karabudakhkentsky district on May 27, when law-enforcement officers killed a local resident who fired on them after they stopped his car (www.kavkaz-uzel.ru, June 3).
On June 2, a resident of the village of Kokrek in Dagestan's Khasavyurt district told Kavkazsky Uzel that her husband had disappeared while driving to the city of Kizlyar on May 27. The woman, Makhabat Musaeva, said her husband, Magomed Musaev, had earlier referred to a policeman in Kokrek who may have been involved in her husband's disappearance. She said her family members, including their four children, were observant Muslims but that her husband was not on the police's list of adherents of Salafism (www.kavkaz-uzel.ru, June 2).
On May 31, relatives of a resident of the village of Sultanyangiyurt in Dagestan's Kizilyurt district who was abducted this week held a demonstration in central Makhachkala demanding that authorities explain what happened to him. Shamil Omarov was driving to work on May 28 when his car was overtaken and stopped by another vehicle driven by men in black uniforms and masks, who grabbed Omarov, forced him into their car and drove him off to points unknown. The co-chairwoman of the group Mothers of Dagestan for Human Rights told Kavkazsky Uzel that around 100 people participated in the demonstration demanding information on Omarov's whereabouts. The website said his relatives fear that the republic's "siloviki" will announce that he was a militant killed during a special operation.
According to Gyulnara Rustamova, the co-chairwoman of Pravozaschita, another Dagestani human rights group, a 19-year-old resident of Makhachkala, Sergei Yevloev, was kidnapped in the Dagestani capital on May 25 (www.kavkaz-uzel.ru, May 31).
Also on May 31, the acting head of the criminal police for Dagestan's Magaramkentsky district, Bagaudin Bagaudinov, died from wounds sustained in a shootout with a suspect in the village of Telegyun the previous day. Two other policemen were wounded and the suspect was killed in the shootout (www.kavkaz-uzel.ru, May 31).
On May 30, police announced that a married couple who went on fishing trip in Dagestan's Kizlyar district on May 28 were found shot to death on the banks of a reservoir. Police said they were probably killed by rebels who wanted to steal their car (www.kavkaz-uzel.ru, May 30).
On May 29, a policeman was killed in the city of Kizlyar. The officer was shot in the head by an unidentified assailant who managed to escape. That same day, one person was wounded when gunmen opened fire on a restaurant in Makhachkala located on the city's Caspian Sea beach. Three suspects were subsequently detained (www.kavkaz-uzel.ru, May 30).