Moscow Airport Attack: Carried Out by Nogai Militants Trained in Pakistan?
Publication: Eurasia Daily Monitor Volume: 8 Issue: 20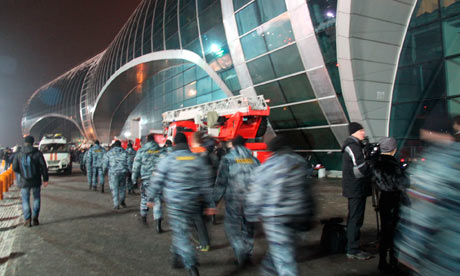 No individual or group has yet claimed responsibility for the suicide bombing at Moscow's Domodedovo Airport on January 24, which killed 35 people and wounded at least 125. However, the Russian media has been full of the theories and rumors about who may have been behind the attack, most of which point to the North Caucasus.
Kommersant reported on January 27 that investigators believe the attack may have been organized by Vitaly Razdobudko, a resident of the Stavropol region and a "Russian Wahhabi" who is allegedly a member of the Nogai Jamaat. According to the newspaper, Russian law-enforcement sources suggested that Razdobudko may also have been behind an incident in Moscow this past New Year's Eve, in which a suspected female suicide bomber reportedly died when her suicide belt accidently detonated. However, Kommersant reported that relatives of Razdobudko said he disappeared last October and that they even went to the police about his disappearance, fearing he may have been abducted and killed by militants because he wanted to leave their ranks (https://www.kommersant.ru/doc.aspx?fromsearch=e8ad831c-0ad4-4d1a-9986-6627c28d6907&docsid=1574311).
The Kavkazsky Uzel website on January 25 quoted an anonymous Russian special services source as saying that members of the rebel "Nogai Battalion" may have perpetrated the Domodedovo bombing as revenge for a special operation carried out in Stavropol's Neftekumsk district last October, during which three "Nogai Battalion" militants were captured and two were killed. According to the source, a month after the operation, the Russian special services received information that three "Nogai Battalion" members had arrived in the Moscow region to launch attacks using female suicide bombers (www.kavkaz-uzel.ru, January 25).
Meanwhile, Pakistan's The News reported on January 27 that Russia's intelligence services had approached their Pakistani counterparts to share intelligence on a "suspected link" between Pakistani and Afghan militant groups, on the one hand, and "terror groups in the North Caucasus," on the other. Citing "well-informed diplomatic circles in Islamabad," the newspaper reported that Russia's Federal Security Service (FSB) believes that the suicide bombers who have repeatedly struck in Russia "were most likely trained by the al-Qaeda network on the Pak-Afghan tribal belt." The News added that according to intelligence information that the Russian authorities have shared with their Pakistani counterparts, "the Chechen militants … suspected of carrying out suicide bombings in Russia … are being trained by the same al-Qaeda-run jehadi network which is imparting terror training to hundreds of other foreigners for launching Mumbai-style attacks in the United States, United Kingdom, France and Germany." The newspaper said the FSB believes the Domodedovo attack was carried out by the Caucasus Emirate led by Chechen rebel leader Doku Umarov (https://thenews.com.pk/TodaysPrintDetail.aspx?ID=27830&Cat=1&dt=1/27/2011).
It is worth noting that Prime Minister Vladimir Putin has ruled out the possibility that the Domodedovo attack was linked to Chechnya. "This terrorist act, according to preliminary data, has no relation to the Chechen Republic," Putin told reporters in Moscow on January 26 (Reuters, January 26).
According to Kavkazsky Uzel, investigators have not ruled out another version of the Domodedovo attack: that it was carried out by Dagestan's armed Islamic underground. The website noted that members of that group are accused of having organized and carried out two suicide bombings in the Moscow metro system last March, which killed 39 people. Doku Umarov later claimed responsibility for those bombings (www.kavkaz-uzel.ru, January 28).
Meanwhile, insurgency-related violence continued this week in Dagestan. Two policemen were wounded on January 27 when security personnel stormed a home in the village of Serveny in Dagestan's Khasavyurt district in which militants were allegedly hiding. Also on January 27, the chief of police of Dagestan's Babayurt district, Colonel Abdulkhakim Kerimov, was shot and killed by unidentified attackers during an operation that was being conducted in the village of Luxembourg (www.kavkaz-uzel.ru, January 27).
On January 26, four people were killed and six wounded when a bomb went off next to the Karavan café in Khasavyurt. Three of the café's employees died on the spot and a patron died later in the hospital. According to Dagestan's interior ministry, the bomb exploded with the force of 30 kilograms of TNT and was hidden in a car parked next to the café. Kavkazsky Uzel quoted a Dagestani law-enforcement source as saying that the bombing may have been carried out by members of the republic's armed Islamic underground who have been extorting "tribute" payments from local businessmen who sell alcohol. According to the source, it was the fourth such bombing in Khasavyurt this year targeting drinking establishments whose owners refuse to pay off the rebels (www.kavkaz-uzel.ru, January 27).