Moscow angered by Georgian move that breaks the North Caucasus' isolation
Publication: Eurasia Daily Monitor Volume: 7 Issue: 189
By: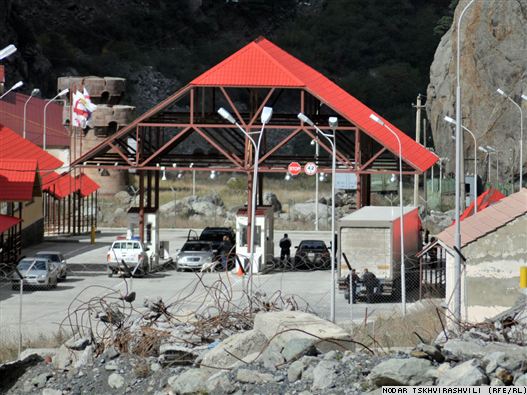 On October 13, the Georgian government unilaterally introduced a visa-free regime for the North Caucasians. Tbilisi's surprise move evoked divergent reactions in Russia – furious criticism from Russian officials and tacit appreciation across the North Caucasus. The new rules affect Adygea, Chechnya, Dagestan, Ingushetia, Kabardino-Balkaria, Karachaevo-Cherkessia and North Ossetia. Visitors from the republics of the North Caucasus can now cross into Georgia without receiving a Georgian visa and can stay in the country for up to 90 days. Georgian Deputy Foreign Minister Nino Kalandadze explained that the simplification of visa rules was motivated by the desire to restore Georgia's traditional relations with neighboring peoples. At the same time, she said that many people want to travel to Georgia for commercial purposes as well as to enroll in Georgian higher education institutions. "[S]o it would have been inappropriate to have some additional barriers in this regard," she said (www.civil.ge, October 11).
Russian citizens had to apply for Georgian visas at the Swiss embassy in Moscow or had to receive a Georgian visa at the entry airport. In September 2008, shortly after the Russian-Georgian war in August 2008, Georgian government reinstated the simplified procedure for Russian citizens that allowed them to receive visas at the entry airports. However, because of the absence of regular flights, Russian citizens had to travel all the way to Moscow to receive a Georgian visa. After the visa regime was lifted, inhabitants of the North Caucasus can travel to Georgia by highway via North Ossetia and the border point "Upper Lars/Kazbegi".
Russian Foreign Minister Sergei Lavrov dismissed the Georgian government's initiative to ease border passage as "another propagandist step." Lavrov stated that visa-related decisions had to be made on a bilateral basis. The deputy head of the North Caucasus Federal District and former chief of Russian counterterrorist activities, Arkady Yedelev, called the new rules a "provocation." The harshest denunciation came from the vice-speaker of the Russian Federation Council, Aleksandr Torshin. He discerned that the partial abolishment of the Georgian visa regime was an attempt to establish better links between the Georgian government and North Caucasian insurgents. "The Georgian government must be really short of messengers and so it needed to open as many holes as possible in its border so that the suppliers of cash, explosives and arms can scurry back and forth from Russia to Georgia and back, while some go there [to Georgia] from the North Caucasus to lick their wounds," Torshin said (www.yuga.ru, October 12).
An express poll taken by the Kavkazsky Uzel (Caucasian Knot) website taken among residents of Chechnya and Adygea on the lifting of visa requirements for Georgia revealed elated responses among the Chechens and mostly positive responses among those who live in Adygea. Those who were sceptical said they were worried about an attempt by the neighboring state to split Russians along the administrative borders (www.kavkaz-uzel.ru, October 16-17). All but one leader of the North Caucasian republics refrained from commenting on Georgia's decision, which from a Russian standpoint meant that they approved of it. Even more surprisingly, to date no condemnation has come from the Georgian breakaway regions of South Ossetia and Abkhazia.
Responding to domestic security concerns, Georgian officials said humanitarian reasons were involved in their decision. "Those living in the North Caucasus are under the [Russian] federal power-wielding structures' terror," Georgian Interior Minister Vano Merabishvili said in an interview with Rustavi 2 TV aired late on October 16. "It is beneficial for us from the political, economic, as well as humanitarian point of view to have more integration with the North Caucasus people and to give them [residents of the region] the opportunity to be connected with the Western world via Georgia." Merabishvili also predicted the number of people traveling for Georgian business, tourism and medical treatment would increase (www.civil.ge, October 17).
Lifting the visa requirements for North Caucasians appears to be one of the first steps of the Georgian government's strategy. In his speech at the U.N. General Assembly on September 23, President Mikheil Saakashvili announced his government's new approach, stating that, "[he] came here to speak about this change and to promote a specific vision – a vision for a free, stable and united Caucasus." Saakashvili hailed the North Caucasus as "a region where individuals and souls were fundamentally free but where citizens were politically oppressed, where people and cultures were deeply tolerant but where governments and authorities created artificial divisions" (www.president.gov.ge, September 23).
Russia shut down the Upper Lars/Kazbegi border checkpoint for repairs in 2006 following scandals involving the interception of Russian spies in Georgia. In May 2010 the checkpoint was reopened, largely under pressure from Russia's ally in the South Caucasus, Armenia, due to it being the only land route from Russia to Armenia. Russia, however, imposed restrictions on the Georgian side, refusing to issue entry visas at this checkpoint, which made travel for the North Caucasus to Georgia very expensive and impractical.
(https://slon.ru/blogs/gzegenidze/post/479724/)
Ironically, Russia preceded Georgia in lifting the visa regime for select parts of Georgia. Following the introduction of a visa regime for Georgian citizens in December 2000, Russia unilaterally waved such a requirement for South Ossetia and Abkhazia. In fact, Russia's controversial unilateral visa manipulations are not limited to the Caucasus. On June 18, 2008, President Dmitry Medvedev signed a decree lifting Russian visa requirement for the Russian-speaking population of Latvia and Estonia that had no citizenship. The governments of both countries learned about this move from the news (https://www.rg.ru/2008/06/18/vizy.html).
Opening up Georgia to the North Caucasus signals the seriousness of the Georgian government's declarations about taking a much more proactive role in the Caucasus affairs. Undermining the North Caucasus' isolation from the world is also beneficial to Russia's own stated goal to stabilize and develop this region. While Moscow may feel resentful about the North Caucasians' ability to travel freely to neighboring pro-Western Georgia, it can do little to prevent them from doing so, unless it chooses to shut off the border again and leave its ally Armenia out in the cold. Shutting off the border on the Russian side would not go down well with the North Caucasus elites, as Moscow would show itself as a power that artificially limits the region's ability to do business with its neighbors.