Moscow Blackmails Dushanbe to Return to the Afghan Border
Publication: Eurasia Daily Monitor Volume: 8 Issue: 158
By: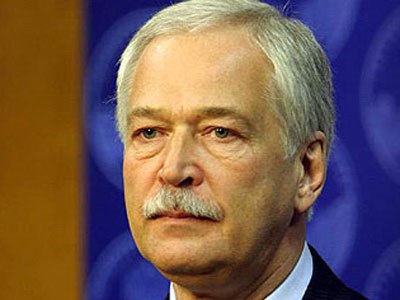 Russian President Dmitry Medvedev is unlikely to receive a very warm welcome during his state visit to Tajikistan scheduled for September. The gradually cooling relations between the two countries have hit a new low after Boris Gryzlov, the speaker of the lower house of Russia's parliament, wrote in Nezavisimaya Gazeta on August 2 that Russian border guards should return to Tajikistan's southern frontier (from which they pulled out in 2005) in order to stem the flow of narcotics from Afghanistan. Aware of Dushanbe's unwillingness to share its security duties with Moscow, Gryzlov proposed to introduce visas for Tajik nationals travelling to Russia if Tajikistan persists in opposing the return of Russian border guards (www.ng.ru, August 2). Remittances sent home by an estimated one million Tajik labor migrants in Russia account for about 40 percent of the country's GDP, keeping hundreds of thousands of Tajik families out of extreme poverty.
For over one year, Moscow has been pressing for the return of its border troops to Tajikistan. Russian officials are genuinely concerned about the impact of Afghan narcotics, most of which are smuggled into the country through Central Asia. An estimated 130,000 people in Russia die each year from heroin overdoses and drug-related crime (www.telegraph.co.uk, April 28, 2010). Last year, Russia's anti-narcotics chief, Viktor Ivanov, suggested that about 60 percent of Russia-bound Afghan heroin is smuggled through Tajikistan, which needs support in fighting drug trafficking through its borders (www.rg.ru, May 6, 2010).
Following Ivanov's assertions, Moscow's former envoy to Dushanbe, Maxim Peshkov, announced that Russian and Tajik officials had discussed the return of border troops and Russia was "ready to assume control of the Tajik-Afghan border" (www.km.ru, December 13, 2010). Many analysts interpreted these announcements as signaling that Moscow and Dushanbe were close to reaching an agreement over a shared responsibility for the patroling of the Afghan border. In May, Reuters news agency quoted unnamed high-ranking Tajik border officials as saying that Moscow was negotiating the deployment of as many as 3,000 troops on the Tajik-Afghan border (www.centralasianewswire.com, May 5).
Dushanbe has persistently denied holding such talks with Russia and firmly resisted Moscow's pressure. On July 18, Tajik Foreign Minister Khamrokhon Zarifi told the media that Tajikistan would not leave the protection of its southern frontier to Russia. Moreover, Zarifi suggested that Moscow should start paying rent for having a military base in the country (www.news.tj, July 18). Several other officials and scholars have argued that the return of Russian border guards would undermine Tajikistan's sovereignty and international reputation.
Gryzlov's statements indicating that Moscow might be stepping up its pressure in order to force Dushanbe to revisit its position on the Afghan border have drawn intensive criticism in Tajikistan. Dushanbe-based political analyst, Sayfullo Mullojonov, suggests that Tajik border guards have demonstrated over the last five years that they can patrol the country's border as effectively as the Russians did before their withdrawal in 2005 (www.avesta.tj, August 3). Suhrob Sharipov, the head of the Tajik government-affiliated Center for Strategic Research (CRS), argues that Gryzlov's assertions about the increasing flow of Afghan narcotics through Tajikistan are incorrect. Sharipov says the CRS is now preparing a report which compares the volumes of narcotics interceptions on the Afghan border by Russian border guards before 2005 and by Tajik security agencies since then to prove that the latter do their job better (www.ng.ru, August 5).
Sharipov also suggests that "Russian drug lords" might be behind Moscow's plans to return the control of the Afghan border. This line of thinking apparently comes from the Tajik President Emomali Rahmon. A cable from the US embassy in Dushanbe, disclosed recently by WikiLeaks, suggests that Rahmon told the US ambassador in December 2005 that Russian border guards "were more involved in trafficking heroin than in stopping it" (https://www.guardian.co.uk/world/us-embassy-cables-documents/46612).
Russian experts downplay Gryzlov's comments, suggesting that they should be regarded merely as political rhetoric for the consumption of Russia's electorate. Viktor Litovkin says Russia will hold presidential elections in 2012, and Gryzlov, just as many other high-level members of the ruling United Russia party, talk about migrant workers and narcotics because these topics are popular with Russian voters. The expert suggests that Moscow would not be introducing visas for Tajik labor migrants because Russia needs cheap manpower (www.ng.ru, August 5).
Although Russian officials describe Afghan heroin smuggling as the major reason for Russia's aspiration to return to the Tajik-Afghan border, Moscow also fears that the US' plans to pull out its troops from Afghanistan and hand over security there to the Afghan authorities in 2014 could have serious repercussions for the security of Russia's troubled southern border. Tajikistan's 1,344 kilometers (840 miles) border with Afghanistan indeed remains severely ill-protected and vulnerable to infiltrations by Islamist militants (EDM, June 16). However, Dushanbe has little incentive to hand over its border protection function to Moscow and Russian leaders have so far failed to offer such an incentive.