Moscow Enhances Artillery Firepower in Kaliningrad
Publication: Eurasia Daily Monitor Volume: 17 Issue: 43
By: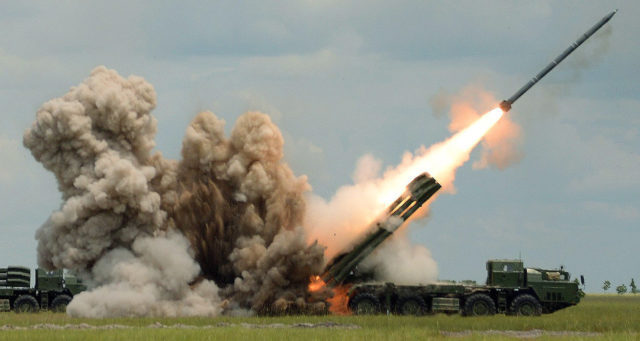 Since Moscow's annexation of Crimea in 2014, it has gradually reinforced its military presence in Kaliningrad, frequently portraying these measures as a response to increased North Atlantic Treaty Organization (NATO) activity close to Russia's borders. A key component in this process has been to boost long-range strike capability and use these modernization and deployment efforts to fit the political narrative of ostensibly countering NATO and responding to the United States' missile-defense plans. An increasing feature of these developments in the Kaliningrad exclave relates to improving the range and accuracy of locally deployed artillery systems (see EDM, October 16, 2019). Notably, the artillery brigade based in Kaliningrad has now received the long-range Tornado-S multiple-launch rocket system (MRLS), which is replacing the older BM-21 Grad (Izvestia, March 29).
The Tornado-S is an improved version of the BM-30 Smerch and has a range of 120 kilometers. It can link up to Russia's GLONASS satellite navigation system, thus providing improved accuracy in firepower to strike enemy medium-range missiles and other targets. The deployment of the system in Kaliningrad is portrayed by Russia's political-military leadership as a response to the US missile shield and increased NATO activity in Europe. Colonel (ret.) Vladimir Anokhin, the vice president of the Academy of Geopolitical Problems, recently explained, "All weapons systems in the MLRS strike zone that will be deployed against us in the territory of neighboring states can now be quickly destroyed." Anokhin believes this is closely linked to targeting the US missile-defense capability in Poland (Izvestia, March 29).
This deployment marks wider advances in the integration of artillery into Russia's developing Reconnaissance-Fire System (Razvedivatelnfaya-Ognovaya Sistema—ROS). Moscow aims to unify all these military/weapons assets within a single information space, creating a synergy between artillery and precision-strike missiles, thus allowing for more accurate targeting in real time in order to execute high-precision fires. Russian artillery personnel can now receive target information from forward spotters and unmanned aerial vehicles (UAV), with transmission in real time using the Strelets intelligence management and communications complex (Kompleks Razvedki Upravleniya i Svyazi—KRUS): this has been tried and tested during operations in Syria (see EDM, October 16, 2019).
The artillery brigade in Kaliningrad, which received new MLRS assets, is part of the 11th Baltic Fleet Coastal Forces Army Corps, formed in 2016. The brigade is part of the Missile and Artillery Troops (Raketnyye Voyska i Artilleriya—RV&A). Last year, the 152-millimeter Msta-S self-propelled artillery mounts (self-propelled guns) entered service with these units. Replacing Grad with Tornado-S will increase this brigade's fire capabilities several fold. A volley from one Tornado-S unit can strike an area of 67 hectares at a range of 20–120 kilometers. By comparison, the Grad covers an area of only 4 hectares at a distance of up to 20 kilometers—or with modernized missiles, up to 40 kilometers. Indeed, a wide variety of 300-millimeter rockets have been developed for the Tornado-S. These include monoblock or cluster munitions with high explosive, cumulative fragmentation, thermobaric and other warheads. Also available are shells used for anti-tank mining of terrain. The effort to replace the older Grad MLRS began in 2016, and this was closely tied to modernization of artillery to incorporate improved navigation and computerized fire-control systems. Moreover, the Tornado-S has been used extensively in Russian operations in Syria (Gid55.ru, March 23).
The Tornado-S can be used to replace operational-tactical systems on the battlefield. Its accuracy is also enhanced through coordination with unmanned aerial vehicles (UAVs) such as the Orlan-10 or the Forpost—already in service in Kaliningrad. These UAVs are capable of operating at distances from their base well within the maximum 120-kilometer range of the Tornado-S. The deployment of this MRLS system in Kaliningrad seems to be part of an ongoing militarization of the region, with additional plans to introduce the Konteyner over-the-horizon radar, capable of detecting aircraft take-off or the launch of enemy cruise or hypersonic missiles at distances of up to 3,000 kilometers. In other words, the system, once operational, will cover much of continental Europe (Izvestia, March 29).
Lieutenant General Mikhail Matveevsky, the chief of the RV&A, has clearly defined ways to improve artillery and MLRS. "The experience of local wars and armed conflicts of recent years has shown that military operations are impossible without the effective use of artillery reconnaissance, as well as unmanned aerial vehicles. The Zoopark-1M and Aistenok artillery reconnaissance assets that came into service with the RV&A proved to be positive during practical testing," Matveevsky notes. Evidently, the overall improvement of the artillery component in RV&A firepower links MLRSs to UAVs and radars, while utilizing the KRUS intelligence and communications complex. Using the Tornado-S in combination with UAVs could result in delaying the MLRS salvo. However, this issue has been resolved by the designers from NPO Splav: Namely, the reconnaissance drone was installed in a shell fired by the Tornado. Thus, the drone appears over enemy positions at the beginning of shelling and works precisely at the final stage of the flight, directing incoming shells to specific targets (Topwar.ru, March 20).
As the modernization of the RV&A proceeds, units such as the 11th Corps brigade in Kaliningrad will clearly benefit. In the case of introducing the Tornado-S, this provides more accurate firepower in the exploitation of artillery systems; while at the political level, the presence of such assets close to neighboring NATO members offers the Kremlin potential ways to coerce or threaten Alliance militaries (Izvestia, March 29). The leadership of the RV&A has set high ambitions for the future development of such firepower, specifically to achieve longer-range and high-precision strike accuracy. This has become a key element in future Russian military operations.