Moscow Enters Armenian Language Controversy
Publication: Eurasia Daily Monitor Volume: 7 Issue: 212
By: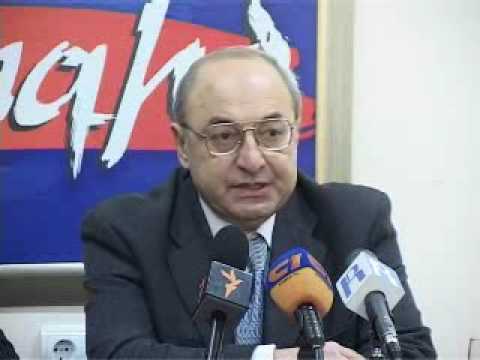 Moscow has expressed its disapproval of a public uproar in Armenia against a government bill allowing the existence of private schools where the main language of instruction is not Armenian. Visiting Yerevan in mid-November, a senior Russian parliamentarian warned there is a sense in Moscow that vocal opposition to the measure voiced by local public figures and opposition politicians is primarily directed against greater use of the Russian language in the ethnically homogenous former Soviet state (Zhamanak, November 12).
By law, Armenian was its sole official language even before the collapse of the Soviet Union. In practice, though, Russian was heavily used in the documentation of state bodies, industrial enterprises and other institutions, especially those dealing with the central government in Moscow and other Soviet republics. It also increasingly penetrated Soviet Armenia's educational system, with the number of Russian-language schools starting to increase in the 1970's.
That came to be seen as a threat to Armenian identity and culture by a section of the pro-establishment intelligentsia and, more importantly, nationalist and anti-Communist intellectuals increasingly challenging the ruling regime. Some of those intellectuals ended up in the republic's first non-communist leadership that came to power in 1990. One of its first major steps was passing a law banning ethnic Armenians from studying in foreign-language schools and courses in state-run universities. That was followed by a gradual but successful transformation of several dozen Russian-language schools into Armenian institutions.
Only a limited number of such schools and foreign-language classes within Armenian-language schools have been allowed to operate since the mid-1990's. Armenia's law on public education stipulates that only those students who have non-Armenian or mixed ethnicity can study there. Also, such schools are allowed to temporarily enroll ethnic Armenian students who have lived abroad with their families. The current Armenian government moved to abolish the ban in April 2010 with corresponding amendments to legislation on education and the state language. Government officials claimed that this would make it possible for renowned international private schools to open branches in Armenia and thus help reverse the post-Soviet decline in educational standards. They also stressed that Armenian will remain the main language of instruction in public schools.
These assurances failed to prevent an angry backlash from many politically active Armenians who believe the government initiative is unconstitutional and dangerous. A vocal pressure group formed by several journalists, civic activists and other young professionals in May has been instrumental in the outcry, staging street protests and making public statements on a regular basis. It quickly won the backing of the country's main opposition groups, key members of the Armenian National Academy of Sciences and even President Serzh Sargsyan's Public Council, an advisory body comprising pro-establishment politicians and prominent public figures.
Vazgen Manukian, the council's chairman who served as prime minister in 1990-1991, denounced the government bill in May as a "step towards the abyss." "During all those centuries when the Armenians had no state … our intellectuals and public were bound together by two ideas: an independent state and the national school. And for our enemies, the first target of their attacks was always the national school," Manukian said during a news conference (www.armenialiberty.org, May 18).
The controversy forced the government to significantly water down the draft amendments before pushing them through parliament, in the first reading, on June 23. In particular, they stipulate that only two private foreign-language schools teaching above the elementary level can operate in the country. These schools would have to be located in the resort towns of Dilijan and Jermuk and to teach one-third of their subjects in Armenian. The latter requirement also applies to up to nine foreign-language high schools that could be opened elsewhere in Armenia only in accordance with inter-governmental agreements signed on a case-by-case basis (Hayastani Hanrapetutyun, June 24).
These changes failed to satisfy the critics, who insist that the bill must be withdrawn from the National Assembly altogether. The legal reference to Dilijan came as a further indication that the government initiative was inspired, in large measure, by Ruben Vardanian, a Russian-Armenian businessman. Vardanian began building what he hoped will become a prestigious international school in one of Armenia's most popular resorts even before the publication of the controversial amendments. The school was intended to have some 600 students, most of them diaspora Armenian children.
In a statement in July, Vardanian's Moscow-based charity said it was considering scrapping the school project in view of the fierce opposition from "some of the progressive and active representatives of the Armenian society," adding "It would be inherently wrong to establish the school in a hostile environment" (Hraparak, July 16). However, that did not prevent the Armenian government from continuing to press for the bill's passage in the second and final reading, which is expected in the coming weeks.
Yerevan might now have another, no less important, reason for passing the bill. The issue was discussed by a Russian-Armenian inter-parliamentary commission on bilateral cooperation at a regular session in Yerevan on November 11. Its Russian co-chairman, Nikolay Ryzhkov, told journalists afterwards that the vehement protests against foreign-language schools are causing concern in Russia. "Our newspapers have been arguing that the main target of the non-adoption of the law is the Russian, rather than, say, English language," Ryzhkov said, adding that the existence of a large Armenian community in Russia alone necessitates its prompt passage (Zhamanak, November 12).
Viktor Krivopuskov, a diplomat in the Russian Embassy in Yerevan, likewise called for the bill's passage the next day, pointing to Armenia's close economic and military ties with Russia. "After all, [Russian] is the language of Armenia's security, given its membership in the Collective Security Treaty Organization," Krivopuskov said, according to the Aravot daily on November 13 (www.aravot.am).