MOSCOW MANEUVERS TO FORCE EUROPE TO ACCEPT ITS TERMS OF ENERGY COOPERATION
Publication: Eurasia Daily Monitor Volume: 3 Issue: 156
By: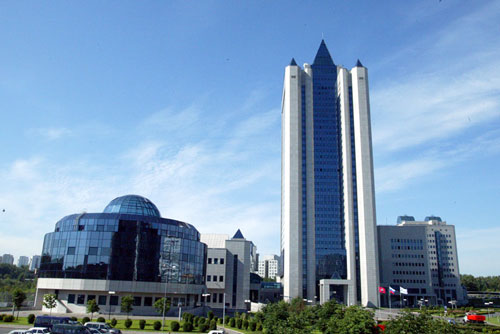 Moscow appears to be stepping up efforts to impose its own rules of the game on West European consumers of Russian hydrocarbons. The latest deal between Russian and Algerian state-controlled energy companies seems to make sure that Europe becomes more vulnerable, as it will increasingly depend on a limited number of fuel suppliers.
On August 4, Russia's Gazprom and Algeria's Sonatrach signed a memorandum of understanding on closer cooperation. The document lists possible areas of joint initiatives between Russia and Algeria, including liquefied natural gas (LNG), geological prospecting, pipeline construction, asset swaps as well as "marketing oil and natural gas in Algeria, Russia and third countries." Of all the Russian-Algerian plans for future cooperation, it is the possibility of the two countries collaborating on gas prices that causes serious concern in Europe. If such a scheme is realized, some analysts note, many European Union member states will find themselves "at the mercy of two of its three largest natural gas suppliers." (Russia and Algeria, along with Norway, are the principal energy suppliers to Europe; combined, all three provide nearly half of the EU's supplies.)
It is no wonder that Gazprom's move prompted an immediate response from a senior European politician. In an August 9 letter to Andris Piebalgs, European energy commissioner, Italian Industry Minister Pierluigi Bersani warned that the "agreement between two of the largest suppliers of gas to Europe could eventually lead to economic pressures on European gas prices." Bersani suggested that the European Commission should request detailed information on the deal between Gazprom and Sonatrach, so that its potential impact on European markets could be properly assessed.
Bersani's comments underscore the EU's growing uneasiness over its heavy reliance on foreign energy providers. And, according to European Commission experts, Europe's energy dependency is expected to worsen in the coming years: EU members will likely depend on imports for 70% of their energy needs by 2030 up from 50% now. Most European energy officials have been urging the diversification of EU energy supplies, especially after the January 2006 energy crisis in which Russia cut off natural gas deliveries to Ukraine, briefly hitting European supplies as well. Following the Russian-Ukrainian "gas war," Paolo Scaroni, CEO of ENI, the Italian energy group, warned that Russia and Algeria could create an OPEC-style gas cartel.
Italy's nervous reaction to the Algerian deal is quite understandable: it relies for 69% of its energy requirements on just two companies: Sonatrach supplies 37%, while 32% comes from Gazprom. But the Russian-Algerian accord means that all Europe, not just Italy, will likely have to continue relying on imports from a limited number of supplying countries — a fact that does not bode well for EU energy security.
It would seem that the Kremlin feels its position has strengthened with the signing of the Algerian deal. Thus, it is probably not a mere coincidence that immediately after reaching an agreement with Sonatrach Russia flatly stated it would not ratify the Energy Charter, one of the key demands set forth by Russia's EU partners. In a programmatic article published August 9 in a special supplement to Nezavisimaya gazeta "NG-Energiya," Valery Yazev, the chairman of the Russian State Duma Committee on Energy, Transport, and Communications, asserted that the document is seriously flawed as it discriminates against Russia's interests. The Europeans, Yazev argues, are interested solely in Russia's pipeline networks. The Kremlin leadership, however, is reluctant to lose its monopoly control over the country's vast energy transportation system.
One of the Energy Charter's conditions is an auction trade for the unused energy transportation capacities. To be sure, Gazprom will have the preferential right to pump its own gas into Russia's pipeline system. However, the remaining capacities have to be auctioned off. Russian energy officials claim that if Moscow accepts this condition, independent Russian energy producers will be at a disadvantage in comparison with the international energy majors that have enormous financial resources and access to cheap credits.
The Westerners, Yazev claims, simply want to turn Russia into a "transit gas corridor" without giving anything in return — likely a hint at Europe's unwillingness to let Gazprom penetrate the European natural gas distribution and retail markets.
Now, with its leverage beefed up by the Algerian deal, Russia feels it has a stronger bargaining position. If the Europeans want the Energy Charter to be ratified by the Russian legislature, Yazev's article concludes, they need to introduce into the document "significant changes" that "take Russia's interests into account."
(Nezavisimaya gazeta, Financial Times, August 9; Gazprom.ru, August 4)