Moscow Market Crackdown Strains Turkish-Russian Trade Relations
Publication: Eurasia Daily Monitor Volume: 6 Issue: 144
By: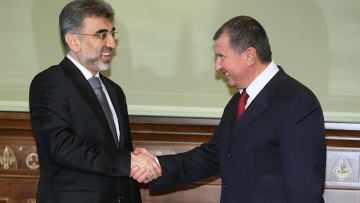 As Russian Prime Minister Vladimir Putin prepares to visit Turkey in early August, new items are being added to his agenda. In addition to energy projects, bilateral trade issues, caused by recent problems encountered by Turkish exporters, will occupy a large part of his itinerary. The Russian government's crackdown on the Cherkizovsky market in Moscow in early June added a new dimension to Turkish-Russian trade issues.
Russian anti-smuggling teams raided the Cherkizovsky market, confiscating thousands of containers for further examination, and shut it down. The charges against the traders included violations of consumer safety and sanitation codes as well as immigration rules. The incident cost countless jobs, many of whom are foreigners including Chinese, Vietnamese and Turkish traders, and created tension between Russia and China where most of the goods originated (www.russiatoday.ru, June 29; Anadolu Ajansi, July 1).
Why the Russian government decided to close the Cherkizovsky market, after allowing it to flourish for twenty years, remains unclear. Prior to the crackdown on the market, Putin complained about the failure of the anti-smuggling mechanism, and signaled his readiness to strengthen the fight against smuggling (Cihan, June 29).
The Turkish press speculated that Putin used these allegations as a pretext to punish the owner of the market, the business mogul Telman Ismailov, for his recent investments in Turkey. In May, Ismailov opened a luxurious hotel in the Turkish city of Antalya, a frequent destination for Russian tourists, which is estimated to yield $1.4 billion annually for the local economy. Putin was reportedly angered by the lavish opening party in the context of the global financial crisis. Moreover, the Turkish press suggested that Ismailov's decision to invest in Antalya was in defiance of Russian authorities' advice to open the hotel in Sochi, which had further upset Putin (Radikal, June 10; Yeni Safak, July 13).
In an interview to the Turkish press, Ismailov even expressed his desire to obtain Turkish citizenship (Yeni Safak, May 25), which also negatively affected his reputation in Russia. He did not officially file an application, but changes to the Turkish citizenship code around the same time eased the conditions for citizenship on exceptional grounds, such as for foreigners investing in Turkey (Hurriyet, June 11).
However, the Turkish press initially preferred to present the market crackdown as a measure against Ismailov, downplaying the broader context of the developments in Russia. Last week, its coverage of the crisis took a new turn. Several reports highlighted the "plight" of Turkish businessmen who were affected in the midst of this crisis caused by Russia's internal competition. Hundreds of Turkish firms are believed to sell textile, leather and other goods, by registering them and paying the necessary fees at this market first, before they are further distributed within Russia. Turkish businessmen claimed that, due to the ongoing Russian anti-smuggling investigation, they cannot retrieve their goods from storage facilities. Many criticized Russia's treatment of the Turkish businessmen as unfair, and compared it to the "customs crisis" between Ankara and Moscow, which has continued for more than one year (Cihan, July 25). Some Turkish businessmen, however, support these Russian actions and maintain that this was long overdue. In their view, the smugglers in the market were creating unfair competition for the traders who were operating legally (www.turkrus.com, July 27).
The growing protests from the Turkish business community exerted pressure on the Turkish government to protest officially to Russia. Turkish Energy Minister Taner Yildiz, who is also the co-chair of the Russian-Turkish joint economic council, described this development as an internal Russian affair, and stressed that this issue was not raised in bilateral contacts with Russia (Cihan, July 27). His Russian counterpart, Igor Sechin visited Turkey last week to hold talks with Yildiz and the Turkish Prime Minister Recep Tayyip Erdogan ahead of Putin's visit to Turkey in early August.
Nonetheless, the State Minister responsible for Foreign Trade Zafer Caglayan issued a written statement, which described Russia as a major trading partner and noted that the under-secretariat for foreign trade had formed a commission to investigate the claims of Turkish businessmen and explore new marketplaces in Moscow. Although Caglayan recognized that the decision of the Russian authorities did not directly target Turkey, given the volume of Turkish goods in the market, he stressed that this did indirectly affect the country. However, the figures released by Caglayan contradicted those which appeared in earlier press reports. Whereas the Turkish press maintained that as many as 5,000 businesses were affected by the market crackdown, Caglayan said that only 200 were owned by Turks. Moreover, Caglayan noted that only 10 percent of the total goods sold in the market were of Turkish origin (www.ihlassondakika.com, July 27).
Caglayan also signaled that he might raise this issue with Russian officials in order to protect the rights of the Turkish businessmen in accordance with the Russian and international rules. Moreover, he added that these problems and the "customs issue" will be on the agenda when Putin visits Turkey next month.
A highly busy schedule awaits Putin in Turkey, most importantly over future cooperation in energy projects. Despite Ankara's signing of the Nabucco treaty, Turkey is still pursuing joint investments with Russia in nuclear power, and other gas transportation projects. Turkish exports to Russia were damaged by the new customs regulations imposed by Russia prior to the Georgian war in August 2008. Russia and Turkey reached a deal in September 2008 to simplify customs procedures for Turkish goods, but Ankara claimed that Moscow has not complied with the agreement. The problem was not resolved during President Abdullah Gul's and Yildiz's visits to Moscow earlier this year. Although Russia was confirmed as Turkey's main trading partner, its reluctance to resolve such issues remains a constant source of tension between both countries. More importantly, the timing of those "commercial" crises provides justification over the speculation that Russia is exploiting Turkey's economic and energy dependence to punish Ankara for its political decisions.