Moscow Prepares S-400 Export Model for China
Publication: Eurasia Daily Monitor Volume: 11 Issue: 128
By: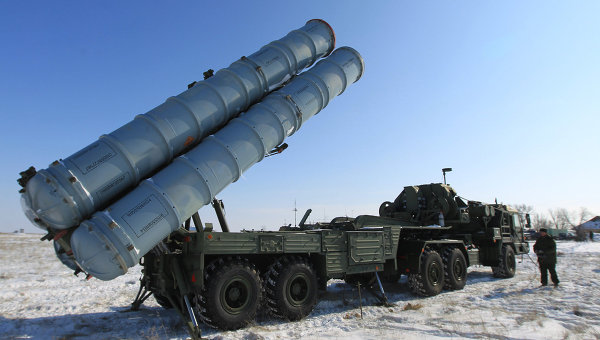 As Moscow seeks to enhance Russian air defense and modernize its missile systems as well as pursue closer cooperative arrangements with its partners in the Commonwealth of Independent States (CIS), it appears close to clinching a deal to export its most advanced S-400 air defense system to China. The importance of this move, introducing advanced air defense capabilities in the Asia-Pacific, also relates to continued efforts by the Kremlin to shore up its share of the international arms export market, especially in the context of the limited sanctions regime against Russia linked to its actions in Ukraine. Having launched an integrated joint air defense regime with neighboring Kazakhstan (including offering several pro bono S-300 systems in support of this venture), and having adopted measures to enhance domestic capabilities alongside ongoing modernizations efforts, Moscow is now placing the export of S-400 high on its agenda (RIA Novosti, July 10).
On July 10, Sergei Ivanov, the chief of the presidential administration and a close ally of Vladimir Putin, said that there is a "good chance" China will become the first foreign purchaser of the advanced S-400 air defense missile system. Ivanov explained that the Russian military is the priority customer for the S-400, while stating that a contract to supply the system to China is a promising development. Ivanov added, "But it will take several years to implement them. It is not possible to produce such hardware in half a year," while noting that the military-technical cooperation between Russia and China is progressing generally toward joint ventures (RIA Novosti, July 10).
Ivanov's comments during his trip to Beijing came shortly after President Putin offered a highly upbeat assessment of the country's performance in the international arms trade. Putin boasted that Russia currently possesses 27 percent of the global market, telling a quarterly meeting of the commission on military-technical cooperation that in the first six months of the year, Russia sold $5.6 billion in weapons and military equipment, with export orders rising to almost $50 billion. According to data presented by Putin, Russia holds a firm second place behind the United States (29 percent), ahead of Germany (7 percent), China (6 percent) and France (5 percent). Putin also noted that Russia accounts for approximately one third of the global air defense market, as countries try to strengthen their air defenses in response to trends in modern warfare (Nezavisimoye Voyennoye Obozreniye, July 8).
Russian analysts note air defense exports to more than 70 countries based on the reliability and simplicity of domestically produced assets, including the S-300, S-400, tor-M2E, Pantsir-S1 and Buk-M2. Putin's figures showed an increase of the share of the air defense market in 2013 from 13 percent to 20 percent and, given the lengthy timescales referred to by Ivanov in reference to exporting S-400 to China, Moscow clearly wants to expand its share of the market. It is entirely possible that Ivanov's remarks were designed to attract international attention and interest in the S-400 as an exportable system (Nezavisimoye Voyennoye Obozreniye, July 11).
Nonetheless, military modernization and force transformation in Russian air defense in recent years has provoked widespread criticism, especially as a result of creating the Aerospace Defense Forces (Vozdushno-Kosmicheskoy Oborony—VKO) in 2011 (see EDM, March 27, 2012). In April 2014, Anatoly Korabelnikov, a professor at the VKO Academy, published a highly critical article examining issues of Russian air defense and efforts to integrate the newly formed VKO (Voyenno Promyshlennyy Kuryer, April 23).
However, in a recent response to that article, Vladimir Barvinenko and Yuri Anoshko, also professors at the VKO Academy, make a number of interesting observations concerning Russian air defense and the condition of the VKO. Drawing upon Russian military theory articles published over a decade from 1997, the authors assert that "aerospace defense is one of the most important factors in ensuring strategic stability and deterrence of potential enemies from unleashing large-scale wars and armed conflicts and prevent them from escalating into war with the use of both conventional and nuclear weapons, as well as [providing] complex solutions [and] other tasks to ensure the security of the state in the aerospace field" (Voyenno Promyshlennyy Kuryer, July 9).
While, underscoring the importance of the field, they also allege that the US is currently searching for a "window of vulnerability" in Russian air defense in order to be able to destroy retaliatory forces. Thus, Moscow has to take seriously the threat of a future "disarming strike," as well as the growing number of countries in the "nuclear club" possessing the means of delivering nuclear weapons. Air and space are represented as potential theaters of warfare, justifying the need for the VKO. And the authors draw on an article by Sergei Ivanov in Krasnaya Zvezda in October 2003, in which he asserted that the future enemy will not use tanks, but attack Russia from the air. The authors also place the creation of the VKO in 2011 in the context of President Putin signing an aerospace defense concept in April 2006, and see this as its logical conclusion. Conceptually, this framework and Russian perspectives on modern warfare have guided the development of the S-400, S-500 and the various modifications of the S-300V (Voyenno Promyshlennyy Kuryer, July 9).
Aerospace defense is, therefore, an integral part of Russian strategic defense and thinking. But the choice of possibly striking an export deal with China on S-400s is significant in as much as it contributes to showcasing the Russian arms industry, boosting its future expansion in air defense sales as well as politically strengthening defense ties with China. In these terms, the S-400 will play an increasingly important role in Russian arms export strategy in the decade ahead. Whether reaching gratis supply terms with CIS states to facilitate joint air defense capabilities or pushing S-400 sales to Beijing, Moscow is clearly using these systems geopolitically to cement ties and reduce the influence of other defense and security actors on the country's periphery (Nezavisimoye Voyennoye Obozreniye, July 11).