Moscow Promises Increased "Energy Efficiency"
Publication: Eurasia Daily Monitor Volume: 7 Issue: 142
By: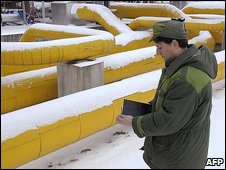 Moscow has reiterated plans to improve its energy efficiency by pledging huge investments aimed at developing its power supply networks. However, the economic viability of Russia's proposed capital-intensive solutions apparently remain far from certain. The country's energy efficiency challenges have recently become a matter of high-level concern. On July 19, the Russian government issued an order to make the governmental commission on fuel and energy sector responsible for energy efficiency matters. The commission is headed by first Deputy Prime Minister, Igor Sechin, who had received an order from President, Dmitry Medvedev, in March 2010 to oversee energy efficiency issues (Interfax, RIA Novosti, July 19).
The Russian authorities have voiced expectations that energy efficiency projects could eventually bring significant rewards. Energy saving measures would allow Russia to save up to 65 million tons of fuel per annum, or some 15 percent of domestic energy consumption, according to Russian Energy Minister, Sergei Shmatko (Interfax, ITAR-TASS, RIA Novosti, July 15). Shmatko made such claims during a meeting with Russian energy executives in Yekaterinburg on July 15.
However, executives warned that energy efficiency projects could prove very costly. Nikolai Shvets, head of the country's power distribution grid holding MRSK, told Shmatko that half the company's 2 million kilometers (km) of power transmission lines are worn out. The renovation of the grid, needed to reduce power distribution grid losses, would require 2.8 trillion rubles ($92 billion) over the next ten years, Shvets said (Interfax, RIA Novosti, July 15).
The Russian authorities have long pledged to replace obsolete and wasteful Soviet-era energy technologies and solutions by what the officials describe as "energy-efficient" facilities. On July 3, President Medvedev urged prioritizing energy saving projects as an important factor in the country's modernization efforts (Interfax, RIA Novosti, July 3).
In November 2009, the Russian government announced plans to spend 1.8 trillion rubles ($59 billion) from the federal and local budgets to finance energy-saving projects by 2020. However, these projects would allow saving up to 10 trillion rubles ($329 billion) in 2010 to 2020 by making the economy more energy-efficient, according to government planners. The plans were supported by legislative initiatives, designed to promote energy saving. In 2009, Russian lawmakers adopted new legislation on energy saving and energy efficiency, apparently designed to replace wasteful and outdated technologies. The new energy efficiency law, effective from January 1, 2010, introduced tax and other financial incentives to encourage energy saving projects.
Last year, Russian authorities also adopted a long-term blueprint entitled "Russia's energy strategy through 2030" that stipulates 60 trillion rubles ($2.1 trillion) in investments in the energy sector by 2030. Russia's energy strategy through 2030, adopted by the government in August 2009, envisaged the continued increase of the country's oil and gas production. Moreover, the blueprint targets cutting power distribution grid losses from 12 percent this year down to 8 percent by 2030. The goal was supposed to be achieved due to the use of advanced technologies and know-how.
Meanwhile, Russian officials apparently remain skeptical regarding renewable energy. Any type of massive use of renewable energy is unlikely in Russia, Energy Minister Shmatko announced in Yekaterinburg on July 15. These sources may provide no more than 4.5 percent of domestic energy consumption by 2015, he said (Interfax, ITAR-TASS, RIA Novosti, July 15).
The government's ambitious plans were apparently based on the projection that the country's energy sector would become increasingly attractive to private investors. According to the blueprint, up to 90 percent of the planned 60 trillion rubles in investments in the Russian energy sector by 2030 would come from private sources. In 2022-2030, the government anticipates more than $500 billion to be invested in the electricity sector.
However, the government planning has been slow to address the question as to how the country's energy facilities might attract huge inflows of new private investments. Russian authorities previously hoped the sector's de-regulation could serve to encourage private investors. However, the Kremlin has apparently backed down on earlier de-regulation pledges. On July 9, the Russian State Duma, the lower house of parliament, adopted a federal law aimed at continuing direct state regulation of electricity and heating supply prices offered by Russian utility companies to domestic consumers. According to the bill, prices would remain regulated beyond 2011, following the expiry of the current law on the state regulation of electricity and heating prices on January 1, 2011.
The country's energy blueprints appear to rely on assumptions that huge private investments could become readily available to support the governmental planning. However, these assumptions, as well as the country's moves towards energy efficiency, will inevitably face a reality check.