Moscow Rejects Accusations of Assisting Iran's Nuclear Weapons Program
Publication: Eurasia Daily Monitor Volume: 6 Issue: 185
By: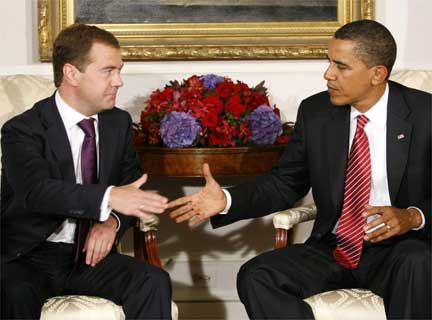 The Russian press has picked up a story first report in the Sunday Times from October 4, quoting Russian and Israeli sources, that the Israeli Prime Minister Binyamin Netanyahu had secretly visited Moscow last month to present President Dmitry Medvedev and Prime Minister Vladimir Putin with a list of Russian nuclear scientists that are helping Iran to build a nuclear bomb. The secret visit by Netanyahu to Moscow on September 7 was initially denied by Putin's press secretary Dmitry Peskov (ITAR-TASS, September 9). Later it was confirmed by Medvedev, who said that he met Netanyahu to discuss "different matters," but did not understand why the Israeli prime minister came to Moscow in secret. Medvedev added: "We talk with the Iranian President Mahmoud Ahmadinejad –our position is to talk to all" (www.kremlin.ru, September 20).
The Israeli press had at first suspected that Netanyahu's secret visit to Moscow was to discuss the mysterious disappearance of the Arctic Sea ship that was alleged to have been carrying antiaircraft S-300 missiles to Iran from Russia, while the Israeli intelligence service Mossad sabotaged the delivery (EDM, September 10). Russian investigators have announced that they did not find anything sinister onboard the Arctic Sea –only plywood (Interfax, September 15).
Russian officials have cautiously reacted to the alleged Israeli claims. The former chief of the Federal Security Service (FSB), now the Secretary of the Security Council Nikolai Patrushev stated: "Russia is against Iran obtaining nuclear weapons," but he did not know about any intelligence reports regarding "any Russian citizens and organizations participating in the Iranian nuclear program." Other officials admitted that some nuclear scientists may have volunteered to work in Iran and that in today's Russia it is impossible to control the movement of people (Interfax, October 6).
The possibility that disgruntled former Soviet nuclear scientists might be recruited by rogue states to help develop nuclear weapons, or that nuclear materials and expertise would proliferate from Russia, has been a security risk since the collapse of communism in 1991. The West has spent millions of dollars to re-educate and accommodate Russian nuclear specialists to divert them from pursuing these options. But until now there has been little solid evidence of Russia being a major source of nuclear proliferation. The number of real bomb-making scientists in Russia is limited –only several hundred at best, according to nuclear industry insiders that I have interviewed. Nuclear weapons making is a highly specialized field that requires much more than regular nuclear physics or reactor technology training.
There is another problem –Russian nuclear weapons are technologically advanced and on par with those in the U.S. The "new nuclear powers" like Pakistan, North Korea and the apparently aspiring Iran are developing relatively primitive weapons –on par with the ones that Russia and the U.S. made in the 1950's. Present rogue states mostly do not have and cannot make all the components Russian nuclear bomb-makers use to produce modern warheads. It would seem that Iran could gain much more practical knowledge by recruiting help from nations on the same level of science such as Pakistan, North Korea or possibly China.
If the Iranians manage to amass sufficient quantities of weapons-grade uranium-235, they could most likely make the bomb with or without Russian specialist help. It would seem that Israel is exerting pressure on Moscow over the alleged involvement of Russian scientists in the Iranian nuclear program mostly to secure support for punitive sanctions and to probe the reaction to a possible Israeli military strike on Iranian nuclear installations. President Barack Obama and other Western leaders have pressed Moscow to exert pressure on Iran to fully disclose its nuclear program. The Russian reaction has been indecisive. After talks with Medvedev in New York Obama told journalists that their positions on Iran almost fully coincide, while Medvedev stated: "Sanctions seldom produce tangible results, but in some circumstances they are inevitable" (Kommersant, September 25). Apparently, Medvedev remains uncertain as to what the Russian position might be on punitive sanctions, like an embargo on gasoline imports to Iran. Most likely it is because the real decision maker is the all-powerful Putin. Of course, Medvedev will be consulted, if it comes to a vote on punitive sanctions in the U.N.
Tehran's anti-Jewish, anti-American policies, as well as its purchase of Russian military and nuclear technologies have helped to build a powerful lobby in Moscow. But Tel-Aviv also has its Moscow lobby as well. At present the official Russian position on Iran may indeed largely coincide with that of the Obama administration: to continue negotiations to seek concessions. During talks with the group of six leading world powers on the nuclear issue in Geneva last week, Iran appeared to show flexibility, but this could easily be a delaying tactic (Reuters, October 2).
A new factor that may alter the decision-making in Moscow is the reported effort by the Arab states led by Saudi Arabia, to press the Russians to dump Tehran. Saudi Arabia is reported to have offered to buy over $2 billion worth of Russian weapons (helicopters, armor, anti-aircraft missiles) on the condition that Moscow refuses to sell Iran S-300 missiles and stops supporting it at the U.N. (Financial Times, September 30; Vedomosti, October 1). The Russian arms-trading monopoly Rosoboronexport seems to be anticipating "a breakthrough" in arms sales to Arab nations (RIA Novosti, October 5). Supported with Saudi oil money, the unlikely alliance of Arabs and Israelis may indeed tilt the Russian official foreign policy on Iran.