Moscow Sets Out Ambitious Asian Policy Goals
Publication: Eurasia Daily Monitor Volume: 8 Issue: 137
By: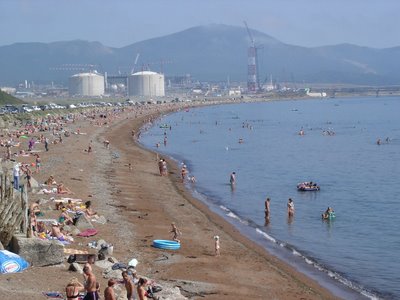 The Russian government has reiterated its pledges to spend billions of rubles in government funding to speed up the development of the country's Far East in a bid to create a gateway to the booming Asia-Pacific Region. Russia hosting the Asia-Pacific Economic Cooperation (APEC) summit meeting in Vladivostok next year highlights this policy. The government made clear that political considerations were a driving force behind the APEC summit plans. Subsequently, Russia's top officials promised to pursue high-profile projects of political significance.
"This summit is very important for our country diplomatically as recognition of Russia's importance in Asia-Pacific economic cooperation," President Dmitry Medvedev said. However, he voiced concern that the summit-related construction projects, including Knevichi international airport and the Zolotoy Rog bridge, lag behind the original schedule (Interfax, ITAR-TASS, RIA Novosti, June 30).
In 2007, the Kremlin pledged to spend nearly $4 billion in government funding to build a resort area on Russky Island, off the Pacific port of Vladivostok, to host the APEC 2012 summit. The government had planned to allocate 30 billion rubles ($1.1 billion) to build two new bridges; 20 billion rubles ($719 million) to upgrade the road network; 12 billion rubles ($432 million) to modernize Vladivostok port; 10 billion rubles ($360 million) for a new airport; and 4 billion rubles ($144 million) to remove military facilities from Russky Island.
The Kremlin has actively promoted faster growth of Russia's Far Eastern regions for quite some time. In 2007, Russia's federal government pledged to allocate up to 600 billion rubles ($21.6 billion) to fund development projects in Eastern Siberia and the Far East by 2013, and 9 trillion rubles ($324 billion) by 2025.
Now the authorities say these plans are being implemented. The government and private investors would allocate 600 billion rubles, including 205 billion rubles ($7.4 billion) from the federal budget, Medvedev told a top-level meeting held at Russky Island on June 30. He also ordered to start gas supplies via the new Sakhalin-Khabarovsk-Vladivostok pipeline in two weeks (Interfax, ITAR-TASS, RIA Novosti, June 30).
Officials also revealed plans to raise the gross regional product by 12 times by 2020 through building four refineries and petrochemical plants, four gas-chemical plants, as well as a 10 million tons per year steel plant in Yakutiya, aluminum plants and a nuclear power plant. The development of the Far Eastern gas network and the planned new gas pipelines were among high-priority projects for Gazprom. However, at least some of these plans appear slow to materialize. The country's state-run oil giant Rosneft had planned to build the first stage of the Eastern refinery in Primorye region near Cape Yelizarov with a capacity of 10 million tons per year by 2012. But this major project apparently lagged behind the earlier schedule.
Russia's Far East includes 13 regions stretching over 40 percent of Russian territory and possessing vast amounts of natural resources, including virtually all of the country's diamonds, two-thirds of its gold deposits, as well as sizable hydrocarbon, timber and fishery resources. Not surprisingly, Russia also remained keen to protect its eastern frontiers. On June 30, Medvedev ordered the strengthening of coast guard units in the Vladivostok area ahead of the APEC summit next year (Interfax, June 30).
Medvedev's latest pledges to develop the country's Far East came in the wake of ambitious Asian policy goal statements at the summit meeting in Astana on June 15 of the Shanghai Cooperation organization (SCO). The grouping includes Russia, China, Kazakhstan, Kyrgyzstan, Tajikistan and Uzbekistan.
During the summit, Kazakhstan's President Nursultan Nazarbayev hailed growing economic ties between the SCO member states. In the past decade, the trade turnover between the SCO member countries increased by seven times, he said. Nazarbayev argued the SCO could be able to create a new international currency, preferably based on the gold standard. He also encouraged SCO member countries to move towards the creation of a unified energy system and a common energy market (Interfax, RIA Novosti, June 15). In the past, Russia advocated increased trade between SCO member states, the new international currency and the regional unified energy system.
The SCO has long been seen as aiming at uniting Central Eurasia's nations in their opposition to the US presence in the region. However, the SCO member states have been careful to avoid any clear manifestations of anti-Western rhetoric. The June 15 summit voiced concern following the latest unrest in North Africa and the Middle East. The SCO appealed to stop the violence in Libya and expressed opposition against what they described as "unilateral" moves in missile defense as detrimental to international security (Interfax, ITAR-TASS, RIA Novosti, June 15).
Meanwhile, Russian diplomats were keen to counter speculation that Moscow was being elbowed off by Beijing in Central Asia. Russia does not view China's economic activities in Central Asia as a threat to its national interests, Medvedev's foreign policy aide Sergei Prikhodko announced. "We do not view Chinese economic efforts, including preferential loans, as a competition in the region," he said (Interfax, June 15).
Moscow has also been keen to beef up the grouping's international influence. Medvedev argued that the SCO remained an open institution, not an "elite club." He also appealed to member states to join forces in order to help stabilizing Central Asia, notably Afghanistan (Interfax, ITAR-TASS, RIA Novosti, June 15).
The previous SCO summit in Tashkent in 2010 approved rules on accepting new member-states. According to these rules, new SCO members must be Eurasian nations, have diplomatic relations with all current member states, with either observer or dialogue partner status. Potential member states must not to be subject to UN sanctions, or be involved in any armed conflict. Russian officials made it clear that the SCO would not accept India and Pakistan as full members due to the continued territorial dispute between them (Interfax, June 15). During the summit, both India and Pakistan indicated their continued interest in the SCO membership.
During the past several years, the SCO has expanded its partnership program. Iran, as well as India, Mongolia and Pakistan, are currently the SCO partners, while Belarus and Sri Lanka are dialogue partners. At the summit meeting in Astana on June 15, China assumed the SCO rotating presidency and the next SCO summit is due to be held in China in 2012.