Moscow's Military Muscle in Central Asia: Tajikistan Exposes Russian Hard Power
Publication: Eurasia Daily Monitor Volume: 9 Issue: 144
By: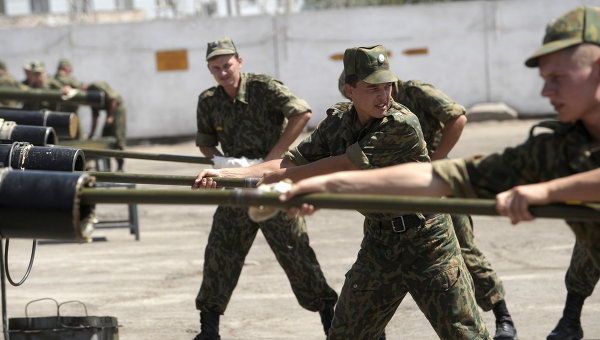 Continued wrangling between Dushanbe and Moscow over the renewal of basing rights for the 201st Military Base headquartered in Tajikistan's capital has eclipsed Russia's wider basing strategy in Central Asia and the extent to which Tajikistan's security depends upon Moscow's continued military and security presence and assistance to the country. At face value, the basing agreement, which expires this year, allows an opportunity for President Emomalii Rahmon to try to extract as much money from Moscow to renew the agreement, much in the way that neighboring Kyrgyzstan has attempted to do, and skillfully achieved, in relation to the US Transit Center at Manas (RIA Novosti, July 17).

It seems the core dispute is that the Tajikistani government would like to secure between $250 million and $300 million annually for the Russian base, while Moscow hopes to continue a complimentary stay based on the strategic importance of its location and recognition of Dushanbe's dependence on the Russian military to support the ruling regime (Interfax, July 5).
First, there is a much wider issue involved in the dispute, namely Russian foreign military basing policy. As retired Colonel Viktor Baranets observed, Russia's foreign military bases and access to local facilities are not the result of "imperial caprice" among the top brass; they are an integral part of Moscow's foreign policy. In this context, the apparent free basing issue in Tajikistan is by no means unique in Russia's arrangements for foreign military basing. The country has around twenty bases or military facilities internationally, with free access in Abkhazia, Armenia, Belarus, Moldova and South Ossetia. Moscow is currently discussing with Baku the terms to renew its Gabala radar station lease in Azerbaijan, and other foreign bases are paid for including the nominal naval base in Tartus, Syria. In Central Asia, Russian facilities and bases are located in Kyrgyzstan, Kazakhstan and Uzbekistan – where Russia has emergency access to the Navoi airfield for the Russian Air Force. The Russian airbase in Kant, Kyrgyzstan, functions under the Collective Security Treaty Organization (CSTO), while Moscow has expressed interest in opening a second base in the country, possibly in Osh in the troubled south (Komsomolskaya Pravda, June 14).
The Russian 201st Military Base, which was developed on the basis of the former 201st Motorized Rifle Division, also functions under the CSTO but provides support for Tajikistan's Army to ensure the security of the state; it is the largest Russian Army base abroad, with between 6,000 to 7,000 personnel. An additional military facility in the country is the Okno space monitoring system, which is used by the Russian Aerospace Defense Forces. This facility was handed to Moscow for free in return for writing off a debt of $242 million. Whereas, in 2006, Russia agreed to provide $76 million in military assistance to Tajikistan (Komsomolskaya Pravda, June 14).
Although difficulties have been encountered to date on the 201st Military Base, according to Russian Defense Minister Anatoliy Serdyukov, the talks on the new basing agreement with Dushanbe are due to be completed by October 2012 (Krasnaya Zvezda, July 18). Colonel-General Vladimir Chirkin, the Commander-in-Chief of Russia's Ground Forces, stated that Dushanbe "deemed the draft agreement between Russia and Tajikistan enshrining the presence of the 201st Military Base in the Republic of Tajikistan for 49 years to be acceptable on the whole." The draft agreement envisaged continuing the Russian base for 49 years on a non-payment basis.
Tajikistani officials have proved to be cautious about publicly commenting on the precise nature of Dushanbe's objections to the earlier Russian proposals. However, a Tajikistani government source told the Russian media that President Rahmon was ready to sign the deal in return for firm guarantees. "Tajikistan would like to remain in Russia's orbit. But Rahmon needs guarantees of retaining power and of stability in the country. Russian can give these guarantees. Particularly as Rahmon has always fulfilled adopted pledges and has not once torn up strategic agreements with Russia. But he does not want to bear financial costs," the source explained (Nezavisimoye Voyennoye Obozreniye, July 18).
Chirkin had previously tied the base extension to the Russian General Staff's concern about the possibility of future military conflicts in Central Asia, which met with rebuttals in Dushanbe. During a press conference on July 16, the Russian Army commander adopted a more circumspect tone: "The negotiation process is proceeding quite actively, and I think we will emerge fairly soon with an outcome that suits both sides," Chirkin said. Moscow's proposed deal envisages the continued use of the base for free due to its role in Tajikistan's security. Russia would also "assist in the provision to Tajikistan of contemporary and compatible weaponry and military and specialized equipment" (RIA Novosti, July 17).
Saifullo Safarov, the Deputy Director at the Center for Strategic Studies under the President of Tajikistan, highlighted an entirely non-military set of causal factors creating problems in the negotiating process. On July 12, Safarov told Interfax that "money is not the main issue," but Dushanbe wants to see Russia respect its national interests. These interests, in fact, link to concern over the plight of more than one million migrant Tajik workers in Russia, whose remittances annually yield over 45 percent of Tajikistan's GDP. "Our primary concern is the fate of our migrant workers living and working in Russia. Besides, we are keen on cutting export duties on Russian petroleum products for our republic," Safarov said. Around 90 percent of petroleum products in Tajikistan are imported from Russia, and Dushanbe would like to see import duties lifted as Moscow did earlier for Kyrgyzstan (Interfax, July 12).
Indeed, Russian sources close to the talks told Jamestown that Moscow has actively avoided using the Tajik migrant issue as leverage in the discussions, supporting Safarov's views. Both Dushanbe and Moscow understand the strategic importance of the 201st Military Base, and that without the base, the regime and the country's security would be more vulnerable. Moscow in this context is playing a patient game, confident that Rahmon will sign a deal later in the year, avoiding applying too much pressure in the awareness that Dushanbe has no strong cards to play. Moreover, in December 2011, Dushanbe signed a CSTO agreement on foreign basing that involves requiring full consent among all members prior to agreeing to host a new military base: this gives Moscow a de facto veto on Tajikistan opening a US military facility in the country.