Moscow's Ministers Descend on Baku
Publication: Eurasia Daily Monitor Volume: 11 Issue: 115
By: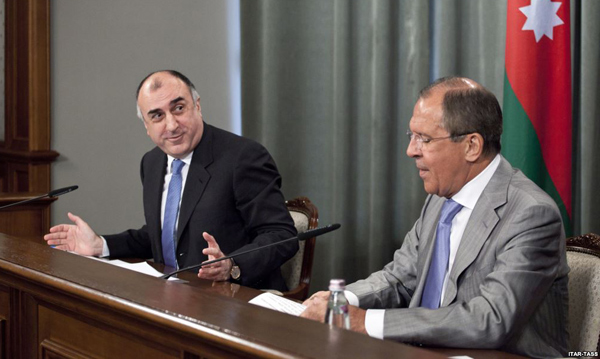 During June 2014, Russian ministers and high-level officials descended on Baku to pursue Russia's lengthening agenda with Azerbaijan. At the beginning of the month, Economic Minister Alexei Ulyukaev came to discuss economic cooperation and invited Azerbaijan to join the Russia-led Eurasian Economic Union (Interfax-Azerbaijan, June 2). Then, on June 18–19, Foreign Minister Sergei Lavrov paid a visit to the Azerbaijani capital with a broad agenda of bilateral, strategic issues (Voice of Russia, June 18). In addition, Azerbaijan hosted the arrivals of Russian Deputy Prime Minister Dmitry Rogozin, Duma Speaker Sergei Naryshkin, and Development Minister Igor Slyunayev (abc.az, June 19; azernews.az, June 6; APA, June 23).
These visits suggest that Moscow wants more from Azerbaijan than simply a favorable attitude toward the Eurasian Economic Union (EuEU)—which, in any event, it did not obtain (mid.ru, June 18). Clearly, Moscow also wants Baku to refrain from offering any kind of assistance to Ukraine, whether it be loans or energy shipments. And indeed, Lavrov admitted that he had discussed Ukraine with his Azerbaijani hosts (mid.ru, June 18). Another issue on the agenda was Azerbaijan's plan to ship gas from the Caspian to Europe through Turkey and the Balkans (known as the Southern Gas Corridor). Any increase to the planned Southern Corridor's capacity would undermine Russian interests, especially in light of the European Union's pressure to prevent the South Stream pipeline, which aims to deliver Russian gas along a competing route while bypassing Ukraine. Azerbaijan recently signed an agreement to launch new joint oil and gas ventures with Rosneft (see EDM, August 15); but this probably does not allay Russian concerns about the possible expansion of non-Russian, Caspian-basin gas shipments to Europe (kavpolit.ru, June 17).
Lavrov also disclosed that he had spoken to his Azerbaijani counterpart, Elmar Mammadyarov, about Karabakh and the situation in the Middle East—presumably regarding the outbreak of civil strife in Iraq, if not also on the topic of Iran (mid.ru, June 18). Such discussions were likely prompted, at least in part, by the proclaimed intentions of the militant group Islamic State in Iraq and Syria (ISIS) to create Islamist regimes on the territories of Azerbaijan and Turkey. But the range of issues on the agenda did not stop there. Undoubtedly, also figuring in these discussions were the perennial issue of the demarcation of the Caspian Sea, a new international legal regime for the Caspian's use, the ensuing possibilities for exploring energy resources found there, and the building of a trans-Caspian gas pipeline (TCP). All these topics are of particular concern for Moscow, which is strongly opposed to the TCP and has been engaged in a recent buildup of the Russian Caspian Flotilla.
Meanwhile, the presence in Baku of Dmitry Rogozin, who is tasked with overseeing the Russian defense industry, pointed to bilateral discussions on new arms sales from Russia to Azerbaijan (turan.az, June 19). Russian weapons sales to this South Caucasus country totaled $4 billion in the last four years and has represented a transfer of many advanced systems to Azerbaijan. They also represent one of Moscow's principal instruments for managing or, more accurately, manipulating the conflict in Karabakh and Russia's relations with Armenia, which depends exclusively on Moscow for support. New arms sales to Baku will only reinforce Yerevan's dependence and is one of the few indirect means available to Russia to influence Azerbaijan's policies. Notably, Azerbaijani trade is mainly oriented toward the EU, not Russia, and Baku has made it clear that it will not join the Eurasian Economic Union, as Lavrov admitted during his foreign visit (mid.ru, June 18). But while Russia may hold out hope for Azerbaijan's eventual inclusion in the EuEU or hold the door open for such a future possibility, it is unlikely that the government in Baku will abandoned its successful policy of steering clear of Russia's embrace, given what has happened to Armenia and Ukraine in conjunction with EuEU.
Nevertheless, it seems clear that Moscow is simultaneously combining carrots and potential sticks in its approach to Baku. The war in Ukraine indicates how far Moscow might go to realize its vision of a reunified economic and political space within post-Soviet Eurasia, and Azerbaijan cannot afford to disregard the dangerous geostrategic environment it must function in on a daily basis. While there is no significant ethnic-Russian minority in Azerbaijan, in the past Russian commentators and officials have raised the possibility of inciting its Muslim, Lezgin and Talysh groups as a mean of potential pressure on Baku (Kavkavsky Uzel, June 19, 2008). Therefore, wariness toward Russian blandishments and toward Russia in general remain a consistent hallmark of Azerbaijani policy. But despite the tense relations between Baku and Washington, there are clearly opportunities for Russia to try to expand the scope of its bilateral ties with Azerbaijan on economics, energy and arms sales, if not the Karabakh issue. At the same time, it remains to be seen how the deteriorating situation in Iraq will affect developments in the Caucasus, if at all. So those trends bear careful scrutiny too.
The stature and sheer number of Moscow's emissaries who visited Azerbaijan this past month highlight the importance that Russia attaches to its relations with this South Caucasian neighbor. Additionally, the diplomatic offensive underscored Russia's long-known determination to enfold the entire Caucasus within its sphere of influence. Consequently, these visits may possess an importance that goes far beyond the usual platitudes of high-level meetings to improve bilateral relations.