Moscow's Policies in Ingushetia Receive a Politically Damaging Setback
Publication: Eurasia Daily Monitor Volume: 6 Issue: 160
By: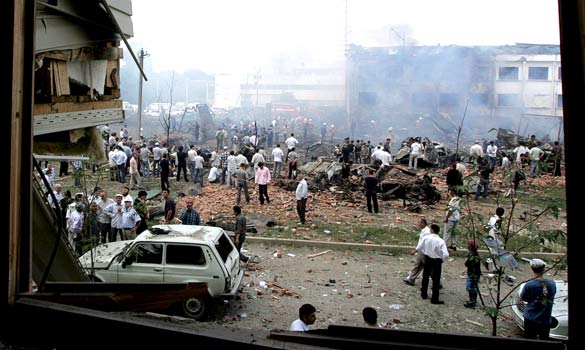 On August 17 unknown assailants drove a minivan loaded with explosives into the courtyard of the district police headquarters in Nazran, the principal city in Ingushetia, where it was detonated. Twenty-one policemen died in the attack and over one hundred people were wounded (ITAR-TASS, August 18). Nine people are listed as missing as the emergency services continue to search the rubble (RIA-Novosti, August 18). It is believed that the two perpetrators of the attack packed the vehicle with up to 400 kilograms of explosives, representing the largest bombing to date in Ingushetia (Interfax, August 18). Alternative sources from Ingushetia reported twenty-five fatalities, saying that fifteen of them were Russian policemen sent from the Russian regions and ten were Ingush (www.guraba.wordpress.com, August 18).
President Dmitry Medvedev swiftly reacted to the event, blaming the attack on Islamic militants. Medvedev dismissed the region's Interior Minister Ruslan Meiriev and demanded an internal investigation. Meiriev's deputy, Victor Zhernov (an ethnic Russian), was temporarily appointed as Ingushetia's interior minister, while the Deputy Interior Minister Arkadi Edelev coordinated the police forces in Ingushetia (ITAR-TASS, August 18).
Not only was the interior minister replaced in Ingushetia, but according to a statement by the Russian Interior Minister Rashid Nurgaliev in Nazran, practically all Ingush police may be replaced with external policemen. Nurgaliev said that "temporary operative groups" would be formed to deal with the insurgency. The groups would be comprised of people who "have experience in the North Caucasus region" (Regnum news agency, August 18). This indicates that the Russian interior minister no longer relies on the Ingush police, even though he has not admitted this openly.
President Yunus-bek Evkurov stated that despite the attack no counterterrorist operation regime would be installed in Ingushetia (www.regions.ru, August 17). Evkurov returned to work only on August 13, having barely recovered after an assassination attempt on June 22 (RIA-Novosti, August 13). President Evkurov served in office for only eight months before he was attacked by a suicide bomber in Nazran.
News about attacks and murders has flowed from Ingushetia almost on a daily basis over the past several years. There were also some indications of attempts to organize larger-scale attacks. On May 15 Interfax reported that an anti-aircraft system (Igla) was discovered in Ordzhonikidzevskaya, near the airport. On February 12 the Russian Federal Security Service (FSB) claimed to have prevented a large terrorist attack, which allegedly involved three people, a couple from Karachai-Cherkessia and an ethnic Russian. In a very unusual move beforehand the FSB disseminated information about the suspects in the media (Kommersant, February 13).
Despite the rapid dismissal of Ingushetia's interior minister, an attempt to replace local police with external police forces and the promise to punish all those who were involved in the attack, there is surprisingly little new in these propositions. Moreover, it appears that even though Evkurov has tried to cast himself as a considerate and mild leader of Ingushetia, his rule was plagued by the same issues and people that led to his predecessor's dismissal. In particular, according to the Ingush opposition leader Magomed Khazbiev, in practice the former and much criticized Interior Minister Ingushetia Musa Medov still managed the everyday work of the Ingush police from the Khankala military base in neighboring Chechnya. Khazbiev said that Medov is the protégé of Deputy Interior Minister Arkadi Edelev, and he is likely to continue managing the police from Chechnya. "There is no police in the republic as such. The policemen do what they wish, they do not go to work, facilitate lawlessness, and frame people by planting drugs in their pockets, releasing detainees for ransom. This is a mafia, which is connected to Moscow," concluded Khazbiev (Moskovsky Komsomolets, August 18). Indeed, human rights activists are worried about Medvedev's proposals, saying that Edelev, a long time Soviet and then Russian security services officer has a controversial reputation himself, having indulged in dubious operations in Chechnya. An Ingush human rights activist Magomed Mutsolgov said in an interview, that appointing Edelev "was one of the biggest mistakes that the Kremlin could make" (www.gazeta.ru, August 18).
Other measures that Medvedev offered to calm the situation in Ingushetia, such as the quiet replacement of the Ingush police force with policemen drawn from other regions, or the replacement of senior officials in the republic have proven unsuccessful. The distrust between the federal police headquarters and the Ingush police has been notorious. In recent years Moscow has tried to "strengthen" the Ingush police by sending Russian policemen from elsewhere in Russia, but with little tangible success. These policemen have become the most targeted in Ingushetia, a small traditional society, where they are seen as occupants that lack legitimacy.
There might be more in the attacks in Ingushetia, than simply a deterioration of the security situation. Ingushetia's President Evkurov is regarded by many observers as "Medvedev's man," while his predecessor (Murat Zyazikov) was thought of as "Putin's man." Consequently, it is plausible that for the Kremlin's clans, fighting in Ingushetia is a relatively innocent way of showing each other who is stronger. However, even if the Kremlin clans are implicated in these events in Ingushetia, the significance of their contribution is unclear. However, it is clear that Moscow faces real challenges in the region, as the population of Ingushetia becomes increasingly disenfranchised, deprived practically of all voting rights, vulnerable economically and in terms of security. It is difficult to envisage positive changes in the region, unless Russian policies in the region change. However, by the time that the political climate in Moscow becomes more tolerant of popular voting rights it might be too late, as the exasperation produced by the conflict has increased over the past several years.