Motivations and Roadblocks for South African Intervention in Mozambique
Publication: Terrorism Monitor Volume: 18 Issue: 16
By: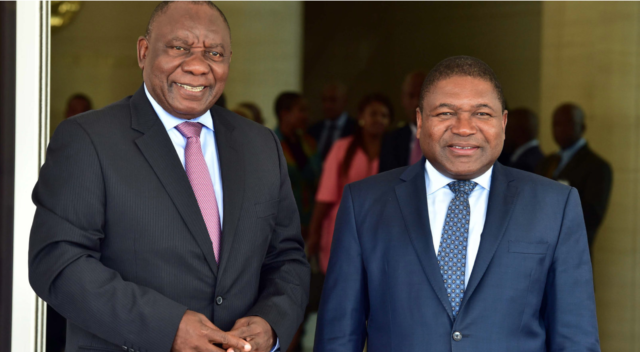 The need for a military intervention in northern Mozambique is becoming more clear with each passing week, particularly after Islamic State Central Africa Province (IS-CAP) captured the key port of Mocimboa da Praia on August 12 following  several days of fighting that killed more than 50 Mozambican soldiers (Daily Maverick, August 12). It has been nearly three months since the South African Development Community (SADC) first held an emergency session of its Organ Troika on Politics, Defense and Security (consisting of Zimbabwe, Zambia, Botswana) to discuss potential responses to the ongoing IS-CAP insurgency (SADC, May 19). The meeting concluded with no clear directives, and little aside from vague platitudes have been offered since.  With the rest of the SADC member states demonstrating indifference or a lack of will to intervene, Pretoria is seemingly mulling the idea of taking on a leading role. The South African government's motivations for pressing forward in Mozambique are multifaceted, but it will need to tread carefully as it navigates the SADC's internal politics, conditions on the ground in Cabo Delgado, and the Mozambican government's reticence as well as the fallout from what has thus far been an ill-conceived strategy for combating the militants.
South Africa has experienced little terrorism over the past ten years, aside from a string of small-scale attacks in Durban in 2018. South Africa, despite bordering Mozambique, is far removed from the insurgency's heartland in Cabo Delgado province, which itself is worlds away from southern Mozambique economically, demographically, and in terms of nearly every social indicator.  Despite largely being spared from terrorist attacks and there being little threat of the violence spreading from Cabo Delgado to South Africa's borders, the country has served as a transit point and financing hub for international terrorist organizations, including in Mozambique.
IS cautioned South Africa from intervening in Mozambique in an editorial featured in its al-Naba  #241 newsletter, stating that South Africa had enough of its own internal problems and threatening to open up a new fighting front within the country's borders if it intervened (Jihadology, July 2). In addition to this threat, recent arrests have underscored Pretoria's angst over the country's internal security and the growth of IS-CAP in neighboring Mozambique. A police raid on an alleged kidnapping ring in Kliprivier led to the arrest of five foreign nationals, including a Somali and an Ethiopian, that are reportedly linked to the cell responsible for the string of attacks in Durban in 2018 (Daily Maverick, July 30). IS flags and videos were found during the raid and sources have indicated the kidnapping cell is also linked to individuals who have travelled from South Africa to fight alongside militants in Mozambique.
The IS threat and the recent arrests provide Pretoria with even more tangible motivation to intervene, but South African President Cyril Ramaphosa—who is also the Chair of the African Union—will need to carefully navigate increasingly complicated relations among many SADC members, as well as the relationship between the SADC and AU as a whole.
President Ramaphosa has faced increasing domestic and international pressure to step in and address rampant reports of human rights violations in Zimbabwe, one of the few SADC member states that has expressed willingness to participate in a regional military intervention in Mozambique (New Zimbabwe, August 8). Making matters even more complicated, officials within the SADC troika have noted that they are facing a significant methodological dilemma, as Mozambican President Felipe Nyusi is allegedly refusing to accept a regional military intervention and prefers a bilateral agreement with Zimbabwe (Zimbabwe Independent, August 7). The Zimbabwean government is in the midst of its own domestic crisis and has stated it would only intervene as part of a regional response or when its interests are directly threatened. Meanwhile, Tanzania is the country most likely to be affected by the insurgency, but has shown little interest in intervening or providing support beyond half-hearted measures to secure its southern border.
Should South Africa or the SADC intervene, they will also have to ensure they intervene with an approach that goes beyond the military dimension and with an understanding of the complex situation on the ground in Cabo Delgado. This feat is made more difficult by the Mozambican government's reluctance to share intelligence and banning of journalists from entering the area. The government's heavy-handed response, laden with allegations of human rights abuses, also risks dragging any country that intervenes into a reputational nightmare. With no other SADC member seemingly willing to take charge and given South Africa's current standing within the AU, the country's reputation is on the line whether or not it takes the reins to facilitate an intervention.
South Africa is the best positioned to push forward on an intervention plan and should use every SADC and AU mechanism available to promote a strategy at the SADC's 40th Annual Summit, which will see Tanzania pass the SADC chair to Mozambique.