Multiple Signs of Stabilization in Belarus
Publication: Eurasia Daily Monitor Volume: 9 Issue: 98
By: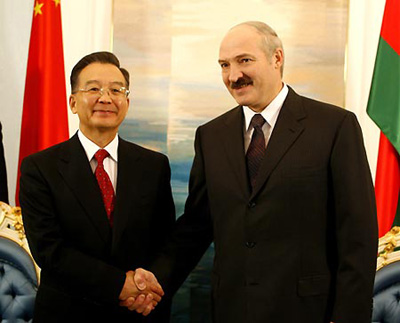 If there is any refrain to recent developments in Belarus, it is political and socio-economic stabilization.
First, the International Ice Hockey Federation (IIHF) has not succumbed to political pressure – mainly from the United States – and confirmed Minsk as the venue for the 2014 World Hockey Championship. Speaking at its congress in Helsinki on May 18, IIHF President Rene Fasel reiterated his opposition to stripping Belarus of the right to host the championship. Mr. Fasel stressed that "sport cannot and should not be a political tool" (https://naviny.by/rubrics/english/2012/05/19/ic_articles_259_177894).
The exchange rate of the US dollar to the Belarusian ruble has stabilized, and on May 22 the dollar even lost some of its value and is now worth 8,140 rubles (https://select.by/content/view/3785/782/). Without much media noise, the major cause of the 2011 financial crisis in Belarus – a negative balance of international trade – has been overcome (see EDM, May 9). The three major groups of products responsible for boosting Belarusian exports are processed from Russian oil and include gasoline, kerosene and diesel fuel; solvents and paint thinners; and lubricants. The overall export of these products from Belarus increased from $2.103 billion during the first quarter of 2011 to $4.029 billion earned from January to March 2012. At the same time, imports have shrunk, particularly of consumer goods, (by $630 million compared with the first quarter of 2011), and of semi-finished products (by $264 million). The positive net balance of international trade recorded in March 2012 – $557.7 million – was the highest monthly net balance over the 10-year period (https://news.tut.by/economics/289726.html).
Not quite satisfied with Belarus's market being dominated by its two largest trading partners, Russia and the EU, the government of Belarus has been trying to boost the role of Asian partners, particularly China. By 2011, the volume of Belarus-China trade had reached $3 billion. In recent years, Chinese direct investments were instrumental in modernizing two Minsk-based thermoelectric plants, building one cement factory and in creating a Belarus-China joint venture in the household electronics sector. In the fall of 2011, China rendered Belarus a low-interest $1-billion loan. The problem with Chinese loans, from Minsk's point of view, is that all or most of them are, so-called, tied loans that require the borrower to buy Chinese goods. But on April 26, 2012, the Chinese agency Dagong Global Credit Rating substantially raised the rating of the Belarusian economy, thus increasing the chances that Belarus would receive tied loans. Detailed negotiations about multiple aspects of Belarusian-Chinese cooperation have been conducted during the visit of Lu Yongxiang, Vice Chairman of the Standing Committee of the National People's Congress of China, to Minsk on May 21. Furthermore, on multiple occasions, Alyaksandr Lukashenka underscored his desire to follow the Chinese example of successful market transformations coupled with tight political control over society (https://naviny.by/rubrics/economic/2012/05/20/ic_articles_113_177897/; https://news.belta.by/en/main_news?id=682363).
Yet another newsworthy item has been an unexpected initiative by Vladimir Borodach, a retired Belarusian riot police colonel who received political asylum in Germany, to form a Belarusian government in exile. According to Borodach, much of the current Belarusian opposition is helpless because it has been infiltrated by KGB agents. Needless to say, Borodach's initiative caused uproar among the Belarus-based opposition and revealed yet again its inability to come up with a cohesive point of view on anything, including a consolidated political platform. Strangely enough, Borodach's initiative coincided with a statement by Lithuanian Foreign Minister Audronius Azubalis that he is "tired of all plans to support the Belarusian opposition" and that "together with our American friends we ought to think about a transitional council." That coincidence begot rumors that these two pronouncements may have somehow been coordinated (https://naviny.by/rubrics/politic/2012/05/22/ic_articles_112_177918/). But Alexander Klaskovsky, a major voice in the opposition media, called Borodach's initiative a tempest in a teapot (https://www.gazetaby.com/index.php?sn_nid=45552&sn_cat=32).

On the part of Belarusian government ideologues, there are signs of triumphalism over leaving the worst of the economic crisis behind and apparently over the utter inability of European and American sanctions to alter the political landscape in Belarus. Thus, Vadim Gigin, editor-in-chief of Belarusian Thought magazine, published an article titled "The End of History?" in which he claims that the "current European model of democracy" is a "dictatorship of mediocrities" exemplified by Francois Hollande, his predecessor French President Nicholas Sarkozy, and in particular Catherine Ashton and Herman Van Rompuy. Using Soviet historian Lev Gumilev's "passionarity" concept, which may be explained as the level of vital energy and power characteristic of any given ethnic group, Gigin claims that, whereas old Europe is past its prime, Belarus, Russia and Kazakhstan are "young and energetic nations." According to Gigin, the crusade of belligerent mediocrities is the main reason why the Western political establishment does not accept the types of national leaders that dominate the post-Soviet space. "Just because Alyaksandr Lukashenka, Vladimir Putin, and Nursultan Nazarbayev are imbued with passionarity and are not faceless people, they are unacceptable to the West. They have their pros and cons, but they are alive; and that is why they make history contrary to the wishes of the self-important dummies from the EU and Washington" (https://www.belta.by/ru/blogs?auth_ID=16).
According to some analysts, the extent to which this bravado is justified will largely depend on Russia. More specifically, Minsk's economic success will be contingent upon how lasting Russia's commitment will be to cheap oil and gas for Belarus, how determined Moscow will be to obtain Belarus's most lucrative assets, and how strongly Russia will enforce certain regulations within its common economic space with Belarus and Kazakhstan (https://naviny.by/rubrics/economic/2012/05/21/ic_articles_113_177907/).