Murder and Selective Use of Justice in Ukraine (Part Two)
Publication: Eurasia Daily Monitor Volume: 10 Issue: 44
By: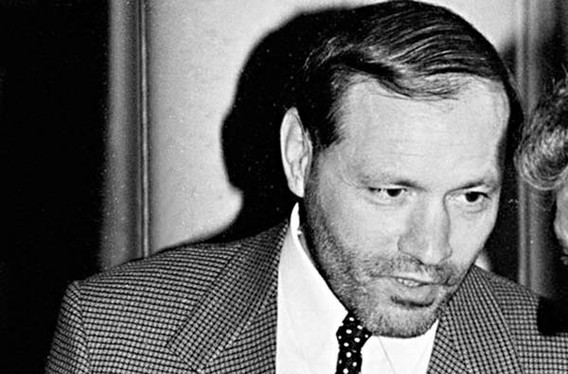 One month ago (February 14), Kyiv's Pechersky District Court launched investigatory proceedings into the 1996 murder of then Ukraine's wealthiest oligarch, Yevhen Shcherban. Yet, as investigative journalist Tetyana Chornovil has pointed out, the murder of Shcherban cannot be separated from political-economic-criminal conditions in Donetsk from the late 1980s to the late 1990s (https://gazeta.ua/articles/politics/_na-yanukovicha-povisili-vbivstvo-scherbanya/480045).
Part One of this two-part series of articles analyzing the selective use of justice in investigating the Shcherban murder explored why the investigation has been launched now, nearly two decades after the oligarch's assassination (see EDM, February 25). Part Two will attempt to answer who was actually behind this murder and who benefitted from Shcherban's death.
In a country with functioning rule of law, it would be impossible to imagine how a trial of a suspect (Yulia Tymoshenko) accused of the grave crime of murder could be undertaken without important witnesses being questioned. In this case, these would presumably include businessmen who founded the Industrial Union of Donbas (ISD) in 1995—Volodymyr Shcherban, Renat Akhmetov and Serhiy Taruta. Other witnesses would likely be President Leonid Kuchma, then-First Deputy Governor Viktor Yanukovych and head of the Social-Market Choice (SMC) parliamentary faction Yevhen Marchuk (the SMC was tied to the Liberal Party led by Yevhen and Volodymyr Shcherban). Yevhen Shcherban had many enemies in Donetsk oblast, Kyiv and Moscow, which raises seven theories as to who may have been behind his murder.
First, local:
Shcherban came into conflict over the Azovstal Iron and Steel Works plant with Mariupol Mayor Mykhaylo Pozhyvanov, who also alleged he was being blackmailed by Shcherban (https://genshtab.info/wiki/Щербань,_Евгений_Александрович). Chornovil cites a June 1996 newspaper account of Governor Shcherban threatening Pozhyvanov: "Remember, when there is a person there is a problem, when there is no person there is no problem. For us, nine grams of lead is not an unfortunate issue; it is a very cheap solution" (https://blogs.pravda.com.ua/authors/chornovol/5122684597f9f/).
Second, Russian:
American citizen Pol Tatum was murdered in Moscow a few hours after Shcherban. The two men previously had business ties (see separate section on Tatum at https://genshtab.info/wiki/Щербань,_Евгений_Александрович).
Third, energy:
ISD were not only in conflict with Tymoshenko's United Energy Systems of Ukraine (YESU) but also with another large gas trader—Itera Energy (https://blogs.pravda.com.ua/authors/chornovol/5122684597f9f/). The head of Itera, Aleksandr Shvedchenko was murdered in Kyiv in March 1996. Lawyer Dmytro Poyizd said his former client, Vadym Bolotskykh, sentenced in 2003 for Yevhen Shcherban's murder, had never met Pavlo Lazarenko or Tymoshenko to receive "weapons or money" to carry out the assassination (https://www.pravda.com.ua/news/2013/01/23/6982101/).
Fourth, law enforcement:
Prevailing chaos during the 1990s was so extensive that former Soviet KGB (becoming the Security Service—SBU) and police officers were co-opted by emerging business structures and organized crime. Former police officer Vyacheslav Sinenko was sentenced for involvement in the killing of organized crime leader Akhat Bragin as well as other murders. Sinenko claimed he was framed by then Donetsk (and future Ukrainian) Prosecutor General Hennadiy Vasylyev. Sinenko escaped to Greece but in 2005 was extradited to Ukraine (https://www.ostro.org/general/society/news/20845/). The head of the Donetsk oblast interior ministry at the time was Volodymyr Malyshev who became Chief of Security at Systems Capital Management (SCM) and is currently a Party of Regions deputy (https://w1.c1.rada.gov.ua/pls/site2/p_deputat?d_id=8820&skl=8).
Fifth, political:
Donetsk had challenged Kyiv in 1993 with coalminers' strikes, which forced President Leonid Kravchuk to hold pre-term presidential elections in June 1994 and appoint Donetsk "Red Director" Yufym Zvyahilsky to the office of prime minister. Shcherban and SMC faction deputy Marchuk intended to challenge Kuchma in the 1999 presidential elections and were therefore a potential threat to his re-election.
In 1997, Kuchma agreed to promote Viktor Yanukovych to Donetsk governor, with the support of businessman Renat Akhmetov, as part of a deal whereby the region would support the president politically. In 1999, Kuchma defeated Communist leader Petro Symonenko in Donetsk, and the region provided the most votes in 2002 to Kuchma's "For a United Ukraine" bloc. In exchange for not challenging Kuchma, local Donetsk elites received de facto autonomy along with the adoption of legislation in 1999 on free economic zones in Donetsk and Transcarpathia. In 2002, because of his loyalty, Yanukovych was made prime minister, and in 2004, he ran as the authorities' presidential candidate.
Sixth, Akhmetov:
As with the accusation against Tymoshenko, this is a weak allegation. His attorneys from the Akin Gump law firm have stated, "We found no evidence that would indicate Mr. Akhmetov was behind the tragic events surrounding [Yevhen] Shcherban and other businessmen. It was actually the case that some of those businessmen who died in the 1990s were the closest friends of Mr. Akhmetov" (Ukrayinska Pravda, January 25).
Poyizd (the former lawyer of Vadym Bolotskykh who was convicted of murdering Shcherban), commentator Chornovil and former Deputy Interior Minister Hennadiy Moskal (first deputy head of the parliamentary Committee on Fighting Organized Crime and Corruption) nonetheless claim Akhmetov should be treated as a suspect because he financially gained from Shcherban's death (see interviews with Poyizd on https://tvi.ua/program/2013/01/24/znak_oklyku_schodnya_vid_23012013 and https://www.radiosvoboda.org/media/video/24710918.html; Chornovil in her Ukrayinska Pravda blog, January 28, 30, 2013; and Moskal in
https://obozrevatel.com/interview/34065-moskal-ya-znayu-kto-zakazal-scherbanya.htm).
Seventh, organized crime:
In the first half of the 1990s, Donetsk organized crime leader Akhat Bragin ("Alik the Greek") was so powerful that all major business leaders in Donetsk had to deal with him. In October 1995, Bragin and six of his bodyguards were killed in Donetsk Shakhtar football stadium by a bomb explosion so strong that he could only later be identified by his expensive watch. Bragin had survived an assassination attempt in March the previous year. Akhmetov usually accompanied Bragin everywhere, but on that occasion he arrived after the explosion (https://censor.net.ua/resonance/203607/vendetta_kto_ubil_scherbanya).
Poyizd claimed his client, Bolotskykh, received money from the Yevhen Kushnir organized crime group to murder Shcherban (https://www.pravda.com.ua/news/2013/01/23/6982101/). Kushnir had been a business partner of another organized crime leader, Aleksandr Krantz, who was assassinated in 1992. Akhmetov and Bragin were photographed at Krantz's funeral. (A photograph can be seen at https://blogs.pravda.com.ua/authors/chornovol/5106584eed6da/; analyst Sławomir Matuszak provides a link to a police surveillance video at https://www.youtube.com/watch?v=dA29BDRfCEA; also see https://www.osw.waw.pl/en/publikacje/osw-studies/2012-10-16/oligarchic-democracy-influence-business-groups-ukrainian-politics).
After these murders, Volodymyr Shcherban, Akhmetov and Taruta created the ISD steel manufacturing group, which they divided in 2000. Taruta and two of his partners retained a portion of the ISD, while Akhmetov established the independent SCM. The prosecutor general's office, "is silent about what happened with Yevhen Shcherban's business empire" (https://censor.net.ua/resonance/203607/vendetta_kto_ubil_scherbanya). Akhmetov's lawyers at Akin Gump stated that Akhmetov did not benefit from Shcherban's estate (https://www.pravda.com.ua/news/2013/01/25/6982229/). Serhiy Kuzin and Batkivshchina deputy Oleksandra Kuzhel disagree (https://gazeta.dt.ua/POLITICS/aktualni_spravi_minulih_dniv.html; www.ostro.org/general/politics/articles/407351).
Akhmetov is ranked 38th ($18.9 billion) in Bloomberg's 200 wealthiest people in 2012; his fortune is greater than Russia's two wealthiest oligarchs—Roman Abramovich (51st at $14.7 billion) and Oleg Deripaska (90th at $10.5 billion) (https://www.bloomberg.com/news/2012-11-01/the-world-s-200-richest-people.html).
The Ukrainian authorities' politicized investigation of the Shcherban murder continues to be based on a poor quality of witnesses and paltry evidence. But, as with the prosecution of former government officials over their alleged abuse of office—such as Tymoshenko's incarceration over the 2009 Russian-Ukrainian gas contract—the Shcherban case sets a dangerous precedent. Upon returning to power, the current opposition may choose to also investigate other gas contracts and murder cases. The Yanukovych team will only be immune to such prosecution if they never leave office.