MURDER OF KABARDINO-BALKARIA LAW-ENFORCER: ANOTHER TURN IN A VICIOUS CIRCLE?
Publication: Eurasia Daily Monitor Volume: 5 Issue: 6
By: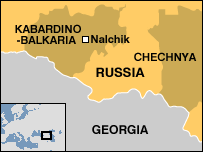 The head of Kabardino-Balkaria's regional anti-organized crime directorate Colonel Anatoly Kyarov, was shot to death along with his bodyguard on the evening of January 12 when their car came under fire near the headquarters of the republic's drug control department in Nalchik, the republican capital. Kyarov's driver and two bystanders were wounded in the attack. According to investigators, gunmen located in two firing positions shot at Kyarov's car 101 times using automatic weapons of various calibers (Gazeta.ru, January 14). According to one account, Kyarov managed to get out of the car and return fire using his pistol before receiving a fatal gunshot wound to the head (Kommersant, January 14).
According to a statement posted on the separatist Kavkaz-Center website on January 13, the killing of Kyarov was apparently a botched attempt to assassinate Federal Security Service (FSB) Director Nikolai Patrushev. The statement quoted "a source in the headquarters of the Caucasian Front of the Armed forces of the Caucasus Emirate" as saying that a group of "mujahideen" had carried out a "special operation to liquidate the ringleader of the Lubyanka FSB gang Patrushev." The statement continued: "The source stated that, according to mujahideen counter-intelligence operational information, Patrushev was supposed to travel secretly along a route in Nalchik as part of a so-called 'anti-terrorist exercise' that was carried out in recent days by forces of the 'FSB RF' gang." According to some Russian media, Patrushev was in Kabardino-Balkaria on January 12 for FSB military exercises in the republic, in which he and a group of FSB commandos reportedly landed on Mount Elbrus. Kommersant, however, quoted unnamed FSB sources as saying that Patrushev had headed an FSB spetsnaz landing on Mount Elbrus on January 6 but was not in Nalchik on January 12, the day Anatoly Kyarov and his bodyguard were murdered. However, Gazeta.ru reported that Patrushev was in the republic on January 12 (Gazeta.ru, January 14).
Whatever the case, Islamic militants in Kabardino-Balkaria had motives for killing Anatoly Kyarov. Kavkaz-Center, citing "sources in Nalchik," described Kyarov as "one of the most active enemies of the Caucasus Emirate, on whose hands was the blood of hundreds of tortured Muslims" and had apparently tried to do so before.
According to Kommersant, under Kyarov's command, the Kabardino-Balkaria Interior Ministry's anti-organized crime directorate (UBOP) had taken the lead in the fight against the armed Islamic underground in the republic, including the Yarmuk jamaat and militants under the command of Anzor Astemirov, who is accused of organizing the October 13, 2005, armed attack in Nalchik, in which 92 militants, 35 law-enforcement officers, and 15 civilians were killed. Kabardino-Balkaria's Supreme Court has been holding preliminary hearings in the cases of those accused of participating in the Nalchik violence (Nezavisimaya gazeta, January 14). Kyarov was also investigating the murder of nine hunters, apparently by militants, in the republic last November. President Vladimir Putin personally decorated Kyarov with the Order of Courage in November 2006 (Kommersant, January 14).
However, Kommersant also quoted lawyers for those accused of involvement in the October 2005 Nalchik uprising as saying their clients and relatives of those accused of participating in the uprising had appealed to the federal Prosecutor General's Office to prosecute the heads of the Kabardino-Balkaria's law-enforcement bodies, and above all Kyarov, for "violating the rights of believers" and religious discrimination. They claim Kyarov and his subordinates drew up so-called "Wahhabi lists" that included dozens of young people, who were subsequently detained, beaten and sometimes simply disappeared. For example, in October 2005, 500 residents of the village of Khasanya held a protest in front of the republican government building in Nalchik demanding the release of Rasul Tsakoev, a 26-year-old known in his village as an observant Muslim who had been taken to UBOP headquarters by masked abductors. After several days, Tsakoev was released "half-dead" and soon died, but not before claiming that he had been beaten and tortured on the orders of Kyarov – who, he said, wanted him to confess to being a rebel accomplice. Tsakoev's relatives managed to get a criminal case launched against UBOP, but it was eventually closed down. Tsakoev's family recently filed a complaint against Russia with the European Court of Human Rights in Strasbourg.
According to Kommersant, the first attempt on Colonel Anatoly Kyarov's life – a bombing near his home – took place not long after the death of Rasul Tsakoev. Kyarov was not injured in the bombing, but from that point on he was accompanied everywhere by bodyguards.
As Kommersant noted, the lawyers of those on trial for the October 2005 Nalchik uprising say that it was launched in response to local law-enforcement brutality against Muslims who are not controlled by the government-approved Spiritual Board of Muslims. The newspaper quoted Geidar Dzhamal, chairman of the Islamic Committee of Russia, as saying that the law-enforcement bodies in Kabardino-Balkaria are likely to respond to Kyarov's murder with "mass zachistki [security sweeps] and arrests" (Kommersant, January 14).