NATO's Indecision on Eastward Expansion Is a Window of Opportunity for Russia
Publication: Eurasia Daily Monitor Volume: 20 Issue: 114
By: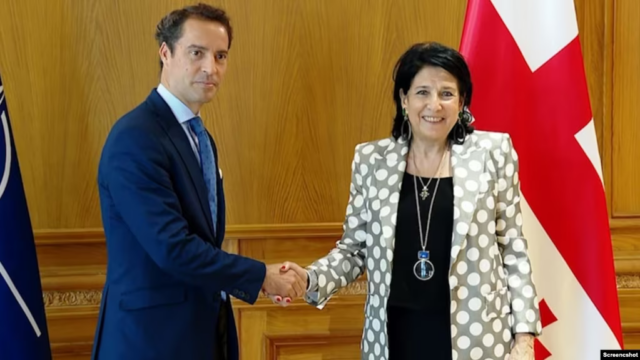 At the North Atlantic Treaty Organization (NATO) summit in Vilnius on July 11 and 12, Georgia remained an outsider. Back in 2002, Tbilisi had declared its willingness to join the alliance, and, in 2008, together with Ukraine, Georgia received a promise of future membership. After that, every year, under the pretext of insufficient reforms, the country has yet to be offered a formal Membership Action Plan (MAP), which is a mandatory step for NATO membership. At this particular summit, the alliance's members decided to abolish this step for Ukraine (Nato.int, July 11), thus shortening its path to NATO. For Georgia, the need for a MAP was kept as a mandatory step for membership.
Furthermore, the summit's communiqué also indicated that Georgia must achieve success in key democratic reforms. However, what was not included in the communiqué (Nato.int, July 11) was relayed to the Georgian authorities in the build-up to the event. In May 2023, NATO Special Representative for the Caucasus and Central Asia Javier Colomina, during a visit (Amerikiskhma.com, May 26) to Georgia, explained to the authorities that the alliance expects the country to produce not only democratic reforms but also active support for Ukraine. NATO officials have also expressed outrage at the resumption of air traffic between Georgia and Russia. On May 24, talking about Georgia at the Brussels Forum organized by the German Marshall Fund, NATO Secretary-General Jens Stoltenberg stated: "We also expect non-NATO Allies to adhere to the sanctions and to not make it easier for Russia to finance and to organise the war of aggression against Ukraine" (Nato.int, May 2).
Yet, the Georgian Dream government seemingly did not hear these messages and has continued its controversial policies, which are becoming increasingly antagonistic toward Western partners. A few days after Colomina's visit, Georgian Prime Minister Irakli Garibashvili, during a discussion at the Global Security Forum in Bratislava on May 30, mentioned NATO expansion and Ukraine's intention to join the alliance as one of the reasons Russia launched its invasion (YouTube, May 30). According to the German newspaper Frankfurter Allgemeine, it was this scandalous statement that became the reason why Garibashvili was not invited to the NATO summit, as the alliance itself explained that he was "an undesirable" (Faz.net, July 12).
Meanwhile, Western suspicions were shared that the current Georgian authorities are no longer interested in Georgia's entry into NATO. Former US ambassador to Georgia, Ian Kelly, on July 11 stated: "The Georgian government should explain why it is not at this critical summit. Reasonable people will conclude that Georgia is no longer interested in seriously promoting its Euro-Atlantic aspirations" (Mtavari.tv, July 12). From Georgia, only Foreign Minister Ilia Darchiashvili attended the summit in Vilnius. Earlier, on July 4, Estonian Prime Minister Kaja Kallas, in an interview with Radio Free Europe/Radio Liberty, said: "The leadership of Georgia right now does not really believe in [NATO membership], so they do not really push that agenda" (Twitter.com/RikardJozwiak, July 4).
Until 2012, Georgia did everything it could to grow closer to NATO; however, at the time, there was no general consensus within the alliance on eastward expansion. After Russia's invasion of Ukraine, NATO changed its approach to be strongly in favor of this expansion. Moreover, the Black Sea was declared a vital region for NATO. Now, when such a consensus has already matured within the alliance, the current pro-Russian ruling elite of Georgia has suddenly taken an indistinct position. In addition, instead of reconsidering its decision to resume flights with Russia (as NATO requested), on the contrary, leading up to the Vilnius summit, it was announced that Russian airlines decided to increase flights to Georgia to 284 flights per week (Tvpirveli.ge, July 6).
In 2022, Garibashvili made the first controversial statement regarding Georgia's possible entry into NATO during a speech at an economic forum in Qatar. He stated that "Georgia has territorial problems. We must first resolve this issue and then become a member of NATO" (Facebook.com/QatarEconomicForum, June 21, 2022). In Georgia, this statement was assessed as a signal of capitulation to the Kremlin (Netgazeti.ge, June 21, 2022), as Russia has been skillfully using Georgia's occupied territories for years to prevent the country's integration into transatlantic structures. Moreover, in the process of Tbilisi's rapprochement with NATO, one of the main barriers has been precisely Georgia's territorial problems. The previous government authorities had tried to separate these two topics, by urging NATO partners not to follow Russia's agenda and not to link the topic of Georgian membership with its territorial problems.
Over the past year, pro-Russian propagandists in Georgia have begun to develop the idea that if Georgia refuses to join NATO, then Moscow will be able to return the territories of Abkhazia and so-called "South Ossetia." The idea of not joining NATO in exchange for the return of territory is not new in Georgian political discourse. At one time, such an idea circulated under former President Mikheil Saakashvili, who later admitted in an interview that he unsuccessfully made an offer to Putin that, instead of Abkhazia and "South Ossetia," Georgia would refuse to join NATO (Netgazeti.ge, April 2, 2019).
Now, strongly strengthened pro-Russian groups (with the support of the Georgian Dream authorities) are trying with all their might to link the topics of territorial integrity and NATO membership. And this is progressing even as the level of popular support for joining NATO within the country is still very high—at 85 percent (JAM-news, June 21)
Indeed, according to some, the NATO gathering in Vilnius turned out to be one of the worst summits for Georgia's membership prospects since 2008. And now, just as Georgia has broken away from being associated with the classic trio of Ukraine, Moldova and Georgia in the case of European Union membership, in the case of NATO, the country is left alone with only a vague perspective. For the first time, the country was not mentioned as an aspiring NATO member and was practically presented as a partner rather than a future member. For the Georgian Dream authorities, integration with NATO is no longer a priority issue. Moreover, it appears that Georgia's ruling elite will try to develop an anti-NATO campaign in the country, as it is already doing against the EU. The day before the NATO summit, Shalva Papuashvili, chairman of the country's parliament, published an open letter in which he practically accused NATO of unfair treatment toward Georgia (Twitter.com/shpapuashvili, July 10).
Although, on the one hand, some Western observers point out that the unfulfilled NATO commitment made at the 2008 Bucharest summit that Ukraine and Georgia would "become members of NATO" undermines the alliance's credibility; on the other, the pro-Russian authorities in Georgia skillfully use NATO's indecision to offer Georgian society its alternative geopolitical project for neutrality.