Nazarbayev Labors to Mend Fences with Tashkent
Publication: Eurasia Daily Monitor Volume: 7 Issue: 61
By: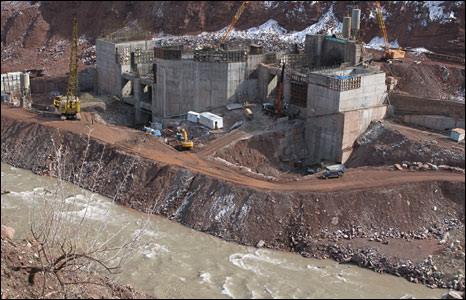 On March 17, Kazakhstan's President, Nursultan Nazarbayev, arrived in Tashkent to discuss bilateral relations with his Uzbek counterpart and regional rival. Although the visit was prompted by an official invitation from President, Islam Karimov, he received a saliently reserved welcome in Tashkent. Karimov failed to greet his guest at the airport, and instead sent Prime Minister, Shavkat Mirziyayev. The tightly controlled Uzbek media offered no comment on Nazarbayev's arrival until the end of the second day of his visit. Trying to ignore the diplomatic insult, Nazarbayev told reporters "There are no contradictory issues between our countries or conflict, rivalry, [competition for] leadership that our "friends' are incessantly looking for. All these issues are hyped. There are always those who do not wish [our] friendship. We have determination and sufficient political understanding not to allow this to happen" (www.uznews.net, March 17).
In terms of realizing his high hopes for this trip, Nazarbayev's visit was unsuccessful. The uneasy talks produced merely a non-binding joint statement to further develop friendly ties and an inter-governmental agreement on land for the construction of diplomatic premises on a reciprocal basis. Karimov displayed a lukewarm attitude to the main issue on the agenda initiated by Nazarbayev, the proposal to join the hydroelectric power stations projects launched by Kyrgyzstan and Tajikistan, and to set up a water and energy consortium with the participation of each Central Asian state. In February 2009, Karimov demonstrated his readiness to invest in the construction of Kambarata hydroelectric power station in Kyrgyzstan, but Bishkek opted for Russian support. Since then, tension between Bishkek and Tashkent has increased. Karimov has used every opportunity to exert pressure on his neighbors, reiterating that the projected construction of Kambarata and Tajikistan's Rogun hydroelectric power stations in the upstream of the Naryn and Amu Darya rivers, presents flood threats for the densely populated Fergana valley in Uzbekistan, and therefore these projects need approval from international experts in order to be implemented.
Nazarbayev supported the Uzbek demand, and said that the construction of hydroelectric power stations could not be carried out without a safety study by international experts. In fact, he simply echoed the statement made by Russian President, Dmitry Medvedev, in Tashkent in January last year, stating that Moscow would not participate in such projects in any Central Asian country if it were launched without the consent of its neighbors. Medvedev's statement provoked a diplomatic row between Moscow and Dushanbe. Nazarbayev's backing for the Uzbek demand also led to confusion in Dushanbe. Hamid Arifov, a Tajik water and energy resources official, hastened to announce that Dushanbe would not use Rogun hydroelectric power station to exert political pressure on its downstream neighbors, and proposed creating a joint water and energy consortium (Khovar, March 19).
Dushanbe's reconciliatory tone can be easily explained. The construction of the Rogun power station has been long underway, and it cannot simply abandon the project. However, for Nazarbayev it is yet another diplomatic victory and a key factor in rapprochement with Tashkent. In return for backing Tashkent in its long-standing row with Dushanbe and Bishkek, Nazarbayev received Karimov's support for holding an OSCE summit in Astana this year. Although Karimov's approval for the planned summit was practically irrelevant for Astana, it was important for Nazarbayev to demonstrate to OSCE member states his willingness and potential to improve relations with Uzbekistan and, to eliminate obstacles in normalizing the situation in Central Asia. It was also significant that his trip occurred prior to his visit to Washington for the nuclear summit in April. Indirectly, new signs of rapprochement between Uzbekistan and Kazakhstan, may positively contribute to the normalization of American-Uzbek relations which have improved after a tense period following the Andijan massacre in May 2005 (Novoye Pokolenie, March 26).
The thaw in relations between Astana and Tashkent is imperative for bilateral trade, which has declined in recent years. Kazakhstan ranks fifth among Uzbekistan's most important trading partners. In 2009, the volume of bilateral trade reached $1.2 billion. The figures cited by Karimov during his press conference claimed that Uzbek GDP rose by 8.1 percent in 2009, and that the target for this year is 9 percent. However, according to Dosym Satpayev, the Director of the Risk Assessment Group, Karimov is reluctant to allow Kazakh entrepreneurs into the country as he fears that key economic sectors might fall into the hands of Kazakh business structures (Delovaya Nedelia, March 19).
The Uzbek president used Nazarbayev's visit to advance his own economic interests. He succeeded in securing his Kazakh counterpart's consent to increase the volume of export to Kazakhstan. Nevertheless, these positive signals during the visit do not conceal the deep mistrust between the two rivals. Uzbekistan regards the new Customs Union involving Kazakhstan, Russia, and Belarus, as a threat to its trade and economic growth. Nazarbayev also recalls Karimov criticizing his scheme to create a Union of Central Asian nations, which precipitated Uzbekistan withdrawing from the Eurasian Economic Community in 2008. It remains unclear as to how the bilateral relationship will develop in the future, following Nazarbayev's visit to Tashkent.