Nazarbayev Supports the Samsun-Ceyhan Pipeline
Publication: Eurasia Daily Monitor Volume: 6 Issue: 196
By: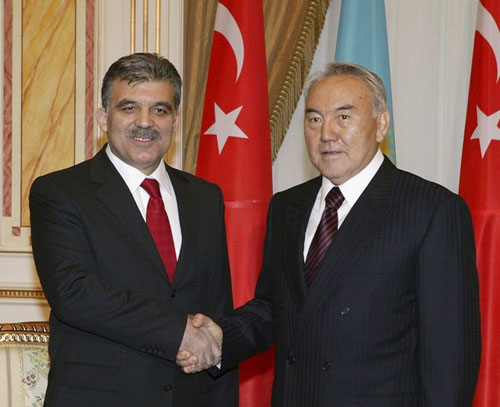 Kazakhstan's President Nursultan Nazarbayev paid an official visit to Turkey on October 21-24, as the guest of his Turkish counterpart, Abdullah Gul. In addition to his meeting with Gul, Nazarbayev was hosted by Prime Minister Recep Tayyip Erdogan, addressed the Turkish parliament, and met with the parliamentary Speaker Mehmet Ali Sahin and leaders of opposition parties. The Turkish and Kazakh presidents signed a strategic partnership agreement which intends to enhance economic and political ties between their countries. Referring to Turkey's prompt recognition of Kazakhstan after it declared its independence and the cordial bilateral relations since then, Nazarbayev argued that the two countries were already strategic partners. He added that the recent agreements would go a long way toward elevating the bilateral relationship to a higher level (Anadolu Ajansi, October 22).
Nazarbayev praised Turkey's growing role in global and regional diplomacy, noting that Kazakhstan viewed such developments as beneficial to its interests. In particular, he expressed his support for Turkey's E.U. membership process, as well as the new strategic partnership between Turkey and Russia.
Gul also complemented the optimistic perspective outlined by Nazarbayev and noted their determination to further improve their bilateral relations, which he defined as "perfect." He decorated Nazarbayev with a state honorary medal, and called him the Aksakal (wiseman) among the leaders of the Turkic world. Stressing the importance of the signing of the strategic partnership, Gul added that this constitutes the first example of its kind among Turkic speaking countries (www.tcbb.gov.tr, October 22).
Economic cooperation occupied a large part of Nazarbayev's agenda. By bringing together a large delegation composed of not only government officials but also businessmen, Nazarbayev highlighted the importance he attached to deepening bilateral commercial ties. In that context, he addressed the Turkish-Kazakh Business Forum on October 23 in Istanbul, which was organized by the Turkish Confederation of Industrialists and Businessmen (TUSKON) and Kazakh business associations (Zaman, October 24).
As part of its efforts to diversify the Kazakh economy and reduce its dependence on energy, Kazakhstan is considering investments in alternative sectors. Through such policies, the Kazakh leadership wants to reduce its dependence on imports and increase the country's export potential. Here, it realizes that it has a lot to learn from the Turkish experience, considering the drastic steps Turkey has taken toward industrialization. Therefore, Nazarbayev visited some Turkish organized industrialized zones and met with Turkey's leading industrialists and businessmen. He invited them to invest in the Kazakh economy, especially agriculture, textile and pharmaceuticals (Hurriyet, October 24).
Referring to over $25 billion foreign investments channeled into Kazakhstan, Nazarbayev argued that Turkey's investment, which amounted to $1 billion, remained unsatisfactory and needed to be increased to reflect the closer ties political and cultural ties between the two brotherly countries. Moreover, he referred to the two sides' willingness to raise the bilateral trade volume from the current $2.5 billion to the level of $5 billion annually. Turkish government officials urged Kazakh and Turkish businessmen to raise the trade volume to $15 billion by 2012 (Anadolu Ajansi, October 23).
In the early post-Cold War era, Turkey's policy of developing proactive policies toward its ethnic kin in Central Asia was driven by the Turkish presidents of the time, Turgut Ozal and Suleyman Demirel. After years of rather downgraded relations with the region, which many Turkish analysts attribute to Turkey's previous President Ahmet Necdet Sezer's low-profile leadership, Gul is again leading efforts to build strong political and economic ties. He prioritizes improving ties with Kazakhstan as reflected in his remarks that "if necessary I [and Nazarbayev] would visit each other three to four times each year" (Cihan, October 23).
Given its stable political system and prosperous economy, Ankara views Kazakhstan as a natural partner in Central Asia and treats it as one of the cornerstones of Turkey's policy in fostering cooperation within the broader Turkic world. Turkish commentators stress the crucial role of cooperation between Turkey and Kazakhstan for boosting closer economic, cultural and political integration among the Turkic-speaking countries. They refer to the leading role the two countries played in the creation of the Turkic-speaking Countries Cooperation Council, which was initiated at the summit of the Turkic-speaking countries held earlier this month, as well as their harmonious cooperation in other international organizations (www.orsam.org.tr, October 19). This perspective is also shared by Gul and Nazarbayev as reflected in their statements. Likewise, the Kazakh Ambassador to Ankara Bagdad Amrayev, noted that such projects initiated by Turkey and Kazakhstan "may be viewed as the beginning of work for a genuine integration between Turkic republics" (Today's Zaman, October 21).
Beyond these objectives, Kazakhstan attracts Turkey's attention given its enormous oil, gas and uranium reserves. As a country emerging as a major player in energy policies, both as a consumer and as a transit route, Turkey has joined other countries rushing to strike energy deals with Kazakhstan. Recently, the French President Nicholas Sarkozy traveled to Kazakhstan to sign multi-billion dollar energy deals. During Sarkozy's visit, it was announced that Kazakhstan would increase its exports of oil via the Baku-Tbilisi-Ceyhan pipeline, which runs through Turkish territory (Cihan, October 6).
Indeed, cooperation in the field of energy transportation was another issue that received attention from both sides. Referring to Turkey's recent ambition of becoming a global energy hub, Nazarbayev expressed his willingness to transport Kazakh oil and gas via Turkey. In particular he said that he would support the Samsun-Ceyhan oil pipeline project together with Russia (ANKA, October 22), which was rejuvenated recently following Russia's participation (EDM, October 23). Gul also expressed his satisfaction with Kazakhstan's commitment to support the Nabucco natural gas pipeline.
Nazarbayev's expression of support for the Samsun-Ceyhan pipeline was greeted in Turkey as a move that will enhance Turkey's role in energy politics and create many job opportunities (Cihan, October 25). However, the discussions taking place in Turkey miss the point that Kazakhstan's commitment to the Samsun-Ceyhan might come at a certain cost. It will require the transportation of crude through routes controlled by Russia, and might deepen "Moscow's already strong leverage on Kazakhstan and on Western oil companies operating there" (EDM, October 23).