New Departments and Research Centers Highlight Military's Concerns for the Future
Publication: China Brief Volume: 12 Issue: 1
By: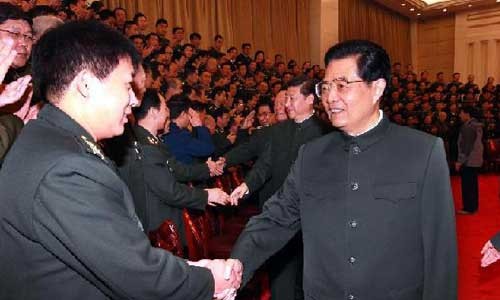 When on November 22, 2011 the Chinese People's Liberation Army (PLA) created the new Strategic Planning Department—consolidating and upgrading some lower-level planning functions—few could have anticipated the plethora of bureaucratic changes and new research centers to follow ("Chinese Military Creates New Strategic Planning Department," China Brief, November 30, 2011). The PLA followed this act on December 21 with the consolidation under the General Staff Department (GSD) of a new Training Department to oversee training for all the PLA services. Additionally, in December, the Academy of Military Science established at least three new research centers for the following: National Defense Policy, Military Operations Other than War and Military-Civil Integration (China News Service, December 30, 2011; PLA Daily, December 9, 2011). While it is too early to judge whether the bureaucratic reorganization will have a positive impact, the changes do indicate the priority on developing the personnel and knowledge necessary to fight and win wars under informatized conditions (Wei Wei Po, December 31, 2011; PLA Daily, December 22, 2011).
The most important development is the Training Department, because it reinforces a persistent theme over the last decade in PLA reforms to improve the quality of military personnel—whether pilots, noncommissioned officers or any other command and specialty position ("Chinese Air Force Officer Recruitment, Education and Training," China Brief, November 30, 2011; "Reforming the People's Liberation Army's Noncommissioned Officer Corps and Conscripts," China Brief, October 28, 2011). When he announced the department's creation Chief of the General Staff Chen Bingde, invoking President Hu Jintao's remarks, explicitly reinforced this point, stating the Training Department was to assist in "implementing [military] reforms with high standards and high quality" (PLA Daily, December 22, 2011). The presence of all the deputy chiefs of staff—generals Zhang Qinsheng, Ma Xiaotian, Sun Jianguo, Hou Shusen, Cai Yingting and Wei Fenghe— as well as senior Navy, Air Force, and Second Artillery leaders also show the importance the PLA attaches to this development (PLA Daily, December 22). Hong Kong media speculated the GSD Training Department was likely to have a positive impact over time, even if quality personnel cannot immediately spring forth (Wen Wei Po, December 31, 2011).
Running parallel to the renaming and redirected PLA Communications Department to the Informatization Department earlier this year, the Training Department is expected to play a leading role in designing training concepts that promote awareness of the PLA's evolving use of information and systems integration in military operations. General Chen's remarks on where training concepts should focus included a heavy emphasis on ensuring PLA soldiers understand the leading role of information and information-based jointness (PLA Daily, December 22).
At AMS, the new research centers are supposed to serve as nerve centers for subject matter experts across China, following a "small internal core, wide external reach"  model to guide and conduct research. This includes hiring both PLA and non-military experts as well as non-Chinese defense analysts as required by PLA research needs (China News Service, December 21, 2011). The National Defense Policy Center will fall under the Military Theory and Strategy Department at AMS and is expected to play a leading role in drafting China's defense white papers and the annual assessment of China's strategic environment. Combined with a possible role in "Track II" diplomacy, this new AMS center also may serve as a PLA contribution to Hu Jintao's desire to shape the international cultural and media environment (Southern Weekend, January 4; China News Service, December 21, 2011).
While the development and reform of these departments and new research centers probably is a good thing for the increasingly professional and self-aware PLA, the burgeoning growth of bureaucratic expertise in the military has the potential to weaken civilian oversight. The lack of direct experience in military affairs on the part of senior civilian leaders and the shortage of non-PLA-affiliated defense analysts mean the leadership probably does not have many options for independently evaluating polished, professional military analyses and policy recommendations.
Before giving up on Beijing's ability to maintain awareness of the PLA's bureaucratic machinery, two points are worth considering. Reportedly, President Hu personally was the impetus behind the creation of the Strategic Planning Department and this could mean Hu—and in the future, Xi Jinping—regularly will tap the department for information as it conducts its audits of PLA modernization (Phoenix News, November 24, 2011). Second, the three new AMS research centers involve issues that have non-PLA policy equities, which means the AMS analysts probably will be involved in research and discussions at many levels of the civilian government. For example, military-civil integration (junmin ronghe)—which the last set of August 1 PLA Day editorials emphasized—involves local discussions on mobilization, integration of secrecy protection work and prioritizing resource allocation. Not only would serious AMS research into this area inject more civilian perspectives into PLA leadership thinking, but also the research effort would expose PLA questions and concerns to the government and party systems. As a further positive sign, General Logistics Department chief Liao Xilong exhorted AMS to help build a common understanding across the Chinese government of military-civil integration (PLA Daily, December 9, 2011).
It may take some time to assess the impact of these organizational reforms; however, the PLA has laid out a trail of breadcrumbs about its concerns for the future of the force—a trail analysts should follow. One Chinese newspaper went so far as to compare last year's organizational reforms as comparable to the reforms undertaken in 1985, 1998 and 2003 in terms of their importance for the PLA. This weighty judgment places the formation of the Informatization, Strategic Planning and Training departments on par with, in chronological order, the military region restructuring, the creation of the current four general department structure (si zongbu tizhi) and the emphasis on joint operations (South Metropolis Daily, December 25, 2011). While this judgment may be premature, it should serve as a clarion call for analysts to evaluate systematically PLA assessments of its training and education programs, informatization, the formulation of national defense policy, and civil-military relations.