New Generation of Militants Emerging in Kashmir
Publication: Terrorism Monitor Volume: 14 Issue: 8
By: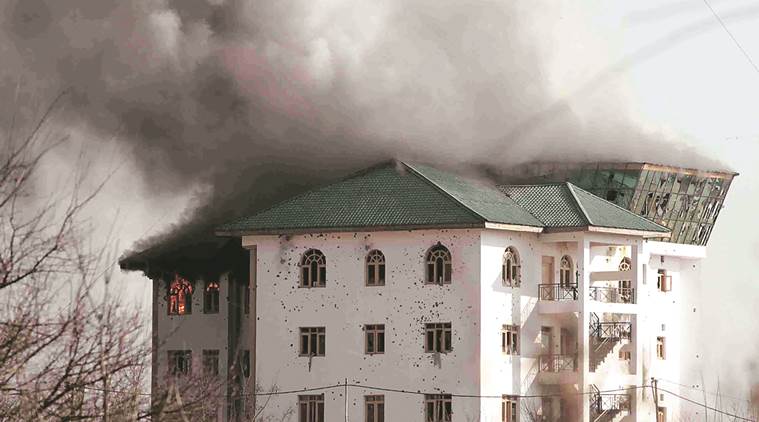 Militants attacked a multi-storied government building in Pampore in the northern Indian state of Jammu and Kashmir (J&K) in February, leading to a three-day standoff with security forces (Indian Express, February 22; Kashmir Reader, February 23). While the incident was notable as one of the longest armed encounters in Kashmir in recent years, even more significant was the swell of popular protests during the incident.
A large number of Kashmiri civilians gathered at the site, pelting the security forces with stones and blocking roads to obstruct their operations during the encounter (Kashmir Observer, February 23; Times of India, February 23). The protesters shouted anti-India slurs and sang songs in support of the militants and Kashmir's freedom from Indian rule.
Such scenes, not seen since the early days of the insurgency, are once again a regular feature in the Kashmir Valley, leading the government to issue an advisory calling for civilians to stay away from encounter sites (Indian Express, March 9). The increasing numbers of civilians gathering at the scenes of clashes and the funerals of militants, however, are indicative of the public mood and reflect a renewed interest by a newer, younger, and more internet-savvy generation of Kashmiri militants.
Popular Support for the Insurgency
When anti-India protests erupted in the Valley in 1989-90, they enjoyed popular support. Thousands of people would pour into the streets demanding freedom from India. Huge crowds would converge at funerals of militants where people would eulogize the "martyrdom" of "their boys." As Pakistan's grip over the militancy tightened, however, the militancy grew more Islamist in nature. Groups like the Jammu and Kashmir Liberation Front (JKLF) that were as opposed to Pakistan as they were to India were marginalized by Kashmiri pro-Pakistan groups like the Hizbul Mujahideen (HM), which soon gave way to Pakistani terror outfits such as Lashkar-e-Taiba (LeT) and the Jaish-e-Mohammed. Kashmiri groups consequently receded into the background of the jihadist scene.
By the mid-1990s, India's counter-insurgency operations had broken the back of most militant groups. More importantly, popular support for the militants had deteriorated as locals grew tired of the violence and crime that had become associated with them and recognized that Pakistan's support for the militants was driven by territorial ambitions rather than concerns about Kashmiri welfare. Several Kashmiri militants had become informants as a result, playing an important role in turning the tide against the militancy.
Slowly the situation in J&K improved and relative normalcy returned, although anti-India sentiment continued to simmer, often spilling over into protests against the security forces, in particular over extrajudicial killings. In one of the clearest examples, Kashmir erupted in anger in March 2010 when Indian soldiers tried to pass off the killing of three Kashmiri civilians as an elimination of Pakistani "infiltrators." People took to the streets, youths pelted the police and paramilitary forces with stones, and life in the Valley came to a virtual standstill for about four months. Even amid these protests, however, the local population remained opposed to militancy (The Hindu, November 17, 2015).
Since then, however, civilian support for Kashmir's militants—even Pakistani factions—appears to have intensified. In December 2015, LeT commander Abu Qasim was killed in Kulgam in a joint operation between the military and the police, and 30,000 people attended in his funeral. Residents observed a three-day shut down to protest his killing by the security forces and villagers from Kakapora, Khandaypora and Bugam (Hindustan Times, October 31, 2015; Indian Express, March 9). The scenes were reminiscent of those of the early 1990s.
Even if Kashmiri youth are not flocking to militant groups as they did in the early 1990s, the use of violence to address perceived or real grievances is gaining popularity. That signals a mounting alienation from the Indian state, as well as repeated disillusionment with democracy and dialogue. Moreover, the fact that Qasim, a Pakistani national and leader of the Pakistan-backed LeT, could be so popular in south Kashmir should be of significant concern to India (Rising Kashmir).
The New Generation
A new generation of militants is taking charge in Kashmir. In the past, the epicenter of militancy was in the state's north near popular infiltration routes, but violence incidents are increasingly occurring in southern Kashmir. The area is also providing fertile ground for new recruits, with some even deserting the police to join the militants (Rising Kashmir, February 22).
Unlike those who took up arms in the early 1990s, the new militants are educated, employed, well-to-do, tech-savvy, and active on social media. HM's Mohammad Ishaq Parray, also known as "Newton," was top of his class, scoring 95% in the 12th grade exams, while Zakir Rashid Bhat, also from HM, was a civil engineering student in Chandigarh before he joined the group in March 2015. Both former students are now wanted men (Greater Kashmir, December 23, 2015).
Another development is that the new militants flaunt their identity online. A photograph of a group of 11 militants uploaded on Facebook shows them with their faces uncovered and their weapons on display, and such audacity has generated much excitement among Kashmiri youth. Foremost among these new "heroes" is HM's 21-year-old commander in south Kashmir, Burhan Wani. Audio clips of his speeches are all the rage among Kashmiri youth and have reportedly stirred at least 80 young men from south Kashmir to take up arms (Indian Express, July 26, 2015).
The number of local youths joining the militancy has more than doubled over the last couple of years. According to police records, 31 local youths joined the militant group in 2013. The number for 2015, even with figures only until the end of September, stood at 66. The ratio of local to foreign militants has also changed, from 40:60 in 2013 to 60:40 last year (Rising Kashmir, November 20, 2015).
This localization of the militancy should worry India after having distanced themselves from the militancy for almost two decades. As one Indian intelligence official put it, "Kashmiris are eyeing the gun again, slowly but surely." He explained that, while India had earlier been able to condemn terrorist attacks by foreign militants as being "part of Pakistan's proxy war against India," it will be harder for India to dismiss the more local roots of the insurgency. Local militants are also more familiar with the topography of Kashmir. They have a large network of support provided by their families and local communities, advantages that counter-insurgency forces cannot easily match. [1]
Return to Resistance
Some attribute the return of popular support for militancy to a shift in Pakistan's strategy. Since it has become more difficult for Pakistan to push terrorists across the heavily guarded Line of Control (LoC) into India, Islamabad is recruiting local Kashmiris and providing them with rudimentary training (Hindustan Times, December 17, 2015). Others see the 2010 protests as a turning point, highlighting the fact that several of the new recruits were participants and/or had family and friends who were killed by police during the demonstrations (Indian Express, July 26, 2015).
More broadly, the rise of communal politics in India and the subsequent targeting of Muslims has stoked fear and anger among J&K's Muslim majority. Mohammad Akhlaq, who was lynched to death in Dadri in Uttar Pradesh on the mere suspicion of consuming beef, and Zahid Ahmed, a trucker from south Kashmir who was killed by a Hindu mob as a result of mere rumors, are "household names" in Kashmir today (Hindustan Times, December 17, 2015). India's Hindu nationalist Bharatiya Janata Party (BJP), which leads India's coalition government, has not reined in or punished activists who unleash violence on Muslims—this has further enraged Kashmiri youth.
The decision by the People's Democratic Party (PDP), a Kashmiri party, to collaborate with the BJP to form the J&K state government in the 2014 elections has also alienated many of the PDP's core supporters—who were "soft separatists" to begin with—and pushed Kashmiri youth towards militancy (Rising Kashmir).
Growing Threat
Although militant violence remains low in the Valley overall, the rise in public support for the militants is a matter of concern for India. The glorification of militants will only encourage more Kashmiris to turn to violence. While several of the "new generation" of militants appear to be more active online than on the ground, the threat they pose cannot be taken lightly. They are playing an important role in glamorizing militancy online and attracting new recruits. The current phase is one of quiet recruitment, and India should act quickly to address the underlying grievances of the local population or risk watching them pick up arms to secure their political rights once more.
Dr. Sudha Ramachandran is an independent researcher and journalist based in Bangalore, India. She has written extensively on South Asian peace and conflict, political and security issues for The Diplomat, Asia Times and Jamestown's China Brief.
Notes:
[1] Author interview with official from India's Intelligence Bureau (IB), Srinagar, April 3.