New Pro-Russian, Radical Separatist Leader Takes Power in Breakaway Abkhazia
Publication: Eurasia Daily Monitor Volume: 11 Issue: 153
By: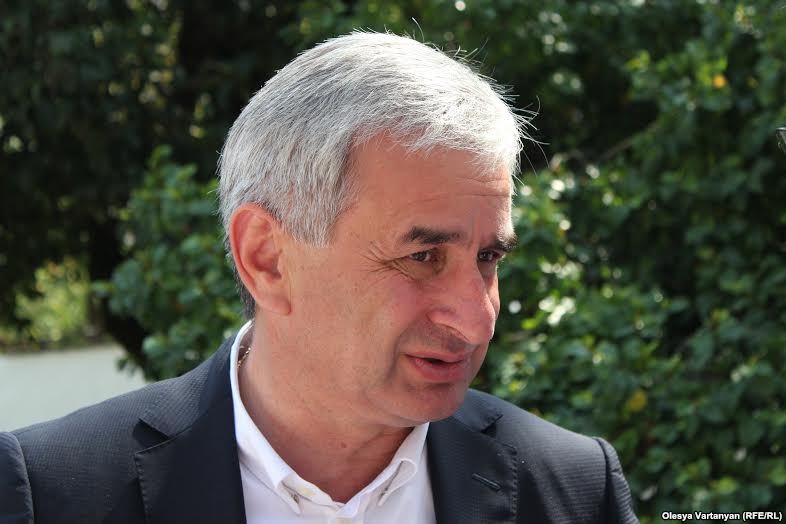 On August 24, the Russian-occupied Georgian region of Abkhazia held early presidential elections. Opposition leader Raul Khajimba, who helped to unseat the former "president," Alexander Ankvab, following the May–June 2014 popular protests (see EDM, June 12), narrowly won with 50.57 percent of the total votes cast (frontnews.ge, August 27). Georgia's central government, the European Union, the North Atlantic Treaty Organization (NATO), as well as the governments of Azerbaijan, Ukraine and the United States condemned Abkhazia's elections as illegitimate (Rustavi 2; Imedi TV; Channel 1, August 24–25). Nevertheless, these condemnations could not really alter the new situation on the ground in the separatist region's capital of Sukhumi. Khajimba, a long-time Moscow favorite in the region, is now a political reality.
The Kremlin has actively and openly backed Khajimba's candidacy for president of Abkhazia since the 2004 election. However, in 2004, even Moscow's support did not help him. Nevertheless, after the fiercely disputed polls that year, the Kremlin forced the election winner, Sergey Bagapsh, to accept Khajimba as his vice president. In 2009, Khajimba ran and lost again, garnering just 15.4 percent of votes. In the early elections called in 2011, he lost one more time, coming in third place with 20 percent of the vote (Civil Georgia, August 25). This last, fourth time, Khajimba won, with a slim majority in the first round.
The Kremlin's political obsession with Khajimba can be quickly explained by his biography. Raul Khajimba is an old KGB cadre. In the mid-1980s, he graduated from the KGB academy in Minsk, Belarus. And until the collapse of the Soviet Union, he worked in the KGB unit in the city of Tkvarcheli, in the eastern part of the Abkhazia region (Civil Georgia, August 25).
Khajimba has equally impeccable, radically anti-Georgian credentials, which have been well known for years. In 1992–1993, he actively fought against Georgian government forces in the Abkhaz war and after that quickly rose through the highest ranks of the separatist regime (Civil Georgia, August 25). His hateful anti-Georgian rhetoric is also widely known. For instance, during the May–June 2014 protests, Khajimba famously declared that the Abkhaz people demanded the expulsion of ethnic Georgians living in Abkhazia (Kviris Palitra, May 30). Furthermore, he harshly criticized then-president Ankvab for granting so-called "Abkhaz citizenship" to thousands of ethnic Georgians still living in Abkhazia's eastern districts of Gali, Ochamchire and Tkhvarcheli. In fact, the separatist regime used just this kind of sentiment to more recently remove thousands of Georgians from voter registration lists, claiming that they had been illegally granted "Abkhaz passports" and, hence, were not eligible to vote (Civil Georgia, July 1, August 25).
By all appearances, Khajimba is a perfect candidate for Moscow. His victory undoubtedly is a victory for Russia. And the Kremlin lost no time emphasizing who Khajimba's real patron was. Barely three days after the elections, on August 27, Khajimba flew to Moscow and met Russian President Vladimir Putin. The two sides discussed signing "a new treaty about friendship and cooperation […] which will raise to a new level the integration [process] between the two sovereign states [sic]" (regnum.ru, August 28). Considering the fact that every aspect of occupied Abkhazia's socioeconomic and political life (not to mention the military) is under tight Russian control, it is difficult to imagine what "a new level of integration" might even look like.
It would be incorrect to assume that any Abkhazian separatist leader before Khajimba was in fact pro-Georgian and anti-Russian. Moscow would never allow such a person to take power in Sukhumi. However, Khajimba's ascent signals that Russia is further tightening its grip on occupied Abkhazia. The Kremlin will likely use Khajimba to eradicate any remnants of Georgian influence in the region. Specifically, the new separatist government will probably increase the pressure on and discrimination against the roughly 30,000 ethnic Georgians who still reside in the eastern districts of Abkhazia. It will likely try to push out as many of them as possible in order to decrease the proportion of Georgians in the region and hence, diminish their electoral clout. Moreover, the radically anti-Georgian Khajimba most likely will halt any of the people-to-people contacts between Georgians and the Abkhaz that have helped to build bridges between the communities. This, in turn, means that Moscow will be able to successfully stonewall any Abkhazia negotiation process initiated by Georgia and hold the process hostage as it seems fit for Russia's imperial ambitions in the region (see EDM, September 2).
Khajimba will thus arguably be busy in the foreseeable future, following Moscow's line in Abkhazia. Moreover, Khajimba's rise means that ethnic Georgians living in the region can probably expect even more difficult times than they already experience. Furthermore, any talks over Abkhazia between Georgia and Russia or directly between Georgians and the Abkhaz will be complicated even more. Overall, Russia scored an important political victory in Caucasus.